Weaver's Week 2013-05-05
Last week | Weaver's Week Index | Next week
Victoria Coren writes: "Lord knows what all those new viewers will think of my intro to Alex Gutenplan. It's just my OC persona, guys! It's not.. er.. #OhDear"
The Grand Final: UCL v Manchester
Before we begin, a quick word to the schedulers. Well done.
Yes, we criticised the random scheduling of Mastermind at the start of last year, when there were single and double episodes, and viewers outside England (Wales and Northern Ireland especially) had to pay unreasonably close attention to see their show. This year, Mastermind completed without double episodes, and aired its final when there was no rugby. This side of the week, University Challenge has ploughed on at a stately pace; the Christmas series explains why we had two episodes isolated before Seb Coe's Sports Day. We still reckon that the group phase is not right for the quarter-finals (perhaps cut the intake to 16 teams, each playing at least twice), but that's an editorial matter.
Thumper claims there have been 3080 questions asked in the series so far. We make it 2976. Did we completely miss a show?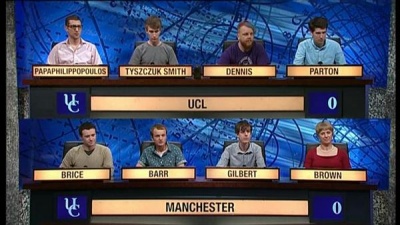 UCL: Adam Papaphilippopoulos, Tom Tyszczuk Smith, Simon Dennis, Tom Parton.
Manchester: David Brice, Adam Barr, Richard Gilbert, Debbie Brown.

UCL make the first buzz of the game. Here we go again, repeating the victory of the group phase (part two). Except it's a missignal, UCL has a five-point penalty. That starter's dropped, Manchester get the next one, and two bonuses. Same again, and then UCL gets two of their bonuses. Manchester has the visual round - word clouds from poets - and a 55-15 lead.
UCL gets another missignal, interrupting a question heading to the answer "Man Bites Dog", allowing Manchester to pick up five points for "flatulence". UCL knows a proof by induction when they hear one, and the history of Mongolia, and amuse Thumper by confusing Graeme Greene with Kingsley Amis. Strange chap, our host. The audio round is a set on nationalism in classical music, and UCL has closed the gap somewhat, trailing by 70-55.
"Coopier"? Kuiper? It's enough for Manchester to get the self-referential bonus set of the final, three answers consisting of a university and a name, potentially answered by Roger Tilling's calls. As in "Sterling, Silver", "Nottingham, Forest", and "Aston, Martin". Actually, we wonder if Aston University has actually applied for this show; we've been waiting twenty years for them to appear. UCL hit back with the next set, Manchester has the outline plots of operas and five points. A bit of a delay before Richard Gilbert answers "Gorbachev" on the next starter, but it's allowed for Manchester; it means all eight players have got at least one starter correct.
Probabilities and aromatic carbons push Manchester further ahead, and they get the last picture bonuses, on Kipling's illustrations. Their lead is up to 160-75, falling with a missignal, but rising with the answer "flibbertigibbet". Classical authors and their anagrams push Manchester's lead up to 100, and there's three-and-a-half minutes to go. UCL pull back with their alarmingly-detailed knowledge of that well-known lake-dweller Jon Ronson, and Manchester pick up a missignal, confusing "mean" and "median lethal doses". Orbits of the planets for UCL's next bonuses, chopping the gap to 50.
The CIA Factbook declares the UK to be slightly smaller than Oregon. This fact is recalled by David Brice, and we reckon it wraps up the game for Manchester. Turkish names for European countries fall for the side, but UCL are pulling back, with benzene rings and shipping forecast areas.
And that's the gong! Manchester has won this match, 190-140. When do we get the decider? There's no decider? Shame; we could see a third match between this lot. Just the trophy presentation, by Martin Rees the Astronomer Royal.
Maybe we should have the UCL and Manchester sides have a game of Only Connect to decide the winner. "No, it's not 0.428571, but 0.571428." We're not sure what the BBC2 viewers made of Victoria's parlour game, which aired immediately afterwards. We suspect it was a trial for the BBC's repeat service to repeat television's toughest quiz; we also suspect that it was a trial for new viewers, who got confused and confuddled.
We left Countdown for the Grand National, and Giles Hutchings winning his first game with a massive score. It wasn't surprising that he won the next seven, retiring undefeated. It was the manner of his victories that has attracted attention. Giles scored at least 110 points in each of his games. On his second appearance, Giles secured a winning margin of 100 points. The following day, he had fourteen maximum rounds, beaten only by the obscure word "Naproxen". On his seventh appearance, Giles missed a maximum by three points, and he solved seven conundrum puzzles in his run. Giles's score of 965 is the highest eight-game total ever; statisticians could argue over whether this is better than Jack Hurst's total of 946 in October 2010, when the game had just three numbers rounds.
Since these superlative achievements, Dan Tibbles and John Gardener won one game each, and Jill Hayward secured two victories. She was beaten by Eileen Taylor, who has won seven games so far, and will tomorrow try to become the octochamp with the most years of experience using words.
A word to the viewers, Countdown moves back to 3.15 from 20 May, reversing a change made last autumn. It's a very decent time for viewers of Channel 4+1.
This Week And Next
Elsewhere on UKGameshows, the house sprites have a review of what we're calling "Catchphrase for the Toy Story generation". And the sprites have put up a full review of Five Minutes to a Fortune, which rather means we don't need to write one next week.
The BAFTA Television Craft Awards were dished out. No game shows won prizes.
Reginald D. Hunter, the Have I Got News for You regular, was booked for the Professional Footballers' Association awards dinner in London last Sunday night. He used language that would have had him thrown out of the Big Brother studio in very short order. The chairman of the PFA has apologised for the booking, and it's a shame that Countdown regular Clarke Carlisle (for it is he) was unable to track down Carol Vorderman.
Speaking of Countdown hosts, current incumbent Nick Hewer said that he was contracted to the show until the end of next year, so if Channel 4 ends the series, he's quids in. Mr. Hewer was asked the question by the Daily Mail, which seems to bring up the prospect of Countdown ending every year or so, possibly because it's the only television show they know both their readers watch avidly.
Those lovely people at Creamguide note that the Top of the Pops repeats on BBC4 have been going for two years now, and ask if that's a record. BBC2 is currently repeating Mastermind, it started with the 2003 BBC television revival, and the 2005 series is just under way. Given that Mastermind is shown only as time-filler when there's no sport, we reckon that Mastermind will reach the final of the 2008-9 series somewhere around Christmas, and repeats to the 2013-14 series could fill next year. After that, they could start repeating Celebrity, Junior, and Sport Mastermind. But we still can't get the run to stretch past Wimbledon 2015.
(And in response to the substantive question: no, a record is a round black thing with a hole in the middle.)
BARB ratings in the week to 21 April. Britain's Got Talent remains the most-seen game show, with 9.7m seeing Saturday's programme. BBC The Voice of Holland of UK is snapping at its heels, 9.5m saw the Incredibble Non-Spinning Spinning Chairs, up almost 2m on the week before. Have I Got News for You reached 5.55m pairs of eyes, Masterchef 5.25m, and Catchphrase had 4.8m saying what they seed. University Challenge (3.15m) was marginally ahead of The Cube, and The Great British Sewing Bee (2.9m) bettered The Chase (2.85m). We're wondering which Chaser will pick up a needle and thread first.
1.93m for Celebrity Juice, 1.74m saw 8 Out of 10 Cats Does Countdown, and 1.2m for the top Come Dine with Me repeat on Channel 4. Britain's Got More Talent on ITV2 (960,000) was more popular than Deal or No Deal on Channel 4 (950,000), BBC3's repeat of The Voice had 715,000, and CBBC's Trade Your Way to the USA had 345,000 young capitalists looking in.
New this week are Put Your Money Where Your Mouth Is (BBC1 weekdays), Counterpoint (Radio 4, 3pm Mon), and we're not sure about Motor Morphers (C5, 8pm Mon). We do know that two old stagers go head-to-head: Who Wants to be a Millionaire and The Apprentice both resume at 9pm Tue. The Challenge channel has some new old shows, Les Dennis's first Family Fortunes (8pm weekdays), Fun House and first-series Knightmare (10pm and 10.30 Fri). With a gap in the primetime schedule, BBC1 digs out an old edition of Celebrity Mastermind next Saturday (5.20, not Scotland). Slightly later for Who Dares Wins and Britain's Got Talent (both 7.45), with BBC The Voice of Holland of UK at 8.35. It's the beginning of the Battle Rounds, sponsored by Panorama reporter John Sweeney.
To have Weaver's Week emailed to you on publication day, receive our exclusive TV roundup of the game shows in the week ahead, and chat to other ukgameshows.com readers, sign up to our Yahoo! Group.