Weaver's Week 2015-02-15
Last week | Weaver's Week Index | Next week
Richard Osman is over six foot tall.
Mark Labbett is over six foot tall.
Noel Edmonds is over six foot tall.
Which of these is a bare-faced lie?

Cwmni Da / 3 Studios / STV / GroupM for S4C, from 22 January 2015
The Lie: 3Studios / STV / Group M for TV3 (Ireland), from 17 February 2014
The Lie is a simple game. Given a list of statements, pairs of players have to pick the one falsehood from many truths.
Of course, there are additional rules. The players don't have forever to make their choice. They have just one minute, and even less time when there aren't many options. They can ask for some of the distractions to go.
And if the players ever accuse a truth of being a lie, it's game over. Finish. Finito. Insta-loss. You Leave With Nothing.
Unless they've used their "Bank!" option. Once in a game, the team is allowed to shout "Bank!", and that much money is safe. An incorrect answer means they'll fall back to that banked amount, so they don't leave with nothing.
Before the game proper begins, the players are shown eight categories. To win the jackpot, they'll need to find the one fib in each category. They can play the categories in any order, but at each level there's one extra truth to conceal the lie.
So the pair might start with their weakest category, such as "Cats and dogs". They see two statements. One of them is true, the other is a bare-faced lie. For instance-
- Puppies are born with perfect eyesight - A labradoodle is a cross between a labrador and a poodle
Thirty seconds for the team to debate these statements, assess their relative merits, and lock in their chosen answer on the touch screen podium. At this stage, the discussion is perfunctory, the players often know the answer straight away. They don't need to know why the statement is a bare-faced lie, the host will explain that puppies are born blind. The players only need to say what the lie is, and do it quickly.
And so the game continues, with three statements for the next category. I'm a Celebrity is filmed in Australia. The boat on Cabin Fever sank. Alan Sugar twits under the handle @SugarDaddy. Another thirty seconds to find the fib, after which the host will explain how the real @SugarDaddy is a fan of Harry Connick Jr on Pop Idle Us, and hasn't posted in over a year.
At this point, the prizes are modest: an opening £250 increased to £500, then £750 and £1000 for the fourth correct answer. They do ramp up: £1500 and £2500 follow, then £5000 and a potential jackpot of £10,000 for clearing all eight categories. That's a very big prize on S4C, the big arts shows award about £3000 to the winner.
We briefly mentioned two lifelines. The "bank!" option can be taken after any right answer, and puts a floor underneath the players' progress. It means the next question is a free shot, they will play on and might win more money.
The "Lucky Three" is available from the third question (with four statements). It will prune the list to three statements: two truths and one lie. This lifeline comes at a cost: the players only have ten seconds to lock in their answer. Each lifeline can only be used the once.
The eight categories will present teams with an interesting choice. The obvious strategy is to save the best categories for last. If you're an expert on narrow fields such as Welsh-language radio or Rally drivers, that would be sensible. Would it be better to start on wide categories (Cats and Dogs could go anywhere) or ones you're not so sure about (a pair of pensioners on Reality TV)? And when to play the Bank, and whether to take the Lucky Three before or after? All of these tactical decisions can be debated in the studio. Most of the show is taken up with the statements, and that's the right editorial decision.
The Lie is the exact reverse of The Million Pound Drop: it's a small show, it takes place in a small, flat arena. The prize increases, the players can stop whenever they like and keep what they've made so far. Like Davina's cash drop, The Lie isn't so much a prize quiz as one about seeing people's relationships, getting into the head of mother-and-son, or two best mates. The only similarity is calm and efficient graphics, here created by Irish firm Emberlight.
The Lie first aired in Ireland, on the commercial channel TV3. The first series went out twice a week in primetime, this year's second run was stripped for a month at 7, in the slot vacated by Emmerdale Farm. It's a co-production with STV, who brought it to Channel 3 in Scotland, opposite The Eastenders. We've picked up the version in Welsh, which goes out in Thursday primetime.
The question is when (not if) the format will come to England. Typical prizes of about £1000 per half-hour make this in budget for BBC daytime, and we can be sure that any £10,000 winner would roll over at least two episodes. But would STV naturally prefer to make a show for the Channel 3 network? And would ITV south of the border accept a half-hour daytime programme?
Our conclusion is that we like The Lie. It doesn't pretend to be a huge show, it's humble and homely. Infinitely flexible, tremendously simple to pick up, and an entertaining watch.
It's Debateable
Rather than have politicians at podiums, we cast them in game shows.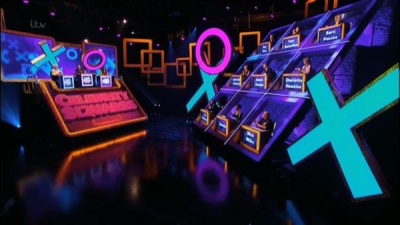 3) Squares in a Square
Seven partisan representatives join resident comedians Tim Vine and Joe Wilkinson in the big box game. Contestants will hear all sorts of tales from the squares. Are they telling the truth, or is their picture a load of baloney?
Where can Mr X use his cross? Will Miss O say "I agree with Nick"? The fun never stops (because it never starts).
Semi-final K: History Boys vs Linguists
Rob Hannah, Craig Element, and Gareth Kingston are the History Boys, unbeaten so far. Virginia and Tom Fassnidge and Gail La Carbonara are the Linguists. As we're at the semi-final stage of the semi-series, the show is now straight elimination. That's "now" in the sense of "as it has been for the past month". And it's now getting full reviews.
Pictures for the History Boys: odds, knots, clock, and grain. Not quite imperial measurements, as the Linguists suggest, but things to go against. Music for the Linguists: Belle and Sebastian, The Fall, Steppenwolf, so it's bands named after books and two points. 2-0 to the Linguists.
Text clues from here on in – people who sponsored letters of the HOLLYWOODLAND sign, such as Andy Williams and Alice Cooper. Three points to the History Boys! The Linguists need all four clues to spot a Portillo; a president of Guatemala, a ski resort in Chile, and a train fan. 3-3.
Two points from Susan, Surajprasad, Staples, authors who abbreviate their middle name to "S" – A Byatt, V Naipaul, C Lewis. Mnemonics for the digits of pi evade both sides. History Boys lead 5-3.
Sequences are upon us: Jordan, Midland, Spyker, so we're in Eddie Jordan's Formule First team, now known as Force India. The History Boys said it in conversation, but it wasn't their answer. The personal income tax allowance for this year is £10,000, but what is it for next year? £10,500, and it goes to the History Boys for a bonus. 6-3.
Flags: Panama, Malta, Republic of China (not a country!) and there's a guess at the Central African Republic. No. Try Angola, being an overlap of two letters with Taiwan. Measures of beer give a lucky bonus to the History boys, and a 7-3 lead.
One vine, a polo chukka, standard office hours. How's about .. "the band that did the song that finished 'Daria'"? Or a bonus to the Linguists with "Lady Jane Grey's reign". The final set, apparently, is dwarf planets in ascending order; the History Boys say "Eris" as the largest, the editor said "Ceres" as the nearest, but he also said "yes, accept Eris". 8-4.
To the walls! The Linguists get places in Somerset, leafy green vegetables, imprisoned MPs, but what's the fourth link? Not Henry James, but Edith Wharton. Seven points!
History Boys get fictional bears, pairs of identical twins, terns, and Benjamin Britten characters. The terns turn out to be gulls. Seven points! Did they just give a namecheck to Jedward? They'll also be appearing on a less successful programme, ITV's Get Your Act Together.
15-11 to the History Boys going into the Missing Vowels round, but the Linguists cut that in half with Reasons Why It's Fun To Stay At the YMCA. "University Challenge Anneka" is a quiz show blended with a non-quiz show, and that category heads to the History Boys by a point. A long time is a two point swing to the Linguists, and the bell goes just before the first UK sport team is answered.
All of which means it's 19 to the History Boys, 18 to the Linguists. The History Boys make the semi-series final.
Semi-final 1
Turbo-chargers on, this is the Very Fast Moving phase of Mastermind. Twenty-four heat winners are joined by the six highest-scoring losers, competing for six places in the final. The first five were, in the order they played general knowledge:
Julia Hobbs (Novels of Douglas Coupland) scored 5 (4) on the coiner of "Generation X". She qualified in the last loser position, having scored 25 with the Films of John Hughes on Hallowe'en night. Second time around, it's clear the contender knows she can't win, so sees out the two minutes to 14 (6).
Rod Laver (Kraftwerk) got 8 (0) on the German band in 90 seconds, and paused for many years before answering his last question. The winner on 12 December, when he took Marc Almond, begins with "Black Monday" for the 1929 Wall Street Crash. Not quite: that was 1987, '29 was Tuesday. Little chance to recover, and a final of 17 (3).
Mark Eves (The Pentatuch) took the books of the Torah, and recovered from a slow start to 9 (0). This contender won the opening heat, on 8 August, answering on the Battle of Lepanto. His second phase tonight is more miss than hit, but we don't think 19 (0) is quite a winning score.
Marianne Fairthorne (Catalhoyuk) answered on an archaeological site in Turkey, and secured 10 (0). The Empress Livia took Marianne to the semi-final, a high-scoring loser from 19 December. Answering crisply and briskly, the contender stumbles over a couple of answers but recovers to reach 22 (1).
Brian Davis (Life and Career of Sir Martin Frobisher) had the explorer, reaching 10 (1). He'd taken Robert Peel on 10 October, and starts his general knowledge round with pass, error, error, pass. That's game over; the final is 17 (4).
So Marianne Fairthorne will take the first place in the final. A score of 22 in the semi-final is a major achievement.
This Week and Next
Monday's edition of Deal or No Deal surprised many people. A "technical error" led to a repeat being transmitted. No-one in Channel 4 Towers noticed the slip-up. The viewers did, and we were surprised that there were actually still viewers.
BBC4 has announced a quiz series set in museums, because Codex was such a success. The Quizeum will be filmed in great museums around the UK, it will ask questions about things in the museum and invite the celebrity players to explore the site in a treasure hunt. Griff Rhys Jones hosts, so we know it'll be alright on the night.
And then there were forty. This year's Eurovision Song Contest will include a guest country, Australia. As in the land down under, responsible for Gina G and Olivia Newton John and Johnny Logan. The Aussies will go straight through to the Saturday final, which will now be longer than ever with 27 performances. Something for the BBC to tilt at: the first entrant to finish in 27th place.
Of course, our Saturday night is the early hours of Sunday morning, but the Aussies are going to run a better televote than San Marino. The EBU promises that this is the first of many "guest countries" to appear in the show: after last year's sycophancy, will the People's Republic of China join us in 2016? And will anyone remember Canada's appearance in Eurovision Young Dancers 1987?
We're pleased to hear that James Plaskett has published his book about the Who Wants to be a Millionaire scandal involving Charles Ingram. Mr. Plaskett's book advances the theory that the Ingram conviction was a miscarriage of justice. This column wasn't convinced by the evidence when we looked at it on 10 September 2006, but that was many years ago and there's been a lot of research since.
Our copy of the book is in transit, and we will report back when we've read it. "Bad Show" is co-authored with Bob Woffinden, and is available in print and electronic formats.
315-55 the final score on this week's University Challenge, as Magdalen Oxford trounced Trinity Cambridge. We think there's an Actual Achtelfinal this week. (Or maybe it would be an Actual Viertelfinal, the Achtelfinalrunde has 8 games.)
Roll of honour update: The Big Allotment Challenge (BBC2) was won by Rob Smith. The Jump (Channel 4) was won by Joey Essex. The Great Comic Relief Bake Off (BBC1, episode 1) went to Jennifer Saunders. Peter Sarsfield won the Stars in Their Eyes not live final on ITV.
Notes on The Jump: held together by Davina and her bubble of lovely. Richard Madeley and Judy Finnegan popped up a lot, but it would have been pleasant if Chloe Madeley had been introduced as herself, and not as a celebrity daughter. Sixteen contestants left someone for every viewer to cheer, though we got the feeling that the producers were slanting for certain contestants to face elimination more than others.
BARB ratings in the week to 1 February.
Call the Midwife topped the ratings with 10.6m viewers. The Voice improved to 9.6m.
Win Your Wish List is the second-biggest game show, with 4.85m seeing the prize fight. Celebrity Big Brother takes third place, 3.15m puts it just ahead of University Challenge on 3.1m.
The Chase in daytime, The Jump, Dragons' Den, and Take Me Out were all around 2.8m.
What's missing from ITV? Stars In Their Eyes, Get Your Act Together, Family Fortunes. All the entertainment programmes are not entertaining anyone.
On the new channels, a tie between The Voice repeats on BBC3, Take Me Out The Gossip, and Come Dine with Me on More4, all around 580,000 viewers.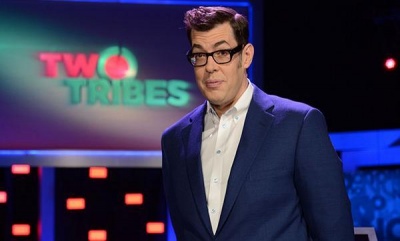 This week, a new series of Two Tribes (BBC2, 6pm weekdays). The recording report from Hermione Was Lib is entitled "Best Day Evah!".
New series I Survived a Zombie Apocalypse (BBC3, Sun) and Mission Survive (ITV, Fri) both try to pull through unusual situations. The Million Pound Drop (C4, Fri) and Saturday Night Takeaway (ITV, Sat) are back, and Junior Just a Minute is on The 4 O'Clock Show (Radio 4 Extra, weekdays).
Photo credits: Cwmni Da / September Films / Initial, Endemol West Remarkable (Endemol companies) / DR & SBS
To have Weaver's Week emailed to you on publication day, receive our exclusive TV roundup of the game shows in the week ahead, and chat to other ukgameshows.com readers, sign up to our Yahoo! Group.