Weaver's Week 2016-05-08
Last week | Weaver's Week Index | Next week
And now, a game of Spot the Error in Het Machnester Grauniad. The headline:
"Vernon Kay's Top Gear rival The Drive hits the skids"
How many errors can you spot?

TwoFour (an ITV Studios company) for ITV, 5 April – 3 May
One: it's called Drive. There's no "The".
Two: it's not a rival to Top Gear. There are no tests of cars you can buy in a local showroom. There are no suspiciously racist jokes. Women get to speak on screen. And no producers were harmed in the making of this programme.
Three: Drive never hit the skids. It was never going fast enough to lose control.
This column promises not to make three errors in the headline.
Drive has a very simple idea. Take eight celebrities, and ask them to drive all sorts of motors. Massive four-by-fours, stock cars, rally cars, off-road vehicles, and Formula Fourth creations. Each week, the worst performer leaves the contest, until four remain to crown a winner.
Some programmes find a winner, accumulating points through the programme – or the series – until the cut has to be made. Hercules worked like that, the slowest person to complete all the challenges left the show, and points carried on to the next day.
Drive doesn't work like that: each race finds a winner who is safe for next week. Each show has four or five races – we'll use the opening week as an example.
1a) Four celebs compete in banger racing: winner is safe for next week.
1b) The other four celebs race: winner is safe.
2) Three pairs compete in banger racing while chained together: winning pair is safe.
3) Head-to-head races amongst the remaining four: winner of each is safe, losers go to the Dreaded Night Race.
A crash makes good telly — so long as no-one gets hurt.
Each heat ends with The Dreaded Night Race. It's a race that takes place at night, and the loser is off the show. That's why they dread it. A slalom, a doughnut, a horseshoe turn, then flat out to the finish.
Between the races, we see the celebs training with their professional instructors. Lots of speed, lots of risk – we'll see any crashes that happen, because a crash makes good telly. So long as no-one gets hurt, of course.
Jason Plato is the show's retained expert, he tells Vernon (and the viewers) what they're going to see, just enough so we know what to look for. James Allen explains each race and commentates: if we're being harsh, his commentary here rarely tells us anything we don't see on screen.
And so it goes on: a whiff of danger, but we know we won't see anyone really get hurt. Training with experts, then well-known faces off to risk their health for our entertainment. Drive isn't a competitor to Top Gear, it's The Jump with added petrol.
Vernon Kay hosts the programme. The ITV audience know him from Family Fortunes, they respect him from 1000 Heartbeats, they remember him from Splash!. Vernon pops up on a lot of ITV programmes, just as Davina is the face of Channel 4. Whatever else happens, we know that Vernon will give a solid, professional, reliable performance.
Good choice of contestants.
The celebs appealed to all ages. Young people recognise the pop performers Professor Green and Ella Eyre. ITV viewers will know about entertainers Johnny Vegas and Louis Walsh. Mariella Frostrup and Angus Deayton appealed to the more discerning viewer. Colin Jackson (sprinter) and Laura Tobin (weather forecaster) completed the elite eight. Something for everyone. That must have been deliberate.
In the end, the series was decided by a single F4 race – it filled a full quarter of the show. Professor Green took the title, ahead of Angus Deayton and Laura Tobin. Johnny Vegas and Colin Jackson also competed in the race; Ella Eyre, Mariella Frostrup, and Louis Walsh left the show in earlier weeks.
If we're to believe press reports, he won't be able to defend his title next year, because the series won't be renewed. There's a very simple reason: Drive celebrated mediocrity.
Drive was built to be negative. Each week didn't find a winner, it found lots of people who can avoid elimination. Eight came down to six, six reduced to four, four drop to two. The third-worst player can get through without once facing the elimination race, but a piece of bad luck can eliminate a good driver.
Of all programmes, we're reminded of People's Quiz from 2007. The best competitors were in at the beginning, and the quality dropped during the series. Unlike The People's Quiz, the Drive series finished before it got stale – five weeks and done. But nor did it bring the nation's attention to big characters like Mark Labbett.
Driving to the negative.
And there's more. Because the best driver competes, wins, and is through to next week, we don't get to see great driving. There's little chance to view outstanding effort, we see many more middle-of-the-road performances. It isn't about brilliance, but about not making mistakes. Not about flair, but solid effort, doing enough to survive.
That's why Drive needed to be a series-long competition. Have an elimination at the end of each show if you wish, but there has to be a way to encourage excellence. This format was all about being adequate, and in this day and age, adequate won't do.
The 62nd final took place this week. Mike Clarke was the first player alphabetically, and picked up the slightly easier questions at the start of the programme. By the end of the first round, Mike had a two point lead over John Webley.
Ian Fennell won the second round, answering two of his own questions and gaining a bonus, but it only closed the gap on Mike by a point. Round three gave a one-point swing to Mike, as Ian failed on his opening question while Mike knew about bascule bridges.
Mike led by three going into Beat the Brains, a pair of questions set by Nigel Jones, last year's champion. Jane Cooper had gained a bonus on a woman emperor of China, and took confidence into the next set. Mike gained another point on Ian, no-one could name the shipping forecast area Viking, and we began to feel the game was over.
Or maybe not. Mike dropped his opening question on the fungus touchwood, Ian picked up a bonus and a couple of his own, and suddenly the gap was down to two points. Going into the final round, Mike again failed to answer his first question – who remembers John "Jack" Straw these days? – but the other leading competitors also missed. Ian confused the gullet with the gizzard, and the match was over. The final scores:
Mike Clarke 12
Ian Fennell 9
Jane Cooper and John Webley 5
So Mike Clarke takes the silver salver to Brechin. A new run of Brain of Britain starts next year.
This Week and Next
News from Eggheads Towers, as CJ de Mooi is to leave the programme. Didn't he leave already? Yes, and then he came back. This departure seems more permanent: he's moving to South Africa, to spend more time with his acting career. We're sorry to see him go: CJ was a formidable brain, and he sparked well with Lisa Thiel.
As one Egghead leaves, two more arrive. 12 Yard are casting for two new brainboxes, including at least one lady. Make Me an Egghead will be a short series to find these two people.
The election took place in the Big Brother constituency. Two former lab rats stood for election in Cardiff Central. Neither won to the Welsh Assembly. Joel Williams (BB 2015, Conservative) finished third in the seat, defeating Glyn Wise (BB 2006, Plaid Cymru).
Beware: there's a lot of officious bunkum in the air. John Whittingdale believes that there should be a government department given over to making sure that BBC doesn't schedule its popular programmes against ITV's popular programmes.
This is hypocritical hogwash. The government is trying to distort the free market in television viewing. ITV's shows are only unpopular because they are unpopular. The viewer doesn't like them. The X Factor last year was rubbish, and deserved to be beaten by Countryfile. This idea is blatant protectionism, and we thought this government had better things to do than prop up a failing company.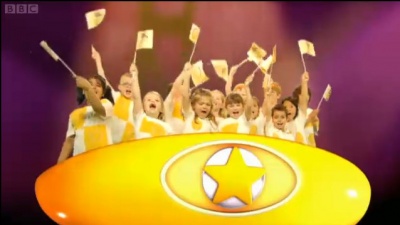 Broadcasting territories are a political idea.
Over at the EBU, the Eurovision Song Contest organisers have published a policy on flags. They'll be allowed in the arena, which we regret. The policy does bar flags that obstruct the view of the cameras, but this clause appears not to be enforced.
The organisers also insist that only flags of countries are flown. And by country, they mean a sovereign state that is a member of the UN in its own right. So no flags of Scotland, no flags of Wales, no flags of the town of Ruthin. Included on a list of banned flags is the ensign of Kosov@. Should the EBU now go back and re-edit Eurovision Young Dancers 2011 to remove the Kosovar flag?
The EBU claim that their Song Contest is "not a political event". Balderdash: the contest is built around the country. The EBU itself depends on the country. The very concept of a "country" is a political idea, arising from the Westphalian settlement of 1648. Westphalia worked only amongst independent and coherent political regions – effectively, countries. In the modern arrangement, these become broadcasting areas where only one station can show the Eurovision programme. Other peace settlements are available. Other transmission arrangements are possible. We can have television without frontiers.
As everyone knows, the Eurovision Song Contest is a competition between broadcasters. Not countries. Will anyone be allowed to fly the BBC flag? The BBC is competing, the "United Kingdom" is not. Does MKRTV even have a flag? Will the graphics acknowledge YLE, or will they loudly proclaim "01 Finland #FIN"?
The EBU subsequently said that it would allow regional "flags of the participants". We find this bizarre: the Song Contest is a competition between participant broadcasters. Are there distinct flags for Dutch broadcasters AVRO and TROS?
The retraction continued, "The EBU also proposed a more tolerant approach to other flags as long as the audience respects the non-political nature of the Eurovision Song Contest and do not deliberately attempt to obstruct the camera views." Our earlier points stand: the nation state is inherently political, and flags always get in the way of the camera.
For our leftpondian friends, Logo TV will broadcast the Eurovision Song Contest next week. The channel, which specialises in gay and lesbian telly, will show the world's biggest entertainment event live at 3pm Eastern (12 noon Pacific) next Saturday.
A short BARB ratings feature, because we don't have ITV-SD figures for the week of 24 April.
Assume that Britain's Got Talent topped the figures, there were 2.45m viewers on ITV-HD alone.
Elizabeth at 90 topped the BBC1 ratings with 7.45m viewers. Expect a series. Have I Got News for You (5.25m) the top game show we know about, ahead of Masterchef (5.05m).
Bake Off Creme de la Creme scored 3.75m, and the University Challenge final just under 3m.
Just over a million for Celebrity Juice and Britain's Got More Talent on ITV2.
It's the Eurovision Song Contest ! (BBC4, RTE2, Tue and Thu; RTE Radio 1 Thu and Sat; BBC1, RTE1, Radio 2, Sat). Bard Brain of Britain is a special programme about Shakespeare (Radio 4, Sun), and The 3rd Degree (Radio 4, Mon) is hardcore quizzing for students.
Photo credits: TwoFour, EBU/NRK, EBU.
To have Weaver's Week emailed to you on publication day, receive our exclusive TV roundup of the game shows in the week ahead, and chat to other ukgameshows.com readers, sign up to our Yahoo! Group.