Weaver's Week 2017-08-06
Last week | Weaver's Week Index | Next week
Here is a box. A grey letterbox.
Wound up, and ready to play.
But this box can hide a secret inside.
Can you tell what word's in it today?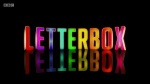 Hindsight Productions for BBC2, from 17 July
"The most boring show I've ever seen." "Half an hour I'm never getting back." "Desperately boring."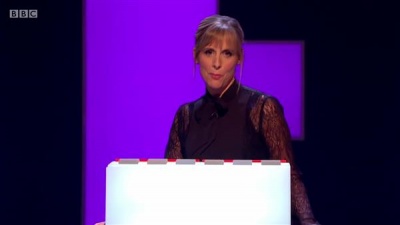 We managed to miss the first episode of Letterbox, and caught up with it through comments on Bother's Bar. With expectations lowered to nothing, we were surprised to find Letterbox was much better than described.
The game rules are simple. Competitive Hangman.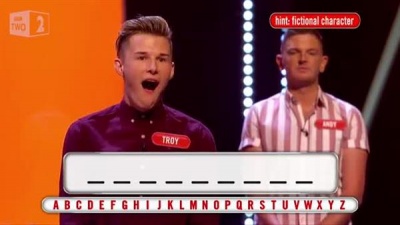 Nine letters. What's the word? And if you want to play along, here's the video
Let's put some more detail on this. Teams of two play the game, though only one from each team plays the heats. Given a word and a clue, players guess a letter. That letter's in the word, it gets revealed and they guess another letter. That letter's not in the word, play passes to the opponent. Whoever completes the word wins the round.
Two heats are played, in a best-of-three format. Heat winners face off in the semi-final, which is always a famous person, and the teams can confer. Winner of this round faces the final word.
On a desk in front of Mel Giedroyc is a box. It contains all the letters of the English language alphabet. Eight are used in today's final word, once each. The remaining eighteen are not used. The first two correct answers in each heat allow a team to withdraw two letters from the letterbox – these won't be in the final word. These letters pass from team to team, and end up with the day's finalists.
They have eight letters known not to appear in the word. £2500 if they can guess – and spell – the hidden word right away, but the prize reduces by £500 for each error. Only if they get half the alphabet wrong, the money drains away to nothing, but this rarely happens.
Letterbox is a very slight game, gentle and evenly paced. There are no hysterics, the audience will not rise above a Slight Titter or a Gentle Murmur of Approval. It's zen-like in its calm, and that's just what BBC2 wants at 6.30. Follow on from the genteel Eggheads, a world apart from the boisterous news, competition for Heartbeat on ITV3. For some reason, we're reminded of shows from minority Francophone broadcasters they used to show on TV5: it's that mixture of little budget and great hope.
Mel Giedroyc hosts, and she plays along with the contestants. She doesn't need a scrap of paper with the answer, it'll emerge on screen in good time. Whether her occasional cries of "I have no idea" are genuine or not, that doesn't matter. We viewers are in the same boat as Perplexed Mel, curious about the answer. Or we're a step ahead, and can feel smug that we know more than the cake lady.
For much of the game, we only have one person able to give letters. Their playing partner stands in the back of the shot, reacting to events but powerless to influence them.
Mel's hosting style matches the gentleness of the show. At times, it feels like she's doing a pastiche of a nicey-nicey game show host; at times, it feels like she's channelling the excitement and awe she brought to The 4 O'Clock Show on radio. With the bell-like jingle tinkling through the show, and bright lights throughout, it can feel like we're in fairyland.
"________"&<(a|)(b|)(c|)(d|)(e|)(f|)(g|)(h|)(i|)(j|)(k|)(l|)(m|)(n|)(o|)(p|)(q|)(r|)(s|)(t|)(u|)(v|)(w|)(x|)(y|)(z|)>
Letterbox wouldn't work without the words, and they're a more interesting selection than they might be. Take, for instance, this example. It's a country, six letters.
Stop and think about this. How many countries of exactly six letters are there? Not many. How many have those vowels in those positions? We reckon two: JORDAN and NORWAY. Clearly, the best next move is to guess N, which should tell us which alternative it is – or if it's a country we've forgotten about.
To generalise, Letterbox answers often have unusual letters. Words are rarely confined to the most common letters – don't expect to see "TROPICAL" or "DOCTRINE" when they could have "BECOMING" or "PLATFORM". This shouldn't be a surprise – the majority of words use semi-obscure letters like G, F, or W.
Letterbox suffers from some weak points. The shot direction is not perfect. In the final round, Mel picks up a pile of letters from a spot on the desk, except the pile's hidden beneath a caption. That looks messy. So does Mel's confirmation of the final answer – pulling each letter up for an instant, so we never see the whole word at once.
The finale comes with the letterbox springing up a cash tray containing £2500. Mel only picks out the £500 bundles the team have earned. This looks awkward, and an edit could make television magic. (Go on, impress the children watching.)
As a show, Letterbox knows the audience it wants to serve. Grown-ups who want a break from the news. Families who want something safe and educational to watch – Letterbox can teach children about letter forms, and help everyone remember there's a "H" in Kazakhstan.
And it's able to generate accidental viral moments, such as two people trying to guess a fictional character.
There's no reason why Letterbox can't enjoy a very long run. Equally, there's no compelling reason to bring it back for a new series. We'll have to see what the research amongst viewers has shown.
When we come to write the final chapter on this year's Countdown, we might find that the best player in series 76 didn't win it. Tom Chafer-Cook blew through the last two heats, winning the last with the maximum score in all rounds bar one. He continued this brilliance into the new series, closing with 8 wins and 896 points. If there's one weakness, Tom flagged in his last few games, and we think he's vulnerable to a numbers specialist.
Laura Marsh won one game, then Shabir Alidina took over. Four workmanlike victories left us little to say, and will likely be a win short of finals week. John Cowen should be back in December, his octochamp run finished with a total of 799 points. John is strong on letters, but gambles with a four-large numbers board, and rarely used this to his advantage. He's likely to be in the 4th-5th seed match, always decided by a slim margin.
We were reaching for our Hollywood movie stars, until we re-read the new champion's name. Michael Pfeffer, not the famous acting talent. A talented Countdown player, strong on letters and numbers; if he's shown one weakness, it's a slight tendency to fall off near the end of games he's won. Five wins so far.
This Week and Next
So, we know that Mel Giedroyc is absolutely everywhere on the Beeb, and Sue Perkins can look after herself. What of Mary Berry? We haven't heard of her since Bake Off ended last year.
This Territory's Best Cook will "celebrate the food people make their loved ones every single day." A series about "proper" home cooking, it'll be hosted by Claudia Winkleman. A second judge will join Mary when the show airs on BBC1 in the new year.
Best of the web: Next week, Channel 4 shows Eden (2016), a tale of people left in the Scottish wilderness for a year. It's not the first Eden they've shown: in 2002, a group of twentysomethings went to Australia in search of fame, fortune, or something else. Johny Pitts remembers his time there, and – ten years later – his return to Eden.
Who Dares Wins came back for one week. It contained a round to make Letterbox seem compelling. Let's spend our Saturday night spelling out names. Yes, they're going to give over ten minutes of primetime entertainment spelling girls' names. From time to time, Nick Knowles (for it was he) tried to make this seem more exciting than it already wasn't. From time to time, the contenders went on a trail of similar answers, as though it was a Chain Letters revival. We had to catch the show on catch-up, with an intravenous drip of coffee.
By comparison, University Challenge was gripping. Southampton (Juan Paolo Ledesma, Andrew Knighton, Lorna Frankel, Niall Jones) beat Cardiff (Freddie Colleran, Daniel Conway, Ian Strachan, Ruthie Cowell) by 280-40. Tells us that Southampton do well on the bonus questions, and no team will get out of the group phase without being good on bonuses. (And that's as true if the group phase were the first round as if it were later.)
Mastermind was won by Christine Quigley. She scored a Perfect Round on Margaret Attwood's "Maddadam" trilogy, and stretched her lead to 27 points. If there's ever a good time to have a pass spiral, it's when you're already seven points ahead of Colin Atkin, and the game is won. Simon Cottee and Ian Dunn also took part.
Only Connect saw a win for the Vikings (Mark Oxley, Mick Lee, John Wilson). They had a strong lead over the Geocachers (Ward Broughton, Rhod Thomas, Lowri Williams) after round one, and kept it until the final round. 21-20 tells us about Missing Vowels – the Geocachers are good, and/or the Vikings are not.
World championships in runnin' and chuckin' this week, so neither University Challenge nor Mastermind.
BARB ratings in the week to 23 July.
Coronation Street (ITV, Wed, 7.7m) remains the top show overall. With no real opposition, a two-year-old Pointless Celebrities repeat is the top game (BBC1, Sat, 3.55m).
Catchphrase (ITV, Sat, 3.2m) was a new show. So was Love Island (ITV2, Tue, 2.8m), which this week proves more popular than Game of Thrones (KYTV Soggy, Sun, 2.75m).
The Chase (ITV: Wed, 2.6m; Sun, celebs, 2.5m) was more popular than the returning University Challenge (BBC2, Mon, 2.1m).
Blind Date (C5, Sat, 1.25m) was more popular than all editions of Big Brother (C5, Wed, 1.2m).
Channel 4's biggest game was Four in a Bed (Fri, 660,000). A good inheritance from Love Island to Celebrity Juice (ITV2, Fri, 585,000). Go 8 Bit the biggest of many shows on Dave (Mon, 270,000).
Segment of the week: The Question Jury on Channel 4. Not a huge number of viewers, but it's doing very well amongst ABC1 women – professional workers who have a chunk of disposable income, and who advertisers love.
Lots of new shows in the week after next – Noel Edmonds recreates Number 73 on the set of Saturday Superstore, BBC1 gets Celebrity Masterchef and A Question of Sport, and ITV gets something so thrilling it's embargoed until Tuesday.
Running and throwing dominate BBC television this week, so new games are few and far between. Just a Minute returns for its latest run (Radio 4, Mon), the BBC New Comedy Award hits Edinburgh (Radio 4 Extra, Tue & Wed), and A Premier League of Their Own (The Satellite Channel, Thu) promotes men's football. Apparently, men can play football too.
Photo credits: Hindsight Productions.
To have Weaver's Week emailed to you on publication day, receive our exclusive TV roundup of the game shows in the week ahead, and chat to other ukgameshows.com readers, sign up to our Yahoo! Group.