Weaver's Week 2017-09-10
Last week | Weaver's Week Index | Next week
A pair of teatime dating shows get reviewed this week. In about 750 words, clothes maketh the man. But first, Cupid in the City
Tiger Aspect (part of EndemolShine) for Channel 4, from 21 August
Back in the dim and distant past, Streetmate (1998-2001) was a cheeky mid-evening show on Channel 4. Davina McCall would stop random strangers on the street, and ask them if they were single. If they were, she'd introduce them to someone and perhaps they might go on a date together.
Of course, Davina's gone up in the world since, she's presented everything from Big Brother (2000-10) to The Vault (2002) and The Jump (2013-17). Her new chat show on the W channel is seen by almost some people, it makes Cheap Cheap Cheap look popular.
These days, Davina won't slum it on daytime Channel 4, she won't nestle alongside Dave "The Narrator" Lamb and Homer "Annoyed grunt" Simpson. Who will? Step forward Scarlett Moffatt.
The girl of our dreams first appeared on MTV's observational series Beauty School Cop Outs (2013). It's one of those shows where they put a camera crew in amongst a group of young people, and everyone pretends to act normally and forget they're being filmed for network television. The number of viewers was tiny, it almost made The Davina Hour on W look popular.
A much more successful show came beckoning. Gogglebox shows some specially-cast people talking about the shows they're watching as they're watching them. It's a clever conceit, and remarkably popular. Scarlett was on Gogglebox for three years, then walked over to ITV and won I'm a Celebrity... Get Me Out of Here! last December.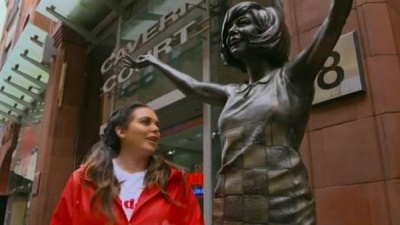 Scarlett pays tribute to Cilla Black.
Since then, the world has been Scarlett's oyster. A regular slot on E4's Virtually Famous, guardian of the Best Seats In The House on Saturday Night Takeaway, and presenter of the best ever episode of Host the Week (22 June, 9pm-10pm). Channel 4's live improvised variety show was a spectacular failure, it made Beauty School Cop Outs look successful.
And now? More unscripted banter with the public on Streetmate. It's an unusual idea for 5.30, opposite The Chase and Pointless. But then, Streetmate is a very different show from The Chase or Pointless. It's not a general knowledge quiz, it's not about antiques like on BBC2, it's about dating.
The basic synopsis is this. Scarlett meets her lead contestant, finds out a bit about them. We get a brief introduction, enough to find out what they're looking for in a mate.
Then Scarlett and her new friend go into the city centre, looking for potential suitors. The new friend picks someone out – that guy there, that lass sitting down.
Scarlett leaves her friend, runs up and asks, "are you single?" The Streetmate code of honour is that they won't disrupt existing relationships. Some social norms are not going to be challenged at teatime, and monogamy is very much one of them.
Eventually, Scarlett finds a single candidate. She will, we hope, convince them to come over and have a chat with her friend, see if the two will agree to go on a date. Then we get some footage of the date, and perhaps a catch-up later in the show.
Scarlett will not rest until her work is done, she will continue pestering the good people of Spinningfields or Liverpool One until somebody agrees to go on a date with her friend. And we can believe she'll stick to the task like glue, there's a certain tenacity, a never-say-die attitude. But if she does fail, or the planned date bails, the producers have lined up a "blind date" so the show doesn't fall apart.
Streetmate benefits from sharp editing, and a contemporary uptempo soundtrack. But it doesn't just deal in club 18-34 youngsters; Streetmate will help older people find a date. We have the bizarre sight of Scarlett Moffatt, (27) running around groups of pensioners (three times her age) and asking if they're single, and would they like to date.
Streetmate is light and frothy viewing. Each episode is self-contained, so we don't have to watch them all to see a story. Indeed, we can get a story from just half the show, the first ten minutes while Pointless sags in the middle, while The Chase has its repetitive round four.
And like its slotmates, Streetmate is timeless. E4 played out the original series for years afterwards, and we're sure it'll play out this series again and again.
Is it a hit? While this column doesn't go in for dating shows, we have enjoyed Streetmate. It's the madcap energy, the indefatigable optimism. And the sense that Scarlett is the best wingswoman, giving a little confidence boost just when it's needed. Wouldn't turn it off.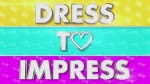 A co-production of ITV Studios and Accidentally on Purpose for ITV2, from 4 September
Another channel, another teatime dating show. This one is completely novel, and has a smart twist on the traditional setup.
For our example, we're going to follow "the bloke", the one person assured of a date. There are three "hers", three "contestants", three potential dates. This is just an example, episodes swap around gender pronouns as required.
We the viewer have met all three contestants, got to know them a little, what they're looking for in a bloke, and what their fashion sense is. We've also spent some time with the bloke, learning what he wants in a date, and what his fashion sense is.
So, our chap introduces himself to three potential dates. They see him through pre-recorded video, he won't see any of them until the end of the show.
Straight away, we set up a power imbalance. He will have the choice of date, but it will be a blind choice. The trio know what they're getting into, and can pitch their efforts to just the right level, but don't know the bloke's reaction. We, the audience, know everything, but we're not participants in the relationship, we're just watching.
Our chap gives instructions on the outfit he wants. We must assume that the contestants are told the right size, because everything on this show just fits.
The back end of part one, and some of part two, is taken up with a rapid-fire shopping trip. Each contestant buys an outfit that meets the brief laid out by their potential date. There are limits: the budget is £150, and there's just 30 minutes to complete the shopping. We see lots of fast cuts between each of the players, and some themes are set up. Are white jeans a good idea? Will anyone dare to go all-black?
After time expires, the outfits are boxed up, and each player puts a note on top of the package. Then we cut to the bloke, who is joined by some of his fashionable friends. He opens each of the outfits, discusses the contents. Gawps at the things he likes, wonders at the things he's not sure about. Then he disappears behind a screen to get changed.
While this is happening, we see the three contestants, sat around a table. They discuss their offerings, perhaps revealing what inspiration they've had. Perhaps giving good ideas to each other.
Repeat this for all three outfits, and just about suspend action over the middle commercial break. At the start of part three, the worst outfit will be rejected, and the lady who sent it will also be dumped. "No hard feelings, it just wasn't the outfit for me," or some such banal nonsense.
Then we're into the second shopping challenge. The bloke asks for another outfit. Two outfits in half-an-hour? We're glad someone else is paying for this. This second outfit is a clue to the date he's got planned. Again, the players hit the high street. They've still got 30 minutes to complete the outfit, but this time the budget has increased to £200. But because they're shopping in mainstream malls, and with expensive brands, that money doesn't go as far as it might.
Remember, the contestants didn't see the bloke wearing their outfits. Given the short time limit, they probably don't see anyone wearing the outfits. They have very little idea about what fits him, only an idea about what he doesn't like. They know nothing – apart from the right size, and whatever fashion ideas they have.
In the final part, there's another unboxing ceremony, there's more chatter between the contestants. There's more modelling, there's lots more modelling.
The big reveal is done in a stylish and novel way. We'll see the two remaining contestants waiting for the date to arrive. And we see some head shots of the date in the car, about to pick up the day's winner. Only head shots? The date is wearing the outfit chosen by the winner.
When the date steps out of the car, the winner knows it was her outfit. And we viewers get to see the costume and the reaction from everyone.
The losing contender gets a quick and polite kiss-off, before we're treated to some footage of the winner and the bloke on their date. Another novelty comes when we ask "do they want a second date"? Each has a "yes" and "no" card to reveal. We get the inevitable "a few weeks later" update at the end.
Lots of good ideas on this show, but a few slight problems. One of them is a playout error: we watched Monday's episode on catchup channel ITV2+1, and for one part of the show the pictures ran about 30 seconds behind the soundtrack. Most distracting, and not the sort of thing we'd expect from ITV.
Matt Edmondson came up with this show, and he's also taken on the narration. He wants to be a new Dave "The Narrator" Lamb, but hasn't quite got the knack yet. He predicts the future: "I would ask him to give us a twirl, but he's going to anyway." He makes smutty jokes: "will it lead to any sausage eating?"
Often, Matt gives away a piece of the plot. For instance, he mentioned black jeans a lot during the first shopping challenge. Yes to introducing the things we'll see later, but no to having everything turn into a plot point later. It's like Chekhov's Gun, it's like every item in Suzanne Collins' Panem. Surprise is lost. The idea has been put on the table and we know it'll fire at some point.
Where Dave Lamb is cruel and kind, Matt Richardson came across as cruel. Snark requires the speaker to have a glint in his tone, a sense of "I'm being a bit harsh for comic effect, and I don't mean it". A couple of times, we got the impression that Matt was harsh and actually meant it, and that took us out of the good mood.
Matt's recurring commentary motifs can get tiresome. For no obvious reason, one episode had a running reference to The Apprentice. Dude, it's your format. if you want it to be associated with sex pests, that's your call. We will judge you on it.
All that said, Dress to Impress kept us entertained. We're not sure that it has quite enough for the full hour, but a half-hour show with just one challenge would be far too short. We're not quite sure it's there yet, but it will improve with practice. The novel ideas make up for the shortcomings. Any one of the innovations – imbalances between the players, extra information for the viewer, and a cute reveal – would make the show work. All three make for a major advance.
This Week and Next
Hats off to Nicola Nuttall, winner of this week's Mastermind. A perfect round on Kirsty MacColl was an achievement. A score of 13 on general knowledge showed depth of knowledge. Nicola Nuttall's 28 (1 pass) is the best score of the series so far. Chris Ward (23) is also in contention as a high-scoring loser. Denis Irvins and David Bishop were less successful.
What way could the Inquisitors (Luke Kelly, Julia Hobbs, Rob Cumming) to arrive on Only Connect? How's about a Five Point Klaxon on the very first question. It helped them to a 10-3 lead after the opening round. The Cricketers (Andrew Burford, Neil Clarke, Simon Williams) pegged back to 12-8 after Sequences, thanks in part to hitting a cricket question for (er) three.
The walls enabled both sides to go into Missing Vowels level, but the Inquisitors romped away with Ten Points! in this final round. 28-21 the winning score. We think the Cricketers join the Escapologists in the Section A repêchage, easing out the Lapsed Physicists 8-7 on two-round countback, but we could be wrong.
University Challenge pitted Trinity Oxford (Maxim Parr-Reid, Nicole Rosenfeld, James Gunn, Ben Coker) against a team from University College London (Tom Allinson, Charlie Dowell, Robert Gray, Omar Raii). After a close match, Trinity led at the gong, 160-145.
One player from each side comes from overseas. Last series, we noted how a ban on overseas students – as floated by certain members of the present government – would have completely changed the University Challenge series. The winners would have lost in the first round, and Eric Monkman would never have become a star.
This year, we've found out how the proposed "ban" was predicated on misinformation. Instead of the guesstimated 100,000 students staying past their visa, the facts show just 4600. The minister's claims were inflated by approximately 2200%.
We've asked the minister who put about this bogus claim, Mrs. May of Maidenhead, for her observations. No response has been given; Mrs. May does not wish to own her untruths.
BARB ratings in the week to 27 August.
Strike The Cuckoo's Calling (BBC1, Sun) the top show, seen by 7.75m viewers. Celebrity Masterchef (BBC1, Wed, 4.9m) the top game.
University Challenge (BBC2, Mon, 2.35m) takes the silver, and Dragons' Den (BBC2, Sun, 2.3m) the bronze. Two notes: we don't have data for BBC1 this far down, and Game of Thrones (KYTV Soggy, Sun) blasted to 3.55m.
Lego Masters (C4, Thu) began with 2.1m, an inch behind Cash Trapped (ITV, Mon). Celebrity Big Brother finished (C5, Fri, 1.8m). The Crystal Maze (C4, Fri) had a poor showing, just 1.35m
Digital channels: Coach Trip Road to Zante (E4, Mon, 405,000), Would I Lie to You (Dave, Sat, 385,000), and Room 101 (Dave, Mon, 375,000).
Susan Calman overload continues with The Boss (BBC1, weekdays). Taskmaster is back (Dave, Wed). ITV2 has a double whammy for Thursday, Bromans and Celebrity Juice. Over on The Satellite Channel, A League of Their Own also returns (Thu).
Last in the series of Lego Masters (C4, Thu). Next Saturday features Even Better Than the Real Thing (BBC1), which might just pass as a game show.
Photo credits: Tiger Aspect (part of Endemol Shine), ITV Studios / Accidentally On Purpose.
To have Weaver's Week emailed to you on publication day, receive our exclusive TV roundup of the game shows in the week ahead, and chat to other ukgameshows.com readers, sign up to our Yahoo! Group.