Weaver's Week 2018-04-15
Last week | Weaver's Week Index | Next week
There is so much more to the BBC than a handful of news programmes that won't follow every last whim of Andrew Adonis. For instance...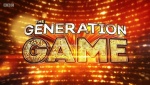 BBC Studios for BBC1, 1 and 8 April
Our tale begins with the Eurovision Song Contest of 1960. Rudi Carrell represented Dutch broadcaster VARA in London's shiny new Festival Hall. He scored poorly on the night, but VARA gave him a variety show of his own. Broadcast live, Rudi Carrell Show incorporated topical sketches, character actors, and rising stars such as Cliff Richard.
Seeking greater fame, Carrell hopped over to Radio Bremen's television station, and made a similar entertainment show for German-speaking viewers. One of the recurring items was to sit a winner down, and have prizes pass before them on a conveyor belt. What the winner could remember, they'd keep. But Bremen was a small contributor to the network, it only got eight Saturday nights per year, and Rudi's appearances were rationed. A bit like Schlag den Raab these days.
Rudi kept up his shows for the Dutch as well. Towards the end of the 1960s, VARA television invented Één van de acht. Four pairs played all sorts of games, winnowed down to one by a final quiz round. The winner would take part in this conveyor belt game. Rudi Carrell got the rights to this series in German-speaking markets, and Am laufenden Band ran through the 1970s.
On this side of the Manche, VARA's format became The Generation Game. Four pairs of contestants took part – related, and from different generations. They were given silly things to do, and the best won the prizes.
The Generation Game was always tied to its hosts. Bruce Forsyth ruled with a cheeky wink and a rod of iron. He was in charge of a slick production, and we were never allowed to forget that he's in charge. Larry Grayson and Isla St Clair were a double act – Larry played the camp fool, Isla kept the show moving, and both worked with the serene grace of stars. In the 1990s, Jim Davidson tried to dominate the show through sheer force of personality.
Thanks to repeated clips of the potter's wheel, The Generation Game has remained alive in the popular memory, Bruce and Larry's very different versions are a quick reference point for the 1970s. As ever, the folk myths have become a slight distortion of the facts. Start with a kernel of memory, then it all gains the patina of "I thought it was like this", and before we know it there are shared falsehoods that don't stand up to a moment's thought.
Mel and Sue's new interpretation has to deal with all of this history. Some people remember Bruce's steely glare, some remember Davidson's clunking hammer. Some remember Larry's studied uselessness, some will half-remember Isla's laser focus. Everyone has their own gloss on the show's past, and no two people will have exactly the same memories. And many people will remember The Generation Game as more than it ever was.
Let's look at the show as it is. Our hosts are Mel Giedroyc and Sue Perkins, the most popular double-act on television this month. The first nod to modernity is the Critical Panel, two famous people who have come along for the ride. They're not going to judge, they're just there to give Mel and Sue something to bounce off, a bit of fluff to help fill the time.
There were a couple of unbroadcast pilots, where Mel and Sue picked people out of the studio audience to play the games. These shows were unbroadcast for a reason: they were really astoundingly bad. Seriously, they were rubbish. You might think Andrew Marr's show is complete twaddle, but it'll win BADFTAs before these Generation Game episodes.
The Generation Game might look spontaneous and uncoordinated, but it's actually planned to within a centimetre of its life. To be this bad takes preparation, and you can't just pick any old Jimmy and Jilly out of the audience. So, meet the contestants, chat to them. Another nod to modernity: the families have brought along some pictures of bygone days, photos to stick up on the video wall behind them. A picture paints a thousand words, and this little gallery helps to explain and enliven some anecdotes.
Quickly we're into the opening challenge. In the best traditions of The Generation Game, it's a physical challenge. First amongst these was The Potter's Wheel. Here is a lump of clay. Here is Johnny Vegas. Here is a pottery wheel. Johnny will demonstrate how to make a teapot, and then the teams have a few minutes to replicate what the star did.
Mel and Sue drop behind the teams, ask them to give a running commentary as they go on. "Have you ever seen a teapot before? You've got a beret there. Love, you've got to put the spout on the wheel." After a few minutes of this, Johnny comes back to give his opinions – and to test the teapot. Will it hold water, and will it pour out? Marks out of 10 for each player.
Then it's some Indian dancing, watch what the experts are doing, and then join in as they do it again. Mercifully, we don't see Mel and Sue strutting their funky stuff; sadly, we don't see Richard Osman or Lorraine Kelly joining in. Again, marks out of 10 for each player, and the top team wins.
The second family have a slightly shorter set of games: in the opening episode, making sausages and spinning plates. Sausages need a good length, no air in the end, and perhaps have a very strange middle bit. Look, this is just an excuse for Mel and Sue to make their trademark double entendres on network television. And why not: let the stars do something they're comfortable with, even if the contestants aren't. Spinning plates always looks good on television: a miracle when it works, literally smashing when it goes wrong.
Two winning couples go through to the Sketch Finale, featuring lots of celebrity cameos. Martin Kemp is the judge, and DJ Basil Brush is going to drop the sick beats. The contestants are told what styles of dance they're going to do, a hunky man gets ballet and his maiden aunt will do Irish dancing.
And then it's the conveyor belt final, the winning couple play as a couple. 20 prizes, 20 seconds each to name them. A display shows we viewers at home which prizes have been won.
Before this first show was recorded, Mel and Sue had done those unbroadcastable pilots. They were nervous throughout, not relaxing until the very end. The editing didn't help, it felt forced and compressed, like they'd edited something important out of the edition. For last week's second show, the duo were much more comfortable, with icing cakes, Argentine tango, balloon modelling, stage magic, and a better comedy sketch.
Were this a new format, our comment would be, "decent idea, it'll take a few episodes to get in the groove." Had we only seen the second episode, our comment would be, "decent idea, we'll watch more for the fun than the competition".
It's not a new format, of course. The Generation Game is older than many of the contestants and participants. This helped the show get on air – when you say The Generation Game to any television commissioner, they will have an idea just from memory.
But the history has held Mel and Sue's version back. The first episode isn't as slick as Bruce in his prime. It's not as funny as Larry-and-Isla in their pomp. It's not as full of itself as Jim Davidson. The nostalgia industry surrounds everything with a diffuse glow, it asks us to believe that everything was better in the past. This is a lie: it only takes one look at a Jim Davidson edition to see that it's not funny, not entertaining, and a miracle that it lasted into 2002.
And television has moved on. You can't make a 1974 programme in 2018 and expect it to do well. All shows evolve, even the longest-running ones. Countdown changes its host and its guests. Mastermind and University Challenge change their questions, and change the topics they ask about. No-one in 1974 would have answered questions on Fawlty Towers because the series was just a bright idea on John Cleese's notepad.
Perhaps the best comparison is between the old and new series of Fifteen-to-One. This column loved William G Stewart's quiz: slick, efficient, at times impersonal and dehumanising. And we rate Sandi Toksvig's take: slower, with much more personality, revealing something of the players and telling more about the questions. It's the same show, done in a different way.
The Generation Game used many challenges familiar from the old series. They almost invited nostalgic comparisons, knowing that they could not win. And yet, these were timeless games. Failing to throw a pot, seeing plates smash, that's always going to be funny television. Seeing someone mess up a cake is how Mel and Sue got here, for goodness' sake!
This interpretation tried to move with the times, and acknowledged its past. For our money, it was a sterling effort. We wouldn't commission a full series on the back of this. Our gut feeling is that – like Rudi Carroll's show for Bremen – it'll work best in very short runs. A couple of episodes in September, while the Strictly stars train. And if that's a success, may we have Mel and Sue's Generation Game for 5.30 on Christmas night, just before Dr Who?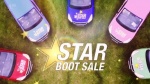 Boomerang and Motion Content Group (parts of TwoFour) for Channel 4, 19 March - 13 April
Back to weekdays, and daytime teatime television is in a rut, especially at 5pm. ITV and BBC1 have their quiz programmes, and get phenomenal audiences. Channel 5 is secure in its block of soft news and Aussie soap operas. BBC2 has repeats of daytime shows. CBBC is in its primetime, and puts quality drama out.
Channel 4 is floundering. This is nothing new: it's been floundering at 5 for years. Cheap and cheerful reality shows seem to be the least unsuccessful format: Come Dine with Me has been twiddling along for years, Three in a Bed also works. Out-and-out cookery shows have been less successful, and they've not tried a quiz since Five Minutes to a Fortune.
For their latest effort, Channel 4 have gone with one of those antiques programmes. This one is essentially a re-tread of BBC1's Cash in the Celebrity Attic, where a bunch of antiques dealers go around someone's home, looking for tat they can sell at auction in a good cause. Cash in the Attic ended in 2012, but old editions continue to pop up on BBC2 and UKTV's Home channel. It's not a show this column enjoyed.
Star Boot Sale follows the format closely. The first part of the show sees the day's featured celebrity go around their house, looking for tat to sell. A record celebrating the success of Ed Sheeran: he's got a lot of fans. Aw, and my mother's landscape painting, that must be worth a few bob. (SPOILER: It's not.)
Then it's off to an outdoor car boot sale, where the celeb arranges all they've brought onto some trestle tables, and attempts to sell 'em. There's haggling, there's shouting, there's an effort to concentrate on the few featured items we saw in the celeb's house earlier. It's the closest we get to a story within the episode. Shane Richie provides a voiceover, slaloming between "blatantly obvious" and "over-sarcastic".
There is a very minor competitive element: each group of five celebrities is in the same sale, and the most successful will win £1000 for their nominated charity. All will donate their income to charity anyway. Be honest: no-one is watching Star Boot Sale for the game, it's a narrative device to encourage viewers to watch more than the one show.
The fans of the celebrities might tune in, and will need to tune in all week as they pop up in each others' shows. But for every Joe Pasquale there's a Bobby Davro, for every Anthea Turner there's an Ann Widdecombe. The producers have aimed for a diverse set of celebrities, they've come up with too many divisive bookings. And worse, they've got a list packed with The Usual Suspects, the folk we would expect on any celeb-reality show.
Overall, Star Boot Sale leaves this column cold. In part, this is because we don't find the format very interesting, but the show could still grab our attention by being excellent. It doesn't grab our attention, it doesn't bring anything new to the television. It's perfectly competent, and it's unlike anything else on television at the moment, but this show doesn't leave us wanting to see any more.
This Week and Next
Incredible scenes at BBC The Voice, where they have a best-selling single. Ruti won the contest last weekend, and her cover of "Dreams" has become the top-selling download single this week. Could this herald a genuine crossover star, the first in seven years?
Un-believable! They're going to make a series of the Stephen Mulhern vehicle Stephen Mulhern's In for a Penny … In for a Grand with Stephen Mulhern. It's been an excellent five-minute feature on Saturday Night Takeaway, but not sure it'll work in a longer slot. We'll discuss this further when we review Ready or Not in a few weeks.
Renewed for a second series: What Would Your Kid Do?, ITV's prediction show for toddlers and parents hosted by Jason Manford. That's good news, we enjoyed the show, and for more than the Marx Brothers reference.
Eco-Warriors and Escapologists met in the Only Connect final quarter-final. When these sides met in heat 4, the Warriors won the first round 10-4, and were pegged back to a 27-23 final score. If the Escapologists can hold their own in the opening round, victory looks likely.
Not that this looked likely. It took many years, the Eco-Warriors eventually remembered the name of Torvill and Dean. Escapologists had been there or thereabouts on most of their questions, and scored three on a music sequence – the team knew just one clue. A bonus on the teams managed by José Mourinho gave the Escapologists a 6-5 lead into the wall.
The lead grew to 11-8 after the walls: darts players and High School Musical characters for the Escapologists, Octonauts and Sandra Bullock for the Warriors. Missing Vowels was one-way traffic, and the Escapologists won 19-11.
No surprises on University Challenge, where St John's Cambridge beat Edinburgh at a canter. 95-0 after five starters, 270-60 at the gong. Highlight of the night is a bonus set on the football teams of pineapple-producing countries. Were this Only Connect, they'd have asked the teams to sing "Agadoo". (Teams: ask yer dads.) St John's looked like finalists, going 26/39 in this – ooh! In this semi-final match, so they are actually in the final.
BARB ratings in the week to 1 April.
Saturday Night Takeaway is back! Back!! BACK!!! Top show of all. (ITV, Sat, 8.95m).
The Generation Game (BBC1, Sun, 5.55m) was a hit for Mel and Sue. And it beat Minor Celebrity Bark-Off (C4, Tue, 5.5m), which just beat BBC The Voice semi-final (ITV, Sat, 5.4m).
Masterchef peaked on Monday (BBC1, 4.5m). Very pleased to see Brightest Family holding steady at 3.2m (ITV, Wed); the series might need a little work, and there's clearly a good audience for it. Star Boot Sale scored 670,000 on Friday; it debuted last week with around 700,000.
Celebrity Juice continues to turn big numbers even on a bank holiday weekend (ITV2, Thu, 1.1m). Not all shows do – Yankee Next Top Model dropped almost half its audience (UK Living, Fri, 255,000).
Dave has the next two digital games, Would I Lie to You (Sat, 440,000) and Go 8 Bit (Mon, 320,000). Revolution had 225,000 (The Satellite Channel, Sun), and Your Face or Mine brought 200,000 to Comedy Central (Wed).
Next week, we expect to review Alan Carr's I Don't Like Mondays, cast a very quick ear over Change Your Tune, and what happened when we played the Tenable app with our chums.
Before that, another set of hopefuls go round The Crystal Maze (C4, Sun) and there's Celebrity Catchphrase (ITV, Sun). Tenable returns to afternoons (ITV, daytimes), and BBC1 will push The Button (Fri). Champions are found on Got What It Takes? (CBBC, Wed), and on Band Ieuenctid Cymru (S4C, Sat).
Photo credits: BBC Studios, Boomerang / Motion Content Group, Boomerang
To have Weaver's Week emailed to you on publication day, receive our exclusive TV roundup of the game shows in the week ahead, and chat to other ukgameshows.com readers, sign up to our Yahoo! Group.