Weaver's Week 2019-10-20
Last week | Weaver's Week Index | Next week
A continental theme to this week's edition. Later, we ask difficult questions of Mediaset España, note Ben Shepherd's new project, and have a few notes from Germany. En premier: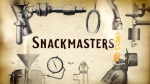 Optomen (an All3Media company) for Channel 4, 1-15 October
Food science is a thing, and we saw it deftly demonstrated on Snackmasters. Top chefs claim that cooking is a little inspiration, and a lot of science. Each dish is an experiment, the chef will change something – the ingredients, or the cooking method, or how they present the dish – and see if the results are more pleasing.
Our host and narrator is Fred Sirieix. The front-of-house host from CBBC's Step Up to the Plate (2) is back on the telly, with his rich French accent. As an outsider, Fred can boggle at the bizarre confections eaten on this island – the Kitkat chocolate bar, the Whopper burger, and the pickled onion Monster Munch corn snack. It's like Danny Dyer speaking French in a cockney accent as he discusses goûter snacks such as Nutella tartine with Prince chocolate.
The challenge in Snackmasters is enough for this site: two chefs are given a supply of the snack, and are to recreate it. Their creations will be judged by experts from the factory, and the better snack will win.
There's very little new in this sort of challenge, and Snackmasters uses a lot of familiar tropes. An artificial race against time is just like Bake Off, albeit with a deadline measured in weeks rather than hours. Fred visits both contenders at their kitchen, often just as they're about to make an important breakthrough. What a useful coincidence. And there's a final judging panel, with discussion in front of the cooks and away from them.
But there are new ideas to be seen. Snackmasters encourages the cooks to experiment. They have an idea, see if it works, and then advance their idea. Some cooks have a rigorous process, blending various combinations of flour and various ways of cooking it, and go through all of the combinations to find the best result. Others combine ingredients based on their prior knowledge, and tinker with the mixture to get the right result.
All of the cooks honour the scientific method: you have an idea, you do tests to confirm or refute it, you change (or confirm) your idea. Gosh, actual rigorous evidence-based science on primetime television! We're not watching Question Time any more...
The only rule is – there are no rules!
Other than the date for the final cook-off, there are no other restrictions on the cooks. If someone wants to have a mould made just so they can put the imprint in a Kitkat, that's fine. If you want to import a corn extracting device from China, and give a free lunch to anyone who can translate the manual from Chinese into English, excellent. Expect both of these bizarre events to be on television, because it's a television show.
More prosaically, there's nothing to say the chefs can't bring in outside help, or look up information on the interwebs. Had they done so, they might have found out that the "chocolate" inside Kitkats is actually ground-up Kitkat, so chocolate with a little bit of wafer. Nor do they have to stick to the original ingredients list: if the chef thinks that a pickled onion flavouring using actual onion works better than the artificial one, that's fine.
This freewheeling attitude spreads to the rest of the show. It's fun and enjoyable, a tone set in the opening moments and the one-minute monologue they use in place of a proper title sequence. There are visual gags in the background – mostly at the beginning of the show, to keep viewers watching from Bake Off.
And the comedy element continues as Jayde Adams goes behind the scenes and into the production line. Jayde's a professional comedian, interviewing serious people about their everyday jobs. It's the one part of the show we find a bit weak: the explanations by the factory workers are revealing, and fit in around what the chefs are doing. Jayde's jokes tend to the predictable, and she comes across as a bit awestruck by the whole experience. This could, of course, be the whole point of her character, but that would be just too subtle for the programme. We are pleased that the show never stretches into anything that feels like product placement – these are familiar snacks, but they're not glorified, and perhaps our chefs might improve them.
At the end of the show, Fred will revisit the contestants, and ask them what they've learned; have they started to include chocolate-covered wafer biscuits that are not quite Kitkats on their menu? Before that, the competition has to be decided, the artificial deadline reaches its climax.
Two chefs arrive at the factory, and go on a guided tour of the plant. Here they see how the professionals do it. Will the chefs want to make changes to their recipes? Woe betide them if they do, because flying like that will tend to snap badly. While the judging is serious, and based on the evidence of the food in front of them, both panel and chefs know that the serious decision is also the height of absurdity.
For us, that's Snackmasters in a nutshell: a frivolous endeavour, treated with the utmost seriousness. It demonstrates the scientific method in general, and food science in particular. And Snackmasters tells its story with joy and gusto throughout. Another factual entertainment winner, then.
¡Ole! (Fancy That)
"Have you paid your licensing fees?"
"Er, Pasapalabra"
The Spanish version of Alphabetical came to a juddering halt at the start of the month, following a dispute with ITV. The show had aired on Telecinco, Mediaset España's general entertainment channel – it's as popular as ITV here. The courts had been considering whether Pasapalabra was a direct copy of 1996 daytime chatfest The Alphabet Game, or was something Mediaset had invented themselves, via the Italian-language show Passaparola.
The leading newspaper El Pais summed up the massive impact to the culture:
Pasapalabra, possibly the contest with the most loyal viewers in Spain, had just seen the best September of its long history, with an 18.8% screen share. It had – on average – about two million daily viewers; many of them would stay and watch the news that came after. Pasapalabra used to be the most viewed show of its time slot and had the minute with the most audience of each day, usually coinciding with the final test of each program, El Rosco. That a successful program be taken off screen was unprecedented. That the Supremes order it overnight, historical.
Mediaset's key evidence was that the endgame, "El Rosco", wasn't performed on The Alphabet Game. ITV countered with evidence of contracts and rights fees. Between 2000 and 2006, Pasapalabra aired on Antena 3, where they modified the rounds as the show evolved, and developed the final, El Rosco. Mediaset bought the show from A3 in 2006, and renegotiated the contract with ITV in 2009. ITV made their mark: they wanted rights money, they would produce the show themselves, and 10% of the profits from the show.
Mediaset were annoyed at the steep price. They argued that after nine years, the show was barely recognisable from the amiable daytime chatfest. Ideas had been brought in from the original Spanish production company BocaBoca, from the Italian Passaparola. About the only thing left from the original concept was to go from A to Z.
Mediaset registered El Rosco as a trademark, introduced more changes, unilaterally declared the contract void, and sued ITV to have the fees back in late 2010. That case finally came to a decision at the start of October: Mediaset's argument was rejected entirely, the show had to come off air, and Mediaset owed ITV €14.8m in rights fees.
Why is this an important case? A superior court has ruled that a format is a format, however much it evolves, and that could have implications for the entire game show industry. Some have argued for a much narrower reading, that in this specific case Mediaset had broken a contract they'd signed in good faith, and their defence was an after-the-fact justification. At the risk of sounding like a waffly news correspondent, we just don't know what will happen. We will have to see if this case provides a precedent for similar "your show's a bit similar to mine" disputes.
Germany Four
A few further matters arising from our recent trip to Germany.
1) Super Toy Club is a children's show, it ends with the winners pushing a trolley up and down the aisles of a toy store. To get shots of the contestants scampering after their prizes, they use a camera on a tall pole, roughly at their eye level. We reckon that this gives far better results than we saw on Supermarket Sweep – their cameras were on the trolley handle. Lots of full episodes on the interwebs.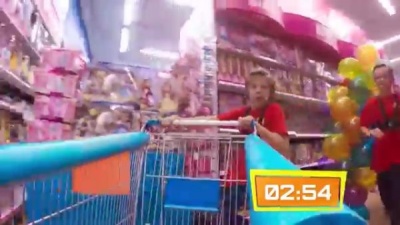 Far better than anything Supermarket Sweep showed.
2) Caught a little bit of The Voice of Holland of Deutschland, where they're at die Unglaublichespinnstühlerund. Luke has had both Mark Forster and Alice Merton say "I want you", and has heard their pitches. Which way will he jump? We'll... find out after this 20-second commercial from our sponsors. An advert short enough to keep people watching, long enough to get the message out. Wonder if ITV will be brave enough to replicate the idea in the next series.
3) ZDF had Der Quiz-Champion, billed as "Das härteste Quiz Deutschlands", the hardest quiz in the land. It's a three-hour programme, filling the whole of a Saturday night, and it's run two or three times a year since 2012. Candidates first have to qualify, answering seven general knowledge questions correctly inside a minute – think how few people on The Chase would manage to do that.
Then a random selector picks out one of five specialists in their category – on this month's show, we had stars of Literature, Food and Drink, Sport, Film and Broadcasting, and Zeitgeischen (current events and pop culture). It's multiple-choice questions with three options, and the players – expert and contender – can change their answer until one locks in their answer and starts a seven-second countdown for the other to lock in. First to three points wins the category, and should they get to 5:5, a question on the buzzer determines the winner. Our candidate has to beat all five experts to win the jackpot of €100 000.
It's an interesting format, the experts in their field are back often enough to build up their characters as the Chasers do. Could it work over here? Perhaps stripped across a week in the style of Millionaire, but would it be too old-fashioned for ITV? Strip away the modern styling, and we're left with a quiz straight out of the 1950s, plucky little Carsten takes on five experts in smoking jackets at their own games.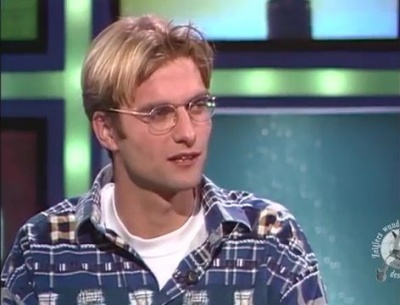 4) While watching a clipshow, we were surprised to see that there was a German version of Lose a Million. The obscure comedy quiz starring Chris Tarrant ran for one series in the early 90s. The German version is also remembered for just one thing: an early appearance by FC Mainz midfielder and future club manager Jürgen Klopp.
This Week and Next
Objective Media Group is launching a new quiz and game show label with Ed de Burgh and Ben Shephard. The as-yet unnamed label draws upon the pair's 20 years collective experience in the genre and will be a bespoke home for quiz and game ideas within OMG.
Ben Shepherd you'll know from Tipping Point and Ninja Warrior and The Krypton Factor and as the sensible host on Good Morning Viewers. Ed de Burgh has worked behind the scenes: he produced 5 Gold Rings and Saturday Night Takeaway and The Million Pound Drop, and co-created You're Back in the Room. We'll watch with interest, and look forward to the fruits of these fertile minds.
Second bite We're sorry to hear that Secret Fortune fell off the air in Switzerland last year. SRF1 dropped Top Secret after a scandal involving the host. We've never had that trouble with Nick Knowles, the safest pair of hands on lottery shows.
BARB ratings in the week to 6 October.
Strictly Come Dancing remains the most-seen show (BBC1, Sat, 9.99m). Bake Off is behind (C4, Tue, 8.7m). Badly-scripted comedy The Apprentice the top non-game show (BBC1, Wed, 6.75m), just ahead of Doc Martin (ITV, Wed, 6.6m).
The final of Got Talent The Champions was third in the game show league (ITV, Sat, 5.65m). Celebrity Masterchef had semi-final week (BBC1, Wed, 4m), ahead of The Chase (ITV, Thu, 3.75m) and Millionaire (ITV, Sun, 3.7m).
Dragons' Den was our top show on BBC2 (Sun, 2.35m) in a week when the Monday quizzes all took a week off. Snackmasters debuted on C4 (Tue, 2.15m). Decent scores for the finals of Treasure Island (C4, Sun, 1.98m) and Interior Design Masters (BBC2, Wed, 1.75m).
The digital leaders remain Taskmaster (Dave, Wed, 1.17m) and A League of Their Own (The Satellite Channel, Thu, 615,000). Comedians Giving Lectures continues to do well on Dave (Wed, 355,000). Supermarket Sweep finished on ITV2 with four episodes around 340,000, and Tuesday's down to about 240,000 because of Bake Off.
A quiet week for new shows, True Love or True Lies on MTV is about all we've got for you. It's Musicals week on Pointless Celebrities, with Jodie Prenger and Rufus Hound; Strictly Come Dancing marks Hallowe'en week in its usual style. The Chase Celebrity Edition features David Dickinson and Shappi Khorsandi, and the first in a new series of Take Me Out.
Photo credits: Optomen (an All3Media company), Gameface (an ITV Studios company), UFA-Show, ZDF, TOGGO.