Weaver's Week 2019-10-27
Last week | Weaver's Week Index | Next week
This week, we ask Danny Dyer to bring on The Wall, pay tribute to a wordsmith, and welcome the Children's BAFTA nominations. But first: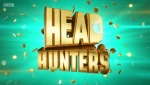 Tuesday's Child for BBC1, 7 Oct – 15 November
The dizzying array of daytime quizzes continues, with this latest daytime quiz. There's a brilliant quiz for an ITV hour, but the BBC1 equivalent is ever so slightly shorter, and this quiz really suffers.
Rob Beckett is our host, and it's something of a change. We're used to seeing Rob in comedy places, and this is a straightforward quiz. There isn't much room for jokes and larking about.
Joining Rob are the "Talent Pool", twenty quizzers who could take two weeks off work and spend them in a Glasgow studio. The "Talent Pool" will remain with the show throughout the run, with a few exceptions. As the days progress, regular viewers will get to know a bit more about the players, we'll see their personality as they chat with Rob and work with each other.
The Hunt is On
To qualify for the main game, there are three multiple choice questions. Rob reads out the four possible answers, then reveals the question as the timer starts. First person to press the correct answer will win through and become the first "Head hunter". Further questions bring us up to three "Head hunters".
Here's the first problem: we don't get to see these qualifying questions. Instead, we're told the results in flashback. Were this an ITV quiz, they'd have an extra two or three minutes, just long enough to show us this opening round.
After we've identified the Head Hunters, we're shown the board of nine categories. They're all precise categories: we don't see "Food and Drink" but "French wines". These categories provide a broad spectrum – there's something entertainment, something historical, a sport, some academic topics, and a wild card or two. These categories will remain throughout today's show, though probably won't return for the rest of the series.
Starting with the first to qualify, each Hunter will pick a category for the Candidate to answer questions on. The aim is to see if the candidate can substantiate their claims, and see if they can fill a gap in the Hunter's knowledge, and try to add money to the pot.
Each category has three questions: an easy one for £50, a moderate one for £100, and a difficult one for £150. All of the questions begin with the same few words, such as "Which president's wife was called..." If the candidate can't give a correct answer, the Hunters can buzz in and try to complete the question and save the money.
Across three categories, there's a potential £900 added to the jackpot pool. Ah, yes, the jackpot. All of the money won on the game goes into a common pool, and it accumulates until it's won. When it's won, the jackpot starts at £1000, otherwise this next section could be ludicrous.
So, across three categories, the Candidate and Hunters could add £900; usually, they'll add about £500. The Hunters will use this money, plus whatever was in the jackpot pool already, to bid for the Candidate. It's a non-quiz section, lots of pleading and bargaining, two rounds of bids before the Candidate chooses their Hunter.
Repeat this for two more Candidates, so we'll see quite some focus on six of the Talent Pool – the other 12 have sat in silence, and will come back tomorrow. As the Head Hunters gather their teams, the show looks a lot like Eggheads: clever people against a blueish background, conferring to answer questions.
Before the show, each contestant sat a 100-question quiz. Their scores are revealed and remain on display throughout the show. This makes the display looks cluttered, and we'd rather it not be seen at all. Joey's score of 57% has no direct relevance to the game we're playing, it's a very broad guide to the candidate's overall strength and not their specific strength on today's topics.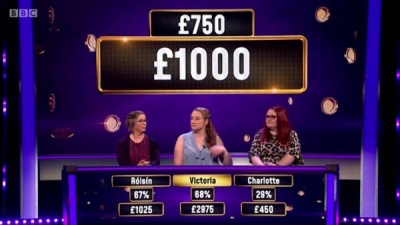 Late in the game, the set starts to look like Numberwang.
It Goes to Your Head
Eventually, we have six people distributed across the three teams, and we need to find out which team will go through to the final. Each team has five lives, and will lose a life for each incorrect answer; last team remaining wins. When challenged, the team will face three questions on each category, similar in style to the candidate's round, and with the same easy-medium-hard progression.
The first Hunter to qualify has the first choice: they nominate one of their opponents to face the first set of questions, and choose the first category. This is a huge advantage: not only can the leader damage their main rivals, but they can take out the category they're most uncertain of. After surviving the round of questions, the targeted team nominates one of their rivals, and chooses the category.
Eventually, two of the teams will have lost their five lives, and will be out of the game. If two or three teams remain alive after all the categories are used, there's a single buzzer question to decide the winner, irrespective of lives remaining.
The winning Hunter can now buy up the contract of any Candidates on the losing teams. It's an option, but not an obligation, and it's based on the individual's strengths – the winning Hunter can add Jeffy for £1400, because he's strong on their weaknesses, but reject Jamey for £1100.
The final round is to win the jackpot. The winning team, Hunter and any contracted Candidates, will attempt to answer one question from each category. They've 90 seconds to complete this task, and can confer before offering one answer. Get a category wrong, or pass, and they'll move on to the next category – and come back with a fresh question if there's time at the end.
To answer all nine categories in 90 seconds is tricky, the questions tend to the harder end of the scale. It's made harder by the one answer rule – the alternative would be a free-for-all shoutout guessfest like on A Question of Sport. And it's made harder by Rob Beckett's slightly slow diction, and the rule that the players can't interrupt him. Hard, but not impossible: there's room for 11, maybe 12 questions, so the first error is not fatal.
If the Hunter wins the jackpot, they win the jackpot. They pay off the contracted players and leave the show. The contracted players, plus their winnings, return to the Talent Pool, potentially to win again. Should the jackpot not be won, it rolls over to the next show, typically £1500 more than when it started.
All of this leaves a strategy question. Is it better to try and be the winning Head Hunter, and retain the bulk of one large jackpot, or to be the Candidate and take a slice with the prospect of more? Does this change when you realise the second and third Head Hunters are at a considerable disadvantage?
Head spinners
The best game shows have a simple aim. Make a word from these letters. Avoid the impossible answer. Pot as many red balls as you can. Someone can tune into the show halfway through, pick up the game, and follow it to the conclusion.
Headhunters is complex. Imagine that you're tuning in halfway through the show. You see two teams of two and a solo player, with another standing and answering some questions. The teams are picking the subjects, and money is earned. What are the percentages? What's the bidding for? Rob Beckett has a lot of explaining to do, and every second he's explaining, he's not quizzing, and he's not entertaining, and he's not relating to the contestants.
Headhunters is always going to be a fiddly format, and at the moment we don't get enough about the players in one episode to make sense of them. Cash Trapped reduces this problem by having a small group of six players until someone wins, but Headhunters could play for three days without repeating someone.
We mentioned that Headhunters needed to be a bit longer to fit in all the quiz. One way to do this might be to trim down the elimination round from five heads to four. We're still guaranteed to play most of the board, but we'd more often leave a subject hanging. That time could be used to show the opening questions – perhaps as a cold open, before the titles – or let us know the contestants a little better. And we need to lose the percentages, totally and completely.
Ultimately, Headhunters is both fun and frustrating to watch. There's a good show in there – quite possibly the germ of a great show – but we're not quite seeing it just yet, and we're not seeing it for production reasons.
The Wall: Wygraj marzenia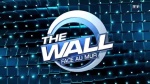 We looked at The Wall in its French version a couple of years ago. The show's now been translated to primetime Saturday nights, going out mid-evening on BBC1. How's it doing?
Danny Dyer is the host. He brings a gruff, no-nonsense approach to proceedings. At times, it sounds like he'll threaten the wall with physical violence if it doesn't do what he wants. He's an acquired taste, and it was a stretch to appreciate his hosting *and* all the intricacies of the rules on the first episode. The catchphrase was an instant hit: "Wall..... drop 'em!"
We're still not convinced by the presentation decisions. Filmed in Poland, The Wall has a studio audience who speak English as a second language. They don't always get the jokes and cultural references Danny makes, they snigger somewhat more slowly than native speakers would. Careful editing might help to make the show feel more homely.
Angela Rippon, a retired newsreader, reads the questions. She doesn't interact with Danny in any way, and we can't help but think she did all of her work in one hour at a studio in central London, then went off for a tea-dance at the Clarendon.
In the opening "Freefall" round, contestants have a this-or-that choice, and push a large button to select their answer. The answers are displayed on screen as this-or-that, but the contestants buttons are seen from behind, so appear to us as that-or-this. They could fade up the answer corresponding to the button as the contestant sees it, but they don't.
Later in the show, there's a "£25K" slot, and a "£2.5K" slot. These are labelled vertically, and at a glance, they look identical. Only the decimal point is different. Yes, these are teeny-tiny little things, but they tell us that the producers haven't quite looked at the programme as a whole. We're used to precision formats – The Chase times down to the microsecond, Pointless is exacting on pronunciation – and The Wall feels a bit too loose.
At heart, The Wall is an emotional journey, through the medium of quiz and luck. Unlike every other international broadcaster, the BBC started with a show where poor quiz and bad luck meant the choice was between a guaranteed £10,000 or a potential £0. The feelgood ending was to take the guarantee.
Episode two had good quiz and good luck, a choice between £20,000 and £70,000. While the guarantee met the contestants' expectations, there were mixed feelings at the money left on the wall. Episode three – which aired last night – had yet another outcome.
The amounts in play are human scale. Inflation means that £20,000 in 2005 is now £28,000; it still represents about one year's pay for the average household. Even the best quiz players are not going to get far above £100,000, and the guarantee is for a perfectly respectable win. We're not dealing in the dizzying amounts of money bandied about in the NBC original, but with something we can relate to.
This Week and Next
Children's BAFTA nominations are out.
Entertainment has the game shows: Sam and Mark's Big Friday Wind Up, Spy School, and Top Class go up against Play Your Pets Right.
Sam and Mark are up for Presenter, against Chris and Xand van Tulleken of Operation Ouch, Owain Williams from S4C's Stwnsh Sadwrn block, and Lindsey Russell from Blue Peter.
Channel of the year is between CBBC, Cbeebies, Truetube, and Hopster. The last two are internet channels: Truetube is short films for older children – primarily on citizenship, religion, and personal & health education. Hopster brings literacy and numeracy for those aged 2-6.
We'll only make one prediction: CBBC's got the Comedy award locked up, between 4 O'Clock Club, Class Dismissed, Horrible Histories, and So Awkward.
Danger Mouse is up for awards in Animation and Writing. This answers a question posed about House of Games (3): "Who can appear with Stephen Fry and Alexander Armstrong?" Shauna MacDonald and Morwenna Banks. In character, the lot of them. Especially our host Professor Jellyfishowitz.
We're sorry to report the death of Joyce Cansfield, aged 90, the inaugural champion of Countdown. Like many players of the words-and-numbers game, Joyce was an expert Scrabble player, the national champion in 1980, and set crosswords for The Times (uncredited) and The Listener (as Machiavelli) for many years. She also appeared on Winner Takes All and Turnabout, won Brain of Mensa, skied, and boated on the Norfolk Broads.
BARB ratings in the week to 13 October.
Strictly Come Dancing punches its ticket in the Ten Million Club for another year (BBC1, Sat, 10.08m). Bake Off is behind (C4, Tue, 9.0m). Coronation Street returns to be the most-seen non-game (ITV, Mon, 7.2m).
The X Factor Colon Celebrity did great things on ITV (Sat, 6.1m). Celebrity Masterchef came to an end (BBC1, Fri, 4.7m), beating Have I Got News for You (BBC1, Fri, 4.35m). The Wall came to BBC1's Saturday (4.08m), and beat out Pointless Celebrities (4.03m).
A new run of Celebrity Hunted began on Channel 4 (Sun, 2.95m), and Extra Slice (Fri, 1.85m) beat Snackmasters (Tue, 1.75m). On BBC2, Only Connect (Mon, 2.35m) ahead of University Challenge (Mon, 2.25m) and a part-network Dragons' Den (Sun, 1.6m). House of Games came back to 1.4m (Fri), and is already within 65,000 of Strictly On Two.
On the minority channels, Taskmaster (Dave, Wed, 1.08m), Celebrity Juice (ITV2, Thu, 770,000), Celebrity Coach Trip (E4, Mon, 510,000), and There's Something About Movies (The Satellite Channel, Thu, 410,000) all did well. Less convinced by Pants on Fire (E4, Thu, 175,000): hope it had a good demographic.
Horror fans, this is your week, with spooky specials on every channel. The game is Killer Camp (ITV2, Sun-Thu). The scares on Friday come courtesy of Mock the Week (BBC2), filling a slot vacated by QI. On ITV, Back to Mine (Sun) is back.
Comedy fans, great news. Gigglebiz has a quizzy spin-off, featuring all your favourite characters, and all those of your neighbourhood two-year-old. Gigglequiz comes to Cbeebies from Monday.
Last in the present series of Bake Off (C4, Tue). And just to confuse, though Strictly had its Hallowe'en special last night, Pointless Celebrities has its horror show next week, with Sam and Mark, Kate Lawler and Anne Diamond, but also Richard Blackwood and Timmy Mallett. Is there room to hide behind the sofa?
Photo credits: Optomen (an All3Media company), Gameface (an ITV Studios company), UFA-Show, ZDF.