House of Games (3)
Line 74:
Line 74:

[http://www.bbc.co.uk/programmes/b094mjv0 BBC programme page]

[http://www.bbc.co.uk/programmes/b094mjv0 BBC programme page]

+
+

== See also ==

== See also ==
---
Revision as of 01:10, 7 October 2019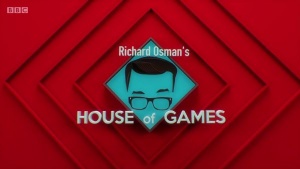 Host
Broadcast
Remarkable (part of EndemolShine group) for BBC Two, 4 September 2017 to present
Synopsis
Four celebrities are given quizzy things to do by Richard Osman.
A selection of four celebs take on rounds of quizzes, always with a twist. Some are general knowledge questions where the answers rhyme. Some are general knowledge questions where the answer is an anagram of part of the question.
Other rounds are more inventive. We might see the initial letters of a song lyric, in the original rhythm. Another round - played in pairs - invites guesstimates for a number and takes the average for the pair.
There are visual rounds, locate an item on a picture, or place somewhere on a map. And every show ends with "Answersmash", blending a picture with a definition.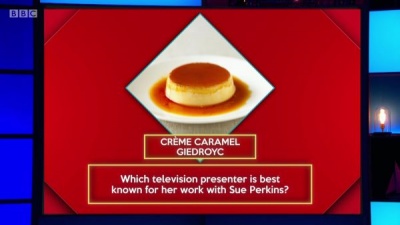 Crème caramel Giedroyc.
The show is impeccably cast: two men, two women. At least one familiar to the older viewer, at least one modern comedian from Mock the Week, at least one family entertainer. Richard Osman asks questions written with verve and wit.
A daily prize is drawn from the House of Games stall of stuff, with the winner lifting the House of Games Winners' Trophy.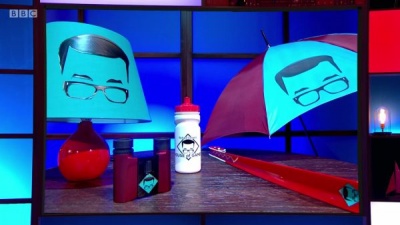 Daily prizes: Lightshade, umbrella, shoehorn, binoculars, water bottle, all branded with the show's logo.
We liked this show a lot, it hit just the right notes for 6pm and shifted well to late evening. The three-week initial run became a bit too repetitive towards the end, perhaps there could be some more variety when the show comes back.
Participants
Series 1
Series 2
Week 1: Naga Munchetty, Jordan Stephens, Sally Lindsay, David O'Doherty
Week 2: Ellie Taylor, Steve Pemberton, Fern Britton, Josh Widdicombe
Week 3: Shappi Khorsandi, Michael Buerk, Amanda Abbington, Elis James
Week 4: Beattie Edmondson, Amol Rajan, Gaby Roslin, Hugh Dennis
Week 5: Chizzy Akudolu, Charlie Higson, Kate Williams, Tom Allen
Week 6: Rachel Riley, JB Gill, Katie Derham, Richard Herring
Week 7: Lolly Adefope, Dan Walker, Sarah Greene, Miles Jupp
Week 8: Samantha Womack, Rory Reid, Anne Diamond, James Acaster
Week 9: Kelly Cates, Tyger Drew-Honey, Desiree Burch, Matt Allwright
Week 10: Susie Dent, Nick Owen, Chemmy Alcott, Dane Baptiste
Title music
Marc Sylvan is credited for "Music".
Trivia
Shown at 6pm, the traditional Eggheads slot, with the exception of the final five Fridays in series 2, where they went out at 7pm due to the monopolisation of the 6pm slot by It Takes Two.
Billed in some sources as Richard Osman's House of Games
Recorded at The Hospital Club, a basement studio in Covent Garden.
Web links
See also
Feedback