Lennie Bennett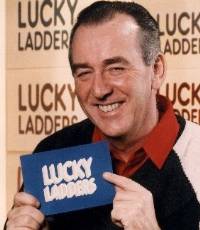 Biography
Comedian who started out in the late days of variety theatre, making his debut on The Good Old Days in 1969. He quickly became a regular turn on Saturday Variety and The Comedians, and a frequent panellist on Joker's Wild. He went on to become a regular on Celebrity Squares and by the end of the decade he was a huge star on the BBC's Lennie and Jerry Show, with Telly Quiz host Jerry Stevens.
He would also turn up as a participant in all manner of shows, from Star Turn to Blankety Blank, All Star Secrets and, somewhat less obviously, Driving Force. We remember him best for hosting Punchlines on ITV which ran for six years. He also appeared in twelve Royal Variety shows, and presented the daytime quiz Lucky Ladders.
After suffering a second heart attack in 1993, Lennie reduced his television work, and hosted world-wide entertainment for corporate clients. The last we heard of him was on a "where are they now?"-type show in 2004, when he was running a burger bar, Fat B'Stards, in Blackpool.
He died on 8 April 2009 at the age of 70.
Trivia
He hosted the opening night of Television South West in 1982, infamously declaring that TSW would stand for "Television Simply Wonderful" - a claim with which few critics (or viewers) agreed.
Bennett made some light news shows for LWT during 1982 - he would front some of the most frothy elements of Friday evening's The Six O'Clock Show, and had a short-lived talk show looking at the week just gone, Bennett Bites Back.
He was fond of a round of golf, and enjoyed the odd frame of snooker too.
Web links
Feedback