Weaver's Week 2018-01-21
Last week | Weaver's Week Index | Next week
It's the principle of yin and yang. Last week, we reviewed Raven, a well-considered, consistent, and high quality show. This week,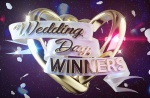 For BBC1, from 6 January
This review's mostly about the 13 January episode
Let's get our biases out of the way first. This column reckons that weddings are inextricably linked to monogamy, which in turn is a component part of male dominance, and that humanity would be better off if the patriarchy were consigned to history books under "E" for error. This column also believes that weddings are for other people, being single as anything and never having been in a position to consider one of its own.
The upshot: this column has problems with what weddings stand for. Wedding Day Winners is going to have to work hard to impress us.
To begin, we meet the two couples who are going to take part tonight. They're all in formal clothes – suits and bow-ties and fancy dresses. This might be the most formal programme we've seen since the mandatory suit-and-tie of History IQ. Each couple is joined by its "top table", half-a-dozen friends and relations. This, it appears, is a reference to the "top table" at the Victorian wedding ceremony, with the married couple and their closest family sharing a long table to concentrate attention.
After we've met everyone, we see filmed packages of the two couples. They're sharply edited, vam-vam-vam over cheesy and predictable music choices. The good news: we won't be quizzed on these videos later, we can just let them wash over us, and not care if the blues or the pinks have the equestrian fan.
The show has two hosts. Lorraine Kelly is experienced at live television, she has been getting the best out of people since many of tonight's contestants were babes in arms. Lorraine knows what she's doing, so Rob Beckett can learn from the best. He takes his microphone around the room, and talks to supporters and guests.
"Pop Your Cork" opens every week's contest. The aim is for the whole wedding party – the couple, the "top table", and about forty supporters – to bounce up and down on their chairs. Each chair is fitted with a pressure pad, and the pressure exerted by the entire team will add up and eventually reach a required target. An oversized Champagne cork will pop, ribbons will fall. The winning couple win a year's supply of Champagne and a cruise down the Seine in Paris. This prize is theirs to keep no matter what happens.
There's a filmed interlude, talking with the parents of the to-be-married couples. Then comes a physical challenge. In last week's episode, the idea was to create a buffet and impress Rosemary Shrager. She wants exquisite egg mayonnaise sandwiches, and a trifle – sponge, jelly, custard, cream, cherries, hundreds and thousands.
But this isn't as serious as certain other shows filmed in a marquee. One of the couple is blindfolded, the other is wearing boxing gloves so they cannot help. The couples need to get the ingredients from a fountain in the middle of the stage. It's revolving, other bits of the floor spin in the opposite direction. Many of the items are slippery, and everyone's going to end up falling over. The result is not so much Dinner Date and almost entirely Double Dare.
We found this segment to be long and heavily edited – it might well have been more fun in person, but this didn't transfer to the big screen.
The set is bright and colourful, with plenty of flowers and bunting. It's made to look like they're in a marquee. This isn't true, they're in a studio, as we can occasionally see an audience in the background. Between them and the stage are the supporters, the people who bounced up and down on their chairs. They're arranged around small circular tables, which apparently is the normal seating arrangement for parties in a marquee.
Tom Allen is another co-host, and he goes out into the wild for outdoors challenges. This week, it's Love Bungee, where the fathers of one couple answer questions about their imminent children-in-law, in an effort to win a prize the couple will enjoy. The questions are selected by one of the "top table" doing a bungee jump into a quarry, and bringing down hearts. Again, we're not convinced by the editing: the emphasis is on the questions, and not on the daring leap into the unknown. But the questions are easy, and we think it would be near-impossible not to win.
What's next? The Hoedown Showdown, a competitive barn dance between the two parties. Then there's a Beadle's About segment, hosted by Ben Hanlin. Looks innocent, but sets someone up into increasingly ludicrous situations. This is a filmed report, an excuse to give the other couple a prize as well. Yes, both couples are going to come away with something from the show – four prizes are competitive, each gets a reward just for taking part.
Friends and family offer "words of wisdom" before the final game, and there's some filling for time as Rob makes one last tour of the room. The final prize: a five-star honeymoon (this week: a fortnight in Bali), and the opportunity to get married on network television. This is a long game, takes some minutes to play. Our sample show asks the couples to bounce on bungee cords to attach bows to gifts. Because, of course, the most important part of the wedding is the presents, and not the public declaration of togetherness.
As we say, the winners get married on network telly. The losers have only their "I do"s broadcast, over the credits.
A deeper meaning of weddings
From time to time, this column reminds everyone that game shows reflect society. On occasion, we can use them as a sociological or anthropological study: the game show preserves the cultural memes of its time. Wedding Day Winners is just such a meme-host.
Western cultures consider marriage as an exclusive and permanent bond between a man and a woman. The primary aim is to assign sexual rights in each of the partners, and to establish parental responsibility for the children of the union. In its "traditional" form, a marriage also arranges parents and children into domestic groups, through which basic roles are allocated according to age and gender. Much of the paraphernalia – the reception, the cake, the lavish gifts and honeymoon – are more modern, dating from the 19th century.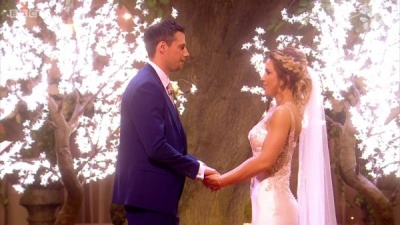 Wedding Day Winners reflects some contemporary readings of these core values. In last week's episode, one of the couples had children, a fact that would have caused great offence to religious fundamentalists two generations ago. These days, no-one bats an eyelid. The other couple was two men, a fact that causes great offence to religious fundamentalists in the present era.
The set dressing reflects a current fashion overlaid on deep tradition. The tradition of a party for the newlyweds dates back to Roman times, and doubtless longer. Holding such a party in an airy marquee is much more modern, only popular in the last few decades.
Some anthropologists suggest the wedding cake symbolises the bride in her white dress: narrow at the top, wide at the bottom, to be broken by the couple together. When the rest of the guests consume the cake, they signify their affirmation of the union. When religious fundamentalists refuse to bake cakes for same-sex weddings, it's their symbol of not accepting the union. We find it fascinating that there was no cake game when there was a same-sex couple. Let's assume this was a coincidence, and not an endorsement of bigotry.
In execution, Wedding Day Winners is almost entirely about the entertainment and the prize. It promotes the benefits of working together – the soon-to-be-married couple, their parents, their friends. It suggests that a lasting marriage will bring benefits to both parties; implicitly, it suggests that if a marriage doesn't bring benefits, it may not last. The show doesn't comment on the deep social norms implicit in marriage as a cultural institution – we won't mention sexual exclusivity, or reproduction.
And this leaves us confused. If, as Wedding Day Winners implies, weddings are once-in-a-lifetime experiences, why are the prizes so predictable? Why are the games decent but not brilliant? Why is this a show for newlyweds, and not just for any pair of contestants? How can we tell this apart from The Generation Game?
Saturday night telly: the big picture
For many years, Saturday night television has revolved around talent contests. The Voice UK, The X Factor, Strictly Come Dancing, So You Think You Can Dance. And it's had celebrity quizzes – big prizes on The Chase and Who Dares Wins, small prizes and big fun on Pointless. There's a strand of drama (which falls outside this column's expertise) and Massive Physical Shows (Total Wipeout and Ninja Warrior; we'll review And They're Off For Sport Relief next time).
Wedding Day Winners is none of these. It's an attempt to do a variety show with a competition element, and that's always a difficult task. Saturday Night Takeaway and Noel's House Party were successes, Slap Bang and Totally Saturday were notorious flops.
As a variety show, Wedding Day Winners doesn't work. It lacks confidence in its ideas. Take the buffet game they played. They could have played it like The Big Family Cooking Showdown, with both couples making the best buffet they could. They could have played it with handicaps, perhaps split the pairs by a low wall, or have both in boxing gloves. They could have had the stage revolve, they could have had one player blindfolded. But they changed too much, the result was a mess in the studio and a mess on screen.
There are a lot of people to know in Wedding Day Winners – two couples, we'll get to know them over the hour. Everyone else just drives by for one segment, they're here and then they're gone. When Saturday Night Takeaway and Noel's House Party want to set someone up, they'll set one person up. They have a story, plot it to precision, and bring in exactly the people to tell that story. For our money, Ben Hanlin's hidden camera stunt worked because it was one person. The dancing contest didn't work because we had to follow four couples, and try to remember which side they were for. To be fair, "Hoedown showdown" was the weakest segment by far. Any of the others could have popped up on Takeaway and fitted right in.
Takeaway and House Party had one extra thing going for them: they weren't confined to the studio. These classic shows could come to you. They were dangerous, unexpected, anything could happen. By contrast, Wedding Day Winners is a sealed bubble, nothing will happen outside the controlled environment. A similar problem stymied Ant and Dec's Push the Button, keeping it as "great" and never "excellent".
We can understand why Wedding Day Winners is confused about what makes a "wedding", the wider culture is just as flummoxed. But that doesn't explain why Wedding Day Winners is such poor television: it might have been fun in the studio, it's deathly dull at home.
Viewer reaction to Wedding Day Winners has been lukewarm. Wedding Day Winners isn't helped by being up against The Incredible Spinning Chairs round on ITV, the only bit of BBC The Voice that anyone watches. Overall, we can't rate it above a competent idea, good in places. It's filmed in an OK style, and while there's lots of energy in the studio, it doesn't come through the edit. In this era with many entertainment options, OK doesn't cut it.
An example of how OK doesn't cut it: Rob tours the guests, asking inane questions. "Lovely day, isn't it?" Well, yes, a bit cold, but — oh, he's not talking about the weather. "You excited about the wedding?" appears to be a question, but is actually a conversational marker. Any response other than "Yes, very much" will start a fight.
The editing doesn't help improve our mood. We suffer from obvious cutaways while the contestants are getting into their suits. There was liberal use of post-filming dub and Canned Crowd™, and there were so many cuts we lost the story. Oh, and a bunch of people bouncing up and down can be fun if they're doing it in perfect unison. Anything else is just nauseating.
The BBC is right to experiment with something new for Saturday nights, and not all experiments will produce the results one expects. Our spider sense says there might – perhaps – be the germ of a really good programme in there, and the BBC is the best broadcaster to incubate difficult ideas. But we completely understand if the BBC chose to cut its losses after one series. And that looks most the likely option – Wedding Day Winners has vanished from next week's schedule, replaced by Rob Beckett's next vehicle. We expect the remaining three shows will air in awkward spots during the summer.
Democracy Season
Viewers of Indian reality series Bigg Boss were confused on Thursday morning, when they found someone had used their #BBpoll hashtag. Shilpa Shinde won the planet's biggest series of Big Brother, which ended on Sunday last after fifteen weeks. The organisational octothorpe was re-used – it's now for the Bother's Bar Poll of the game show scene, here on the Isles Trans-Manche.
The voters were a self-selecting bunch of readers to this website, to Bother's Bar, and anyone we hit on social media. This selectorate said !mpossible was the best new show, defeating Richard Osman's House of Games (3) by a length. The producers gave an exclamation of joy.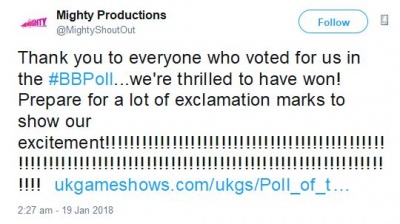 The worst new show anti-award went to Babushka, which beat Partners in Rhyme by three-quarters of a length, and Letterbox half-a-length behind.
A new winner for our favourite game: The Chase finished a length clear of Pointless, and Only Connect was a short head behind.

Many commentators have noted that Pointless damages itself by showing so many repeats. Thursday's new episode felt like a repeat, asking for contestants in Strictly 2015 and Celebrity Big Brother (January) 2016. A *new* episode, there. We find it hard enough to remember who was in the current Celebrity Big Brother, never mind the series two years ago.
What's in the next poll, Peter?
This week, attention shifts to the National Television Awards, also decided on a self-selecting vote; the selectorate is ITV viewers, people who see The Sun or Digital Spy, and anyone they hit on social media. Categories with at least one game show up for the honours include:
Talent show: Britain's Got Talent, Strictly Come Dancing, BBC The Voice, The X Factor
Challenge show: I'm A Celebrity... Get Me Out Of Here!, Love Island, Masterchef, The Great British Bake Off
The Ant and Dec Award for TV presenter: Ant & Dec, Bradley Walsh, Holly Willoughby, Phillip Schofield
The Bruce Forsyth Entertainment Award: All Round To Mrs Brown's, Ant & Dec's Saturday Night Takeaway, Celebrity Juice, The Graham Norton Show
Daytime: Loose Women, The Chase, The Jeremy Kyle Show, This Morning
TV judge: David Walliams, Britain's Got Talent; Paul Hollywood, The Great British Bake Off; Simon Cowell, Britain's Got Talent / The X Factor; will.i.am, The Voice UK / The Voice Kids
The online ballot will remain open until Tuesday lunchtime, with the results announced on ITV that evening.
In this contest, this column feels able to pick favourites. Love Island won't win Challenge Show, but it so deserves the finalist place. We've no choice in an underwhelming set of talent show nominations, Strictly will win from inertia and reputation.
Phillip Schofield is the greatest all-round television presenter of our era, but we won't begrudge Ant and Dec their 17th consecutive win. Hope they can add Saturday Night Takeaway to their haul, SNT had its best year in a decade.
The Chase is in a very strong place for daytime, though This Morning had a very good year. We don't have anything helpful to say about TV Judge, other than to note the absence of Robert Rinder and Judy Sheindlin.
This Week and Next
Only Connect brought back its high-scoring losers, Cricketers and Escapologists. Very little to choose in the opening rounds – the questions fell badly for both sides in Connections, and well for both sides in Sequences. The Cricketers took a five-point spin (and four-point lead) on the wall, but repeated their poor Missing Vowels form from the heat. It cost them victory there, and it cost them here – the Escapologists ran out 23-21 winners.
On University Challenge, Fitzwilliam Cambridge did us all a favour, beating Magdalen Oxford by 200-155. Both teams buzzed early and often, Fitzwilliam got the right answers, Magdalen more than a few penalties.
High scores on Mastermind, won by Don Crerar (American civil war), his 27 points marks him as a serious contender. Ewan MacAulay was slightly let down by his specialist (David Foster Wallace short stories) – 16 general knowledge points is excellent, and he misses on the high-scoring losers by just a couple. Gemma Wilson (Thursday Next novels) scored 23, and James Ratcliff (Blur) 22, both are far better marks than most viewers could get.
BARB ratings in the week to 7 January. In a change to our measuring criteria, we now combine mainstream and +1 channels into a single consolidated figure. There's no doubt that this is the industry standard for measuring your audience. As a rule of thumb, +1 contributes about 12% of the combined audience.
Vera is the top-rated show (ITV, Sun, 8.85m). Top game show – and second overall – is Dancing on Ice (ITV, Sun, 8.55m).
BBC The Voice of This Territory returned (ITV, Sat, 6.4m), and Celebrity Catchphrase brought audiences before (ITV, Sat, 4.75m).
The Chase pulled in stupendous audiences (ITV, Wed, 4.5m); the score of 4.3m excluding ITV+1 beat anything last year. BBC1's best game show was Celebrity Mastermind (Thu, 4.4m); Pointless Celebrities, Wedding Day Winners, and And They're Off all missed the top thirty.
The Grate Festive Burn Out concluded (C4, Mon, 3.85m), just behind Take Me Out (ITV, Sat, 4m), but ahead of SAS Who Dares Wins (C4, Sun, 2.7m) and Hunted (C4, Thu, 2.5m).
Christmas University Challenge continued (BBC2, Tue, 2.6m). Only Connect returned to Quizzy Mondays (2.05m), and Dragons' Den got a repeat (Sun, 2.05m).
Celebrity Big Brother was back on Channel 5, peaking with the launch show (Tue, 2.4m). World's Strongest Man finished (Mon, 1.75m). Blind Date struggled against The Voice (Sat, 900,000).
More4's Sunday repeats lead the diginets, with Four in a Bed (440,000) bettering Come Dine with Me (410,000). Third place for The Chase Celebrity Specials (ITV4, Thu, 300,000).
New commissions of note: World's Strongest Man The Winners (5 Spike, Mon, 290,000), Sam and Mark's Big Friday Wind Up (CBBC, Fri, 125,000), and Bigg Boss (Colors, Wed, 125,000).
A quiet week for new shows. Chris Maslanka traces Two Thousand Years of Puzzles (Radio 4, weekdays), Extreme Hair Wars begin (5Starm, Thu), and it's the ITV Television Awards (Tue). All Together Now (BBC1, Sat) is the all-singing, all-dancing vocal competition with Rob Beckett.
Photo credits: Panda Television, BBC.
To have Weaver's Week emailed to you on publication day, receive our exclusive TV roundup of the game shows in the week ahead, and chat to other ukgameshows.com readers, sign up to our Yahoo! Group.