Mike Smith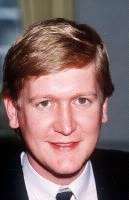 Biography
Otherwise known as "Smiffy", Mike Smith was one of Radio 1's star DJs back in the 1980s and did a fair amount of TV work too, such as Saturday Superstore and the Late, Late Breakfast Show. A qualified helicopter pilot, he is perhaps most remembered for surviving a dramatic crash along with his wife, ex-Blue Peter presenter Sarah Greene. Both Smith and Greene also appeared as themselves in the infamous spoof documentary Ghostwatch.
He died on 1 August 2014, aged 59, following complications after major heart surgery.
Trivia
Apparently, he was Princess Diana's favourite DJ.
One of the original backers of Carphone Warehouse - fact!
Web links
See also
Feedback