Weaver's Week 2014-08-10
Last Week | Weaver's Week Index | Next Week
"I was the new kid at secondary school, and Mike was the shiny, bright head boy" – Simon Mayo.

Born in Hornchurch in 1955, Mike Smith might have become a racing driver. In his early teens, he was flinging a scrappy Ford Prefect around bends. Later, he progressed to Formula Ford 2000.
Race days needed a commentator, and young Mike took that role. He was a bit good at it, and he was a bit good at organising publicity for the events. His career path was formed.
Mike moved quickly. He was a freelance producer at Radio 1 in 1975, filling in when lines to the Radio 1 Roadshow went down. Then he moved to Capital Radio in London, appearing in various places including the station's breakfast show. His first television work came in the early 1980s: Looking Good Feeling Fit for BBC Continuing Education was an unpromising subject. Mike worked with Richard Stilgoe and Gillian Reynolds to make it a bit interesting. He hosted Yorkshire Television's Pro-Celebrity Snooker (1981). And he did Thames Television's youth magazine CB TV Channel 14 (1982) alongside Paul Henley and Anneka Rice.
By now, Mike Smith had moved back to the BBC, taking the early show on Radio 1. A few times a week, after he'd come off air, he would go straight to the Breakfast Time studio, where he'd present the latest pop and entertainment news. Breakfast television had its attractions for Smith, as in 1984 he became a regular host on Breakfast Time. Smith was the young and eager reporter, a sharp contrast to the amiable Frank Bough.
Smith continued to pop up across the schedules – hosting the educational Me and My Car (1983), youth magazine Speak Out (1984), and Family Trees (1984). We don't know if this last one was dry and dusty genealogy, or a forerunner of Who Do You Think You Are?
At the same time, Smith joined The Late Late Breakfast Show. The first series of Noel Edmonds' entertainment show had been a failure. People criticised it for blatant plugs by guest celebrities, and derided it for daring stunts that tended to go spectacularly and horrifically wrong. A reformatting in 1983 had made the show more watchable, and Smith's arrival proved to be the last ingredient in the mixture. Mike was the man at the outside broadcast, larking about in a damp field with a hundred hardy viewers while building up the spectacular stunt to close the show.
Back in 2012, we took part in Creamguide's Television Club, where all the readers watch a show and say what they thought about it. The first episode was The Late Late Breakfast Show from 25 October 1986. Here's a summary of our thoughts.
"The climax of the show is the Whirley Wheel stunt, for which Mike Smith has been sent to Nottingham. The participant is meant to come down a canoe course in a canoe, jump onto an island, and do some stunts. It's hideously bad television: the bloke falls out of his canoe at the top of the course, where there's no lights and no cameras and "Smitty" has to fill with all his talent. And it's all part of some hopelessly complex and badly-acted action movie – there's a bit where the participant is meant to burn through a rope, but it doesn't burn, and the professional just drops in the water.
"It all climaxes with our Whirley Wheel chap jumping into a moving raft. Then some bloke – who turned up wearing a shower cap, for no reason at all – detonates a huge charge that blows out the OB lights. Had they not heard of planning? We all know what happened a few weeks later, and it really does look like the production staff were playing with other people's safety.
"Abiding memory is Noel, sitting at his sofa, calling a random number and hoping someone will give him the phrase that pays. Or at least pick up the phone. Ten million viewers, and Noel can't find someone watching his show."
Tragedy took The Late Late Breakfast Show off air two weeks later, and ended the close friendship between Mike and Noel. Not that this was the only string in Mike's bow. He'd presented showbiz series Friday People (1985-7), Driving Force (1984-7), and Secrets Out!!! (1986-7). That was a version of 20 Questions, played with a celebrity panel. The show gave a nifty innovation: progress was measured in time, and time was measured by the edge of the screen turning a different colour. It also had some quality celebrities, including Phillip Schofield and BRIAN BLESSED. One of them does water skiing, the other turned down Dr Who.
Mike had remained in touch with the pop world. He hosted Top of the Pops, and the BPI awards (now the BRITs) in 1985, and was the one entertaining presenter on Live Aid that summer. It wasn't a huge surprise when Mike Smith took over the Radio 1 Breakfast Show in 1986. He was the fifth regular presenter, following Tony Blackburn, Noel Edmonds, Mike Read, and someone we cannot name for legal reasons.
Smith's radio show was very gently in favour of the news. He'd ask listeners to call up with their take on a serious story, and he'd present their voices in an accessible and entertaining way. Some have suggested that elements of this programme went to BBC Five Live. To be honest, we didn't listen to much of Smitty's show. A pop station stands and falls on pop music, and the hits of 86 were poor. The local independent station was more fun – Gordon Astley was anything but gastley. Our opinion wasn't shared in Kensington Palace: Princess Diana declared that Mike Smith was her favourite DJ.
Even while presenting radio's biggest show, Mike Smith was on the telly. A lot. First Aids (1987) was a career highlight, a frank and honest and sensitive discussion of the disease. Many people would have blanched at some of the things done on that show, many people would have looked foolish doing them. Mike Smith was an absolute professional: he did them, and it looked natural.
On more mainstream topics, Smith was the face of the Montreux Rock Festival, and of the Finningly International Air Show, and the Southampton Boat Show. He hosted Transit, and The Royal Tournament, and Motorfair, and Seaside Special – variety shows filmed in Jersey. He did Family Affairs, LWT's problem page of the air. And the BPI awards in 1987 and 1988, and the Variety Club named him BBC Radio Entertainer of the Year 1986 for his Radio 1 breakfast show.
And then, in spring 1988, Smith was off the radio. Barely two years at Radio 1, making way for the little-known Simon Mayo. Radio 1 breakfast show hosts tend to go on for many years (Smith's predecessors, Simon Mayo, Chris Moyles), or leave under a cloud (Steve Wright, Chris Evans, Mark and Lard, Kevin Greening). Mike Smith took a positive decision to leave while he was still fresh, to concentrate on other things. Of his successors, only Zoe Ball has made that decision before she got stale.
Just when things were looking really good, there was a narrow escape. While Mike prepared to land his helicopter in the grounds of a house, the craft flipped upside down and crashed into the ground. Mike and his girlfriend Sarah Greene were hurt – she suffered two broken arms and one broken leg, he broke his back and ankle. Both recovered from their injuries, and Mike and Sarah celebrated their wedding in 1989.
Mike returned to the television at the start of 1989, hosting Weekend Live, a Friday-and-Sunday topical magazine show for LWT. And he fronted Railwatch, a week of special programming for the February half term, where the BBC looked at the East Coast rail line in painful depth. Every. Last. Sleeper.
There was another game show: Trick or Treat for ITV. Here, Mike was the straight man to Julian Clary (as "The Joan Collins Fan Club"), playing silly games to win dubious prizes. Based on "Let's Make a Deal", the UKGS opinion is "Brilliant ... usually quite funny"; Off The Telly say, "the series wasn't much good to begin with", and TV Cream tags "Members of the public mentally jousting for miserly prizes". We've not been able to locate an episode to review.
Back on the BBC, Mike fronted That's Showbusiness, which we have found an episode to review, and will do shortly. Mike was the familiar and reassuring face to launch BSB, and hosted a chat show each afternoon on Now! The Channel For Living. This lasted as long as the service, so about seven months. Smith had a longer run on daytime show No Kidding, and very nearly on the one-week special Hospital Watch (like Rail Watch, only at a hospital, and less dull.)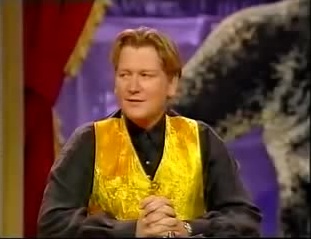 Some people remember Mike Smith as the man on the scene in the Screen One drama Ghostwatch (1992). Much has been written about this drama, mostly from people who didn't realise it was a drama. Mike – and Sarah Greene – had to act naturally, as though they would usually broadcast live from a haunted house. Hey, it's more interesting than Railwatch.
Mike continued to have successful game shows through the mid-1990s, on ITV's Body Heat (1994-7). Gladiators without the pantomime, this show popularised innovations like the Bleep Test and the Batak Wall. In lesser hands, this could have been deathly dull, but Mike Smith was always able to make the banal seem a bit more interesting.
Looking over this tremendously long list of credits, we must make one other point: no-one ever criticised Mike Smith for being everywhere. It helped that he hopped between channels, splitting between the BBC and ITV. It helped that many of his bookings were one-offs or short series. It helped that he aimed to be mainstream, to be inclusive, to say something to as many people as he could. And it helped that he was enthusiastic about everything, and this enthusiasm showed in every broadcast he did.
Mike retained his enthusiasm for motor vehicles. He won the Willhire 24 in 1986, a 24-hour race staged in Norfolk. His Trakstar team won the British Touring Car Championship in 1990, with team-mate Robb Gravett. After the television work slowed down, and he sold his interest in the Carphone Warehouse, Mike set up the Flying TV company in 2004. The aerial shots on Coast? The swooping footage on Top Gear? Mike Smith's company. Quite possibly Mike Smith himself. He may not have been in front of the camera, he was still making cracking television.
Smith died in hospital on 1 August, after complications following recent major heart surgery. In a statement released through Flying TV, his wife Sarah Greene offered "enormous thanks to the staff at the hospital for their care and compassion".

BBC North for BBC1
Our sample episode comes from 1994, and features Mike Smith in a gold waistcoat. Natty.
Joining us for this episode are Ulrika Jonsson (from Gladiators) and Stephen Tomlinson (from Drop the Dead Donkey). They're against Lorraine Kelly (from GM:TV), and Mark Little (from The Big Breakfast). Each player gets an introduction, culminating in an embarrassing picture and a weak joke.
Round one is a good place to start. It's a comedy clip, one for each team, with questions to follow. "How did this particular Morecambe and Wise sketch continue?". Has Stephen had a chance to look at this clip before the round? Or does he have an encyclopaedic memory of every put-down Eric Morecambe ever used against Des O'Connor? For no obvious reason, this round ends with Ulrika and Stephen wearing wigs to make them look like Gary Glitter, and singing one of his songs. It's a much more innocent era, and we hear the line "They'll not be showing this again."
Round two, in this episodes, is Triangles. It's a tribute to the early 1980s drama, charting the glamorous and engrossing journey of a ferry between Copenhagen, Amsterdam, and Felixstowe. Like that drama, the round is populated with characters we've never heard of, all of whom have dated each other. Smitty's explanation is as complex as he can make it.
The middle bit is a series of individual questions, each introduced by a clip from a film now available to buy on video. That'll be another reason why they can't repeat That's Showbusiness: clearing the rights to Sleepless in Seattle would be expensive. Another reason: the litany of people named in Operation Yout00b. There was Gary, and Rolf, and a disk jokey we cannot name for legal reasons. All they needed was Jimmy for a full house.
But we digress. The individual rounds are a chance for the panellists to show off their talent. For Stephen to deliver the opening monologue to The Fugitive, exactly the same intonation, exactly the same timing. For Mark to deliver the Dead Parrot sketch. For Ulrika to re-enact that scene from When Harry Met Sally. It's entertaining, it's fun, it's a chance to see that television celebrities have more than one string to their bow.
After the solo efforts, we're into the Videoke round. For this, researcher Samantha has been to the pop library, and has pulled some of the more attractive efforts off the shelf. She'll start the tape playing, then fade it down, and ask the teams to continue singing. If, on its return, they're within a gnat's crotchet of the original, Mike will award points. And you know what points make. This week's prize is for the producer to evade another snide comment from Humph and the ISIHAC team, who recognise a rip-off of their best round.
It is a contest, they have kept score, and a winner must be declared. But not before the One Minute Round, sixty seconds of rapid-fire questions for each team. The first question goes to Lorraine, then to Mark, then Lorraine, and so on. Two points if they answer without help, one for a right answer after conferring. The questions are linked in The Krypton Factor style: an answer will feature somewhere in the next question.
Comparisons to ISIHAC don't end with the Pick Up Song round. Mike has given the teams silly things to do, he's let them entertain us, with the risk that they could go completely wrong and look a pillock on BBC1. The games aren't designed to be pointless, but the exercise is futile. By Tuesday morning, no-one will remember who won. Only that they had a fun half-hour watching the show.
Mike put the teams at ease, gave them room to shine, and made no attempt to take the limelight himself. That's the Mike Smith we'll remember.
This Week and Next
"Is The Voice cursed?" asked Popjustice this week. They believe the answer is "yes", based on the fact that precisely none of the acts featured on the show has established a hit career. Yes, it's true that Leah McFall's single wasn't playlisted by BBC national radio. And that it entered at a dismal number 56 on the tracks chart. Could this be that the song wasn't any good? And that the acts that have been a bit good are either album artists, or still in the studio?
As a comparison, we wonder how many big stars have come out of The X Factor in recent years? Little Mix, yes, genuine stars. Ella Henderson, maybe. James Arthur has turned into his own punchline, Lucy Spraggan's cheerful fanbase is as noisy as it is small, and Joe McElderry has become a serial winner of minor celebrity competitions.
The Apprentice is taking over the House of Lords. Karren Brady, one of Mr. Sugar's assistants, has been elevated to the peerage. She becomes the third to go from The Apprentice panels to a place where people spend the afternoon sleeping.
Local television watch, and City Television has gone off air. This surprised us, because City Television had no studios, had no broadcasting equipment, had never gone on air, and had never served the people of Birmingham in any way. Still more interesting than Railwatch.
We're tempted to add a new Category to the UKGameshows programme guide: "Described Itself As the Toughest Quiz on Television". Mastermind was back this week, still with the same host, still with the same brag. Mark Eves won; he had the first perfect round of the series, on the Battle of Lepanto. He scored 16 (0 passes), and the general knowledge round took him to 30 (0). A very quick cutaway suggested discussion of an incorrect pass had been deleted.
Gareth Kingston made 16 (0) on questions about St Paul's Cathedral (1666-2012). He advanced to 28 (0). The other contenders were Howard Towner, who suffered from the host giggling at the jokes on Yes Minister; 13 (0) turned into 23 (1). Alice Meynell recovered from an early error on Life of JM Barrie to reach 14 (0), and finish on 26 (0).
Historically, the six high-scoring losers have needed to score 27 points with few passes. Gareth Kingston's 28 points should see him through, we doubt that Alice Meynell will return in the second round. The second heat isn't going to be next week, but 22 August (23 August in Wales). Does the BBC2 controller reckon that launching a series and then immediately taking it off is the best way to win viewers?
Which brings us to BARB ratings for the week to 27 July.
Top show was Commonwealth Games Opening Ceremony (7.7m). Expect a series. Top game show was directly opposite, All Star Mr and Mrs on 2.56m.
Incredibly close race, there. Pointless on BBC1 had 2.54m, Tipping Point Lucky Stars on ITV Saturday with 2.51m, Sunday's editions of Catchphrase and Dragons' Den both scored 2.47m, and University Challenge was on 2.38m.
Pointless on BBC2 is as popular as Big Brother on Channel 5, both got just over 1.65m viewers. Bit on the Side (850,000) is more popular than Channel 4's most-seen game, The Million Pound Drop Live Not Live (720,000).
A remarkable week for Swashbuckle!, the Cbeebies show was the top digital game on 392,000 viewers. Mock the Week had a mere 390,000.
How many people watch the Fifteen-to-One reruns on Challenge+1 at 3am? About 14,000.
This week, we welcome Come On Down! The Game Show Story (ITV, 7pm Sun). This documentary begins with Saturday night television (The Generation Game and 3-2-1); Terry Wogan, Bruce Forsyth, and more. There are new runs of Quote... Unquote and Just a Minute (Radio 4, 3pm and 6.30 Mon), and A Question of Sport (BBC1, Wed and Fri). Tipping Point next Saturday (ITV, 7.45) features one of the stars of I Love My Country, and Tumble continues (BBC1, 6.30). Anyone got a copy of Railwatch?
Photo credits: BBC.
To have Weaver's Week emailed to you on publication day, receive our exclusive TV roundup of the game shows in the week ahead, and chat to other ukgameshows.com readers, sign up to our Yahoo! Group.