Weaver's Week 2008-08-24
Last week | Weaver's Week Index | Next week

We were rather pleased to read that Wipeout is to make a return to BBC1's prime-time schedule. Brilliant! Another classic show resurrected. What? It's a glorified obstacle course that doesn't involve Paul Daniels or some funky music? Fershame.
BBC2, 7.01 Wednesday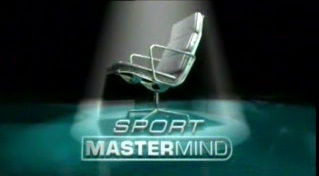 For the past seven weeks, Des Lynam has been engaged in a search for Britain's greatest sporting brain. Thirty-six contestants have gathered, they've been asked over a thousand questions, and now only the final six remain.
These six won their heats, and are the six heat winners with the highest scores. The remaining three winners retire undefeated, and do not take part in the final. Des rattles through the show's introduction as though he were serving at Goran Ivanisevic, and shows off this year's prize, a glass bowl with depictions of various sportspeople.
The first finalist is Luke Penn. He qualified with The Grand National, but now takes The Masters at Augusta. There's lots of footage from the course, but Mr. Penn hasn't been invited to record his short film there. Instead, he's filmed his report at Birkdale during the recent Open tournament. His co-star is a chap called Nick Faldo, who has an interesting line in brown jumpers. A few things manage to evade our contestant, and the questions seem to concentrate on people who missed the cut or otherwise lost heavily. Mr. Penn won't be doing that, he finishes on 15 points (1 pass).
Mike Sowerby has moved from Desert Orchid to the History of The Super League. Which sport is this? Rugby league, apparently. Glad we've got that sorted out. He's filmed his report at Hull Kingston Rovers, and meets the club's manager. Who now remembers one of the competitors in the first game back in 1996, Paris St. Germain? This is recent history the League was only founded twelve years ago, but there are complete seasons for Mr. Sowerby to research, as opposed to the once-a-year event Mr. Penn has discussed. It's another good round, ending on 15 (0).
There haven't been many ladies in this competition, even fewer than in Mastermind proper. Patricia Arthur was the only female winner of a heat, when she took Wimbledon Singles championships in the Open era. This time, she's gone for something completely different, South Africa in Test cricket, 1946-70. She's done her film at Lords' cricket ground, and talks to one of the country's old cricketers. We hear of England batting collapses, and Pollock doing very well, and we wonder if we've tuned into The Blowers and Aggers show. There's certainly enough knowledge, 16 (0) is a perfect score.
Paul Davison moves from Lennox Lewis to The Tampa Bay Buccaneers. He can't wangle a free trip to Pirates Stadium, nor to the owner's British base at Old Trafford. Instead, he's to the NFL's UK headquarters to meet Channel 5's voice of sport, Mike Carlson. The side was founded in 1976, and managed to avoid winning a single game for almost two whole seasons. Who do they think they are, Andorra? Anyway, there's lots of talk about tight ends and field goals, about which we understand little. And a score of 16 (0), which we do understand.
Chris Bell had the British and Irish Lions last time, and the Life and Career of Geoffrey Boycott this time. Mr. Bell actually gets to meet the subject of this round, and gets to meet him at Headingly, to boot. Mr. Boycott puts a few questions of his own, including the spoof "how many people have I run out?" Mr. Boycott was active from the early-60s to the mid-80s, and has been a broadcaster and writer since. There are questions about his career, and a few on the subject's wider life. The score is 16 (0), probably fewer than that run-out total.
David Morrison qualified with the 1981 Ashes, but now has The Champion Hurdle since 1968. It's a horse race run on the Tuesday of the Cheltenham festival each March, and Mr. Morrison gets to visit that glorious racecourse, albeit on a quiet day. He has a very long think about the second question, but dredges the correct answer from somewhere, and makes good progress from there. The final score is 14 (0).
It's worth noting that all the contestants received 16 or 17 questions. We reckon that this is primarily because the questions are that little bit longer than they might have been, and perhaps might be. This version of Mastermind also has a conversation between host and contender. In the heats, some commentators said that Des Lynam didn't give too much of himself here. We understand that the master came off his sick bed to record the early shows in this series, and from the looks of this week, he's made a good recovery.
Mr. Morrison tells us about the Irish domination of the Cheltenham festival, and Istarhaq's success in the race. Completing the game is a second round of general sporting questions, perhaps a little harder than we might associate with the main show. Mr. Morrison finishes on 28 (0), a high bar for the others.
Mr. Penn returns to the chair, and tells us how Augusta run the tournament they want to run, and don't like anyone interfering in their preparations. There's the green jacket that can't be worn outside the grounds, the injunction against running on the course, and the champion hosting a dinner. Speaking of odd, Darren Pattinson's selection for England appears at the start of the round, and that only took place a month or so ago. The final score is 23 (5).
Mr. Sowerby is asked what's going on in Super League? Two new sides will join the competition next March, and they'll play in a closed league without relegation for three years, that he politely refers to as "an interesting idea". He remembers an entirely obscure trophy played by the All Blacks, but the venue for KP's first century against South Africa evades him. His confidence seems to slip thereafter, and 23 (1) is the final score.
Mrs. Arthur reminds us that after 1970, the team was banned from Test cricket in protest against its government's apartheid policy, not to return until 1992. In the late 60s, the South Africans were probably the best side in the world, the Australia of their era. Very cunningly, the general knowledge round includes questions in the same broad areas, though in different fields – Mrs. Arthur, for instance, has a question on Finnish motor racing drivers, baseball, Olympic venues, tennis, snooker, and more. Every specialist subject is included in the list, though the player's home topic is only referred to obliquely. A couple of incorrect answers leaves her on 26 (0).
Like Mr. Lynam, Mr. Davison has seen the Buccaneers play. And lose. The turnaround, in Mr. Davison's opinion, was the sale to the Glazer family in the mid-1980s, and then building a new stadium actually in the City of Tampa and employing new players. By that reckoning, the old Bucks are now the Arizona (CAUTION: MAY CONTAIN FOOTBALL-LIKE SUBSTANCE) Cardinals. We're impressed that anyone should know the names of the bridges on the Isle of Man TT circuit, at least until we recall that it's an iconic circuit. 26 (2) is the final score.
Mr. Bell confirms that Mr. Boycott is a true gentleman and professional. Mr. Bell is a little young to remember Boycott in his pomp, but remembers seeing his century in the 1981 Headingly Test, a match remembered for someone else's achievements. Was Mr. Boycott selfish? Perhaps; he was there to score runs, and has to be amongst the best English players of any era. Mr. Bell is celebrating his first wedding anniversary, and is looking for a nice gift. That bowl on the side will do nicely. He'll have to answer fifteen questions to get it, and recalls such trivia as Villarreal winning the Cup Winner's Cup, and Team GB! GB! GB! winning gold in the Olympic Tug-o-War. Is there anything the Brits don't win? A pass with seconds to play gives the tiebreak to Mr. Morrison, but Mr. Bell is getting his questions right, and doing so quickly. His final score is 32 (1).
Mrs. Bell, clear a space on the mantelpiece, you've got a great present. The trophy is presented by that television sports legend Des Lynam, who leaves with a quick goodnight.
That RBQ-style question again: What ties these together? The star between two fishes, 51 and 4/9 cm per second, a pentagram without end. It tied Grandmother up, but Alexander the Great could cut it, and some simply slip. The answer follows later.

Our thanks to producer Damian Eadie, who points out that the Countdown staff have been using the summer break to audition contestants for the next series. In all seriousness, we hope they've unearthed some real gems, and that New Countdown will take to the air next year with a top-class host and a great numbers brain.
But that's quite enough seriousness. In common with all other periodicals with acres of space to fill and no idea how to talk about the ynglnig (still less how to spell it), let's look at some of the names they're almost certainly not considering at YTV Towers. We'll start by looking for the new host, who must meet all the traditions of Countdown.
Des Cahill: RTE's prime sports broadcaster ticks many of the boxes for a new Countdown host. He's used to broadcasting without a safety net, he's witty and urbane, and a bit of a looker for the ladies. Potential problems include the fact that he's based in Dublin, and has no television experience.
Desmond Carrington: The actor and broadcaster spent six years on Emergency Ward 10, and has hosted a weekly music programme on The Light Programme since 1981. Being eighty-something, he'll have a close affinity to many of the audience. He might prefer to host the programme from his home in Perthshire, but this shouldn't be a problem in these days of video links. Or they can just put a large television where the host would normally sit.
Des Walker: The former England footballer would be a surprise choice for the host's role, partly because he's never hosted a show before, but mainly because he's not been forgiven for conceding that penalty against the Netherlands in a 1993 world cup qualifier. His taciturn nature may mean that the Dictionary Corner guest plays a greater role in the show.
Richard Desmond: Owner of the Express newspaper group, which in turn owns a number of television channels. Likely to object if contestants ask for anything other than two big ones from the top.
Des Kelly: Former editor of the Daily Mirror, and twice nominated for the Sports Writer of the Year award. Runs marathons for fun, and has competed in the Rally of Great Britain. Might have a bit too much get-up-and-go for a sedate parlour game.
Desmond Dekker: The reggae star would bring some sunshine to Channel 4's daytimes, and follow O'Connor as a singer-turned-presenter. Many of the audience would identify with him, on account of his being dead since 2006.
Desmond Tutu: Former Archbishop of Cape Town, would be certain to bring his passion to the recordings, and to deliver an interesting closing thought.
Desdemona of Venice: The daughter of Senator Brabantino, she will bring fine clothes to the host's seat, perhaps challenging Susie Dent as the show's fashion icon. Liable to go off in a tizzy if she loses her handkerchief.
We must also consider a replacement at the numbers board. Though there's an open audition – and readers can apply online – names already discussed include:
Anne Aston: The hostess on The Golden Shot is fondly remembered for her ability to count without using her fingers, and read off a cue card without sounding at all stilted. Memory can play tricks.
Tony Slattery: His appearances on almost every programme made during 1993 concealed a deep love for numbers, and his ability to extract the seventeenth root of a nine-digit number is amazing.
Sarah Vowell: Squeaky-voiced writer, broadcaster, and consigliere who would be able to deploy the letters with a flourish matched by no-one, with the possible exception of Joanne Consonnant and Tara Nummbah. Smart enough not to be troubled by proper spellings of words like "colour", "humour", and "aluminium".
Isla St Clair: The Scottish folk singer and co-presenter of The Generation Game when it was unmissable was far more adept at adding the scores than Larry Grayson. Hasn't been on television for yonks.
Gordon Brown: A young university graduate from Glasgow, best known for his impression of a man chewing a wasp. We don't think he's actually as good at the arithmetic as his fans would have us believe, but known to be a big fan of Countdown, and will certainly be available to record next year's shows.


Myleene Klass: The only way this could be wrong on more levels would be if John Humphrys were asking general knowledge questions at her while riding a lift. Still, it gives us an excuse to include pictures of some highly attractive people (left and right).
Match 7: Selwyn Cambridge v St Anne's Oxford
Rather than a word, we begin with a place: Tunbridge Wells. It's answered by Selwyn Cambridge, a college of much ordinariness – average students in an obscure college studying degrees of entire mundanity. Alumni include such average people as Clive Anderson and Hugh Laurie.
St Anne's get their starter in short order, on the galaxy's local quasar, those powerful lights in the interstellar sky. The college was women-only until 1979, and alumni include Polly Toynbee and Martha Kearney. These days, they reckon there's a theatre at Mornington Crescent, but they do know the definition of the word of the week. The honour of which word? That's blockbuster's! The visual round is on the Balearic Islands and their capitals, and Selwyn has a small lead, 45-30.
Teddy bears are the Aloysius that give the game away, but a set of bonuses on two-letter words acceptable in Scrabble (R) evades the Oxford team entirely. They're much better on ancient Greek plays. What is it about inscriptions on the edges of £2 coins? They were a subject on RBQ last week, and there's a full set of bonuses on the topic here this week. The audio round is on works by a classical composer, and you might know his Handel. Good grief, this is an old jokes show and no mistake. Selwyn has an even smaller lead, 80-75.
Two missignals in quick succession cost Selwyn much of their lead, and they don't do too well on Gaelic names for bits of Scotland. There's a set of bonuses on applause, which brings this season's appearance for Ambrose Bierce's Devil's Dictionary. Within moments we're into the final visual round, Name That Abbey, and Selwyn's lead has grown to 130-75.
Doesn't feel as though St Anne's got everything wrong in that stanza, but the facts don't lie. The Oxford side does get a starter on actresses called Hepburn, and a set of bonuses on anasthesia. It feels as though Selwyn needs only a couple of starters to put the game beyond doubt, and as soon as they get there, Thumper starts to talk 20 to the dozen. St Anne's needs a starter to creep into the repechage, and they pick it up with just a minute on the clock. At the gong, Selwyn has won, 180-115.
Selwyn split their starters equally: John Harvey, Laurie Handcock, and Jacob Leland all had four starters. The side was correct in 16/36 bonuses, but four missignals might hurt. St Anne's had three starters from captain Luke O'Duffy, and at least one from every player, but the side was undone by 8/24 bonuses and one missignal.
The repechage board:
Surrey 170
Pembroke Oxford 150
Hull 140
St Anne's Oxford 115
Next match: LSE v Bath
This Week And Next
The BBC floated a kite that the next series of QI should move from BBC2 to BBC1. The show has become one of BBC2's most-seen programmes, and has made a mint for creator John Lloyd of Europe and host Stephen Fry of Forty Two. The Stage wasn't impressed, television critic Mark Wright described it as "like some bully who gets the class swot to do his homework and then give it to the teacher as their own work".
Channel 4 spoke this week of its intention to give Countdown's Carol and Des a proper send-off, with a special show at the end of the year. We'll have to see how that pans out.
For the week to 10 August, This Time Tomorrow continued to be the UK's most-seen game show, with a season's best 5.3m seeing the programme. Last Choir Standing picked up 5.05m spectators, its highest audience so far. Big Brother moved into bronze medal position, 3.75m tuned in to see who was moving out. That's just ahead of Dragons' Den, and miles clear of Who Dares Sings! – 3.25m was its final score.
The X Factor is back to promote Simon Cowell's latest desire for an even bigger wodge, and 875,000 viewers saw ITV2 asking the questions, "What happened to last year's winner?" and "Who was last year's winner?" Come Dine With Me and QI both picked up their usual half-million viewers, and Big Brother's Big Mouth also exceeded that landmark. On CBBC, a great score for Escape From Scorpion Island, 200,000 saw the anticlimactic final show.
Answer to the question we left earlier. Alpha Pisces, the star linking the two fish in the constellation, is known as The Knot. 51 4/9 cm per second works out to 1852m (1 nautical mile) per hour, and 1nm / hr is one knot. The pentagram is also known as the endless knot. Alexander the Great cut the Gordian knot: see the India leg of The Search. Granny and Slip are, of course, types of knot that might actually tie bits of string together. Another question next week.
Three new shows for daytimes next week: Perfect Recall is Terry Wogan's new quiz for people who forget themselves (C4, 5pm weekdays). It's followed at 5.30 by new Come Dine with Me, and cookers will also be interested in Masterchef: The Professionals (BBC2, 6.30 weekdays). Next Saturday has the final of Last Choir Standing (6pm and 8.50), and a News and Weather edition of The Weakest Link (7.05). Earlier, BBC2 has Hot Rods (10am).
To have Weaver's Week emailed to you on publication day, receive our exclusive TV roundup of the game shows in the week ahead, and chat to other ukgameshows.com readers sign up to our Yahoo! Group.