Weaver's Week 2009-03-22
Last week | Weaver's Week Index | Next week

Overnight, the death was reported of Jade Goody, the star of reality television. We shall publish a full obituary in the next Week.
Carlton for ITV2, 9pm Thursday, 29 January - 19 March
Last month, it seemed that intellectual stimulation, a combination of beauty and brains (but mostly brains), had conquered all of Britain. All? No! One indomitable channel still held out against the smart. Fortified by their druid's gossip grill, and praying to their Pop Idleus, they resist the march of intellectualism, civilisation, and post-enlightenment thinking. Or, indeed, any thinking at all.
Before watching this show, we had to do a little research into who the heck Paris Hilton was, or is. Even with our elite searching skills, this was difficult. Really, you don't realise just how much crud there is on the interwebs until looking for facts about this person. She was born the heiress to a well-known chain of hotels, which meant she was something of a celebrity already. Miss Hilton has taken every opportunity to exploit this silver spoon, and has been seen with every eligible man about town, and Jordan Catalano. She starred in some reality shows, started a modelling company, developed a perfume, dabbled in unpaid pornography, put her name to an autobiography, released a music album, and served time in jail for drink-driving. None of these efforts was particularly successful - she even had to have two goes at staying in jail before getting it right. That is our star. Someone who has done absolutely eff-all with her life, and is famous for precisely that.
We'll suspend credulity for a moment, and come back to the question of why anyone would want to be her friend. Let's get on and review the game show, where eleven young ladies and one highly-camp gentleman have gathered. They're all in their mid-20s, and have orbited the sun about 25 times. Over the course of the weeks, they'll be set various tests, and the one who most displeases Miss Hilton will be sent packing from the programme. At the end, the last man standing will be her British best friend. Or the winner of a tediously dull fake-reality show, entirely derivative of the US original Paris Hilton's Best Friend, on an insufficiently obscure cable channel.
As a (fake-)reality programme, this is horrendously derivative. So closely does it hew to the established pattern of reality shows (task-task-reward-elimination, with filler to round out to the desired show length) that we really can't find anything novel to say about the format. Election did just that, so did Jade's PA, so did The Apprentice.
We could - and should - note the way that the contestants live in one flat, decorated in particularly violent shades of pink. Everything drips opulence, Miss Hilton is not only rich, but she's not afraid in the slightest to flaunt it. It's ghastly. The highlight of the first show was an appearance by that oh-so-incisive probing investigator Mark Durden-Smith, and the highlight of the second show was that old standby, the end credits.
All of this brings us back to the central question rather sooner than we hoped: why did these people apply? To answer the poser, we thought about a completely fictional programme with a similar name, Paris Geller's Conversation Companion. For those of you who never watched Gilmore Girls (recently shown in daytimes on E4), Paris Geller is another child of rich parents, who propelled herself to great success as an academic and scholar.
Now, what would Miss Gellar do to find a conversation companion? Spend time with them, engage them in debate, see how their interests were similar to and different from her own, perhaps introduce some of the final candidates to her existing circle of friends. The fictional Paris, we conjecture, would seek someone who both complimented and contrasted her own style, just as the show's Rory Gilmore did.
That would be the difference between the frighteningly intelligent Paris Geller and Paris Hilton. The television show gives us the impression that Miss Hilton - or her producers - are looking for a sidekick. All of the contestants are clearly awed by being in the presence of someone so rich, someone so famous for doing so little. They're expected to treat Miss Hilton as an oracle of wisdom, a feat that doesn't so much require the strategic suspension of disbelief as the outright abolition of disbelief. For all her hubristic self-confidence, even Paris Geller would listen to people suggesting she might be in error.
Are the contestants here for the right reasons? The show is called "Best Friend", so we're expecting to find people who could reasonably be good friends. It's arguable that some of the players are hoping to launch themselves to international ultra-mega-stardom, or at least pick up the "tasteful" photo-shoots we spoke of earlier. If they can ride to minor local notoriety on the back of Miss Hilton's coat-tails, then so much the easier. Indeed, one of the contestants has a history - rejected from the final ten on Popstars 2 The Rivals, forming a quarter of the band Clea (remember them? Exactly!), and half of Eurovision hopelesses Loveshy. That's what we're dealing with.
We find the show tiresome. The narrative style is that oh-so-cloying method of getting contestants to tell the story in someone else's words, as a retrospective. It may be the television grammar in Miss Hilton's neck of the woods, but it's most abnormal here. All the opulence we mentioned earlier comes at a price - commercial names are dropped with all the subtlety of a brick entering a pane of glass, and the show's website is festooned by companies that provided "assistance" to the programme.
In all honesty, we cannot see why anyone would want to watch this programme. It is little more than an extended commercial for Paris Hilton and some sponsoring companies. This is not an entirely unfamiliar conclusion, for we find precisely the same fault with The Apprentice, an extended advertisement extolling the virtues of Alan Sugar and his company.
At least Mr. Sugar only holds out the prospect of a job, something he can offer over and over again. Miss Hilton says "there can only be one best friend", which completely rules out the prospect of a second series. Unless, that is, Miss Hilton puts her commercial opportunitism ahead of friendship.
See you next year, then.
Heat 22
Gary Grant is first amongst us this week, he's taking the Life and Career of Jackie Stewart, the racing driver and constructor active since the 1960s. This is almost a Hidden Transmission Indicator: the BBC has retrieved the rights to cover motor racing, and this is the last show before the season opens. The round picks up speed very quickly, and crosses the finish line with 14 (2).
Sarah Reynard will discuss the Novels of Wendy Holden. We're not familiar with this author's work, from the questions it appears to be a very modern oeuvre. The round has a wrong answer to begin with, but picks up well, ending on 10 (3).
Tony Whelpton has been studying the Life of Honore de Balzac. The subject here was a French novelist, who grew up in the era of Napoleon and introduced a realism into literature. He was also a fan of coffee, so can do no wrong in our book. The contender is almost flawless, ending on 12 (1).
David Christie came up with this week's pop culture subject, Kraftwerk. The German band, best known for their 1982 hit "The model". They've been going a lot longer than that, of course, and the contender can bat every question back, finishing with 15 (0).
Sarah Reynard talks about her job, and tells an anecdote about a time when a pump failed, spraying effluvia around the neighbourhood. Terribly sorry, have we tuned into Dick and Dom's Mastermuck by mistake? Or was it Dan Quayle's Hard Spelle, the subject of one of the questions. The round ends on 16 (4).
Mr. Whelpton says that M. Balzac wanted to become rich and famous. And he would have done it if he hadn't been so extravagant with his money. "He had bad teeth and he was regarded as coarse", according to the contender. Have we not had the factoid about C B Fry being offered the throne of Albania on this show before? Yes, as recently as six weeks ago. 21 (3).
Dr. Grant suggests that Jackie Stewart was at the cutting edge of making motor racing safer, and only survived a crash himself through sheer good luck, after an ambulance got lost on the way to the hospital. He answers the questions at one heck of a clip, and proves the guesses all count, dredging up the final element of three-day eventing from somewhere, ending on 27 (5).
Mr. Christie is confronted with the opinion that Kraftwerk's music sounds like Germany, all industrial and banging and clanking. What band would sound like the UK? Anyway, thirteen to win, and after a fairly slow start, it looks like it isn't going to happen, and the round concludes on 21 (2).
We're going to discuss one of the questions in the final round, about the definition of a "blue moon". According to our host, it's the second moon in a calendar month. According to historical meaning, it's the third full moon in a season containing four. The newer meaning was popularised by Sky and Telescope in 1946, apparently by mistake, as the same magazine explained in 1999. Not that this affected the result in any way, and not that either meaning is clearly wrong.
There's no Mastermind next week, it's replaced by coverage of the world championship cycling. The search resumes on 3 April.
This Week And Next
A good week for game show people in talent contests. Robert Webb's talent knows no bounds - the Numberwang host and sometime comic was named Most Ludicrous Dancer by viewers of BBC1's Let's Dance for Comic Relief. Over on The UK Top Forty, Fearne and Reggie bigged up the singing talents of I'm Sorry I Haven't a Clue chairman Rob Brydon; his rendition of "Islands in the stream" sold more copies last week than any other choon. As has been said in the past: he's no Jeremy Hardy.
And a good week for the BBC at Eurovision; their entry will perform 23rd in the grand final. RTVE got to pick their place in the running order, and chose to go dead last, the second-greatest suggestion that they don't want to hold the contest next year. We'd heard their song, it's the greatest suggestion that they don't want to hold the contest next year.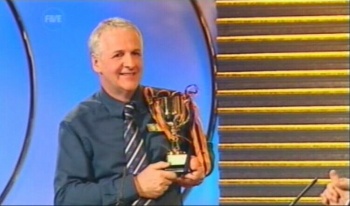 It was also a good week for daytime television, as Going for Gold found its eleventh European Quiz Champion. Iwan from Nottingham won the top prize of ten trips to London and a small cup.
At the Royal Television Society Programme awards, most of the game shows lost. Masterchef The Professionals failed in the Daytime category, Britain's Missing Top Model lost the Constructed Factual show, both Strictly and The X Factor were beaten to the Entertainment gong by Harry Hill's TV Burp, and Most Horrible Thing On Television was won by Spiders, seeing off a challenge from Nevar and Simon Cowell's Trousers. Peter Kay did win Best Comedy Performance for Britain's Got the Pop Factor. Thames Television's Richard Holloway (The X Factor, Hole in the Wall) won the Judge's award, and the Lifetime Achievement award went to Bruce Forsyth.
The blue wire has been buzzing, it reckons that American channel NBC is close to making its version of Have I Got News for You. The show will feature a local comedians, satire-writers, and the occasional politician. The host will, of course, be the star of That's My Bush, a failed politician with all the bumble of Boris Johnson and very little of the brain.
BARB ratings are in for the week to 8 March, with Dancing on Ice (9.75m) beating Let's Dance for Comic Relief (8.45m) and Antan Dec (7m). QI had its highest score of the year, recording 4.9m on Friday night. After last week's huge score, BBC2 was bereft of popular shows, Eggheads (2.15m) the most-viewed game show. Data for More4 are not available, but we do know that Pop Idle Us (515,000) beat Paris Hilton (510,000) and America's Next Top Model (420,000). Presumably more people would have tuned in if they'd showed the riot at auditions this week.
New shows this week include Chris Moyles' Quiz Night (C4, 10pm Sunday) and Wordplay (C5, 12.55 weekdays). There are returns for The Unbelievable Truth (Radio 4, 6.30 Monday), The Apprentice (BBC1, 9pm Wednesday), and One Versus One Hundred (BBC1, 7.35 Saturday). It's the end of the line for Dancing on Ice (ITV, 7pm Sunday) and Raven The Dragons' Eye (CBBC, 4pm weekdays).
To have Weaver's Week emailed to you on publication day, receive our exclusive TV roundup of the game shows in the week ahead, and chat to other ukgameshows.com readers sign up to our Yahoo! Group.