Weaver's Week 2011-07-31
Last week | Weaver's Week Index | Next week
Objective Productions for Dave, 5 July
About 20 years ago, the hottest comedy programme on television was Whose Line is it Anyway? Clive Anderson and four hot young comedians would improvise on themes suggested by the audience, and millions of Channel 4 viewers would spend their Friday nights chortling at the antics. Then along came Angus Deayton and his brown suits, and the zeitgeist shifted to the topical panel game.
Eventually, the wheel of fashion would complete its rotation, and improv would be back in fashion. Mock the Week began on BBC2 in 2005, a semi-improvised topical panel game. BBC2 added Fast and Loose at the start of the year, and now digital channel Dave is airing a pilot of its own.
By contemporary standards, Improvisation My Dear Mark Watson is a long and unwieldy title. Modern television theorists believe that programme titles should stand out on the digital programme guide, where they're sometimes chopped off after as few as 15 characters. The big draw of Improvisation M is clearly the improvisation, and not the host, who seems to be on a tour of digital channels – We Need Answers on BBC4, the sports show Mark Watson Kicks Off on ITV4, now this.
The billing is correct, as the star of the show is not Mark Watson. But nor is it improvisation. It's the green screen, a device by which the producers can project any backdrop they like behind or in front of the performers. While viewers to Whose Line had to use their imaginations when guests arrived at the party, viewers on Dave get to see a backdrop of a party. And the viewer is cosseted, told what to think, and somewhere another cell in another brain switches off through under-use.
Joining Mark are six established comedians – four gentlemen and two ladies isn't equality, but it's better than Mock the Week usually manages, and is better than any other show we're reviewing this week. They're divided into two teams, and given scenes to perform, shouted out by the audience. For instance, the show begins with a spoof shopping channel, with the comedians challenged to sell all sorts of worthless tat. Unlike Johnny Vegas in his play "...And Another Thing", no mid-life crises are shown.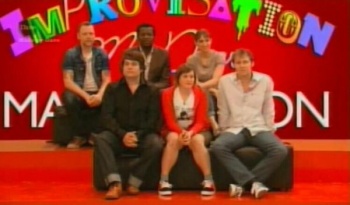 Top row: Rufus Hound, Stephen K Amos, Isy Suttie.
Bottom row: Josie Long, Charlie Baker, Colin Hoult.
For our money, the best round came just before the one commercial break, when the comedians were gathered around the "grave" of a member of the audience, and they were delivering eulogies to someone they'd never met, or even knew from Eve thirty seconds before. Something in the surreal moment tickled us.
Perhaps it was one of the few moments when the background was just a background, and not the star of the show. Too often, the show was all "coo, look at the way we can put our performers in silly situations, thanks to the magic of television." It gave the performers an easier job, it felt like they weren't trying quite so hard. Of course, we're sure that they were doing their best, but once we get the nagging feeling of people coasting, it's terribly difficult to get it out of our mind.
As is so often the case, points were awarded through the programme, based on performance in each round. For no adequately explored reason, all of this was completely ignored, and the show winners determined on an arbitrary criterion. It's a good joke, once, but it does rather mean that the previous 25 minutes had been a waste of our time.
We like a good comedy show, and there were some moments when there was a good comedy show in there. It's clear that many moments had been left on the cutting-room floor, and we trust that those were demonstrably worse than in the finished programme. If this programme is to make a full series – and there's no compelling reason why it shouldn't – we'd hope to see the green screen treated as a backdrop, something to see and forget about. The stars of the show should be the comedians, not the technology.

Roughcut TV for 5*, from 12 July
Ah, the cool sound of the valleys. A broad Welsh accent means we're either watching some low-budget sci-fi schlock from BBC Wales, or Channel 5's spin-off channel Fiver. Since we last tuned in, for The Love Bus late last year, the station has changed its name to 5*, and celebrated its contribution to quality broadcasting by turning its fifteen hours a day into eleven.
For the sample episode (19 July), we join six former students of Eton College, a school near Slough in Berkshire. They're introduced in voiceover, by Adam Buxton. Readers of a certain age may remember him from the ever-so-simple show Quizzlestick, with instructions almost as simple and easy-to-follow as The Krypton Factor's Super Round. His ability to explain a complex set of rules is welcomed at Eton, where the school has some games of its own – Fives, a game for teams of seven; and The Wall Game, where too many wrong answers will leave you wallied.
His explanatory powers are used to their full effect in this game. The team of six sits at a large table, and turns over a board to reveal the title of their first challenge. Then they distribute cards amongst themselves, and turn them over. Five of the cards are marked with the word "Safe", and indicate players who won't be participating in this round. The other has a skull and crossbones motif, and marks the player who will be asked to do something.
What is this something? Adam describes it as a forfeit, a task that isn't particularly nice, but someone has to do it. Cleaning out the lavatories, perhaps, while using someone's head as a brush to ensure cleanliness in the bowl. Or eating some hot peppers, going outside, and doing a little dance; we know that Brian Dowling is the reigning champion at that particular feat.
Whatever the forfeit, the challenge is to complete it in silence. There will be cutaways of actors feigning annoyance at the activities of the contestants, though sometimes it does seem that these actors only have one look of "oh, do shut up" and they use it two or three times in the same show. Too much sniggering, a surfeit of chortling, or a yelp of pain from the person doing the task, and the prize for that round is going to be lost. That's why it's called Silent Library: the tasks are carried out in a library, and are to be done in silence.
The on-screen adjudicator is the character of the librarian, who follows every cheap stereotype of librarians: thick-rimmed glasses, hair up in a bun, a sweater that doesn't leave much room to breathe. We would, at this point, like to record who played this character, but we can't: though the name is given in the closing credits, 5* continuity decides to shrink these down to a very small box at the side of the screen, so small that we can't read what it says. She's the only female character in the entire programme: six male contestants, a bloke doing the voice-over, and two men with walk-on parts during the challenges. We were under the impression that 5* was intended as a station primarily for women, but evidently Silent Library's producers didn't get the memorandum.
The viewers are able to see a "noise-o-meter", which goes up and down during the challenges. Sometimes, it follows the sounds we can hear through the television, sometimes it doesn't. If the noise-o-meter gets too far above its limit, the adjudicator is likely to say the team has failed the challenge. But not always: a brief excursion to the top of the scale can be forgiven, but not always. We're wondering if the judging is always entirely fair and consistent. There is one piece of consistency: if the team doesn't complete the forfeit, they won't pass.
The half-hour programme moves along at quite a clip, something like 15 stunts are pulled during transmission. The ones before the commercial break are for £100 each, the ones after are for £200, and the last stunt – the competitors vote for who should do this – is for £300. On the sample episode we saw, the team left with £1400.
At least the people who only see the first fifteen letters of the programme on their electronic planner aren't going to miss much. Nor are they going to miss much if they don't watch the show. Let's be honest, 5* is one of those channels where the bits between the programmes are more interesting than the shows themselves. If you like to see people win money by saying absolutely nothing, this is your show – the only voice heard on the show is Adam Buxton's, though most participants will give a "sssssh" noise at some point. If you like to see people doing silly, mildly painful, and/or moderately humiliating things on national television, then this is the show for you. We find the law of diminishing returns applies: if you've seen one episode, you've seen them all.
Heat 4: Queens' University Belfast v Newcastle
"If only Preston Poly had entered University Challenge. I'd have whooped Balliol, Jesus and suchlike", wrote CureGreed. Hold the Oxbridge hoorahness until next week, because it's two Universities from the Provinces tonight. We open with the answer "Open", which includes a reference to the Open University. Sharp intake of breath when that emerges. It's generally believed that Open haven't appeared since their 1999 win because host Jeremy "Thumper" Paxman believes it's wrong to study just so one can appear on this show, as some of the winning team are claimed to have done.
Onwards and downwards, both teams are off the mark, with one of three bonuses right. Ditto on the next set, and already we're at the visual round. Woe-be-tie-yie-yo, it's the map of Magellan, who'll find the East Indies, he just don't know where. (Er, it's an Animaniacs reference.) Newcastle has a lead, it feels more fragile than 50-15.
Just when we start falling to sleep, HannahBirt adds a little spice to the show. "Newcastle vs Belfast. 2 of my possible ucas choices. To make this programme interesting, who ever wins is the uni I go to." You see, folks, this isn't just a quiz. To some sixth-formers, this is a life-changing half hour. We're not playing Scrabble in Newcastle, where the K is worth 10 points. Sunspots for Newcastle, a spectacularly unsuccessful round on words from poetry for QUB. Looks like centenary questions will be popping up throughout the series: this week, it's the art world of 1911.
NiccyDash has the diversity audit: "1 male host, 7 male contestants, 1 woman (but at least she's the captain)" Newcastle are going off to make cheese, and for some reason there's a huge round of applause when they say "rennet". Is that this week's Hidden Word of the Week, causing the duck to descend from the ceiling with bills in its bill? The audio round is on Eurovision Song Contest winners sung in English, and Newcastle suggest that Macedonia have won in the past. Does no-one recognise Lena's song from last year? We're still bopping to it, Newcastle lead by 90-40.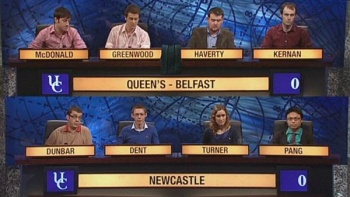 Queen's University Belfast: Niall McDonald, Joshua Greenwood, Tom Haverty, Ronan Kernan.
Newcastle: Ben Dunbar, Ross Dent, Eleanor Turner, Nicholas Pang.
Fiberactive tells us, "University of Wisconsin's broadband project clears legal challenge". Back at the Eurosong, Newcastle are confused by Charlotte Nillsen's retro-winner from '99, Johnny Logan is relocated to Switzerland, and Thumper says "there's no shame in not getting these." We'll be the judge of that. JoYearley comments, "Without being funny, this Eurovison song contest round in University Challenge is what I was born to answer", Sejal68 is a fan of Thumper-snark: "Love Paxman on University Challenge".
Kudos to The Independent's business diary for spotting Adair Turner of the Financial Services Authority in the audience. He was supporting his daughter Eleanor, the captain of the Newcastle team. Does no-one know that Big Ben is (notionally) tuned to E? Watch more Blue Peter, the Skelts said this when she set the clock forward in March. We've reached the visual round, and it's depictions of couples from Little Billy Shakespeare plays. Newcastle's lead is 120-70. An awful lot of microbloggers are getting the Eurosong questions right, somewhat fewer understand the "take two US cities, then bung their states together and you'll get a word". Can we just set the teams loose in the Response Revolve?
At four minutes to go, this game is as good as over, and Miss Birt can pack her bags for Newcastle. Or wherever she thinks she'll get the best education, she's smart enough not to make life-changing decisions solely on this game show. "UEA is probably my first choice", she'll add shortly. QUB are certain of a place on the repechage board, but they'll want to get well past 100 to stand any chance of getting back. TheLadySaphir writes, "Ooh! University Challenge. Oh yeah, my BBC channels don't work. Curse you, Virgin Media!" To be honest, you're not missing much: after a shaky start, Newcastle are cruising it, a full house on language families, another on words beginning chloro-. QUB pick up the last starter, but gets the bonus wrong, that's Guam. Newcastle have a clear win, 235-85.
And the repechage board is full.
Worcester Oxford 180
Edinburgh 125
Trinity Cambridge 105
Queen's University Belfast 85
About half-way through the match, Conory0 wrote, "This Pang guy on University Challenge is an animal" He was one of three players to get four starters, as Newcastle finished with 35/59 questions correct. Queen's Belfast were right in 11/34, and overall accuracy was 46/76. Punter of the week is Chloe_Chapman: "Got 3 right watching University Challenge. Genius."
Next match: Homerton Cambridge v Balliol Oxford
This Week And Next
Is there any reality television person who hasn't been invited to appear on Channel 5 this summer? Celebrity Big Brother is the channel's big attraction, beginning on 17 August. Quietly building an audience in the 10pm slot is Candy Bar Girls, featuring Jo from Shipwrecked 2007 and Shabby from last year's civilian Big Brother. This week's edition had a drop-in appearance from JJ. No, not the boxer from last year's civilian Big Brother. This was JJ Goodman, reigning champion of The Restaurant, demonstrating his skills in mixing cocktails. By the 17th, we're expecting a plank of wood to be given its own daily show ... what, they've already got Neighbours?
Ten and a quarter million viewers at the height of summer. That's the official BARB rating for The Apprentice The Final on 17 July, not only that week's most popular game show but the BBC's most popular game show this year. The BBC had a clean sweep of the podium places, with In It to Win It second on 5.45m, and Tonight's the Night third on 4.7m. ITV's top-rated game show was Friday's live Millionaire, 4.65m. Born to Shine debuted on Sunday with 2.8m, putting it behind The Apprentice You're Fired (BBC2, 3.9m on Wednesday) but ahead of 8 Out of 10 Cats (C4, 1.85m on Friday). Chris Moyles' Quiz Night returned on Friday, 1.7m tuned in. For the record, Candy Bar Girls is reported to have secured 750,000 on Thursday night, traditionally an Impossible? slot for Channel 5.
On the digital channels, More4's Come Dine With Me was seen by 770,000 people, and UK Living put Britain and Ireland's Next Top Model in second, 450,000 viewers. The far more intellectual Splatalot came third, 385,000, just pipping QI XL on UKTV Dave. Clearly, what Mr. Fry needs to do is fall in the water a bit more.
A new run of Dragons' Den begins this week (BBC2, 9pm Sunday). There's also a new run of Hell's Kitchen Us (ITV2, 9pm Monday), and The Chase returns (ITV, 5pm weekdays) – repeats for most of the country, but new for viewers in Scotland. Really joins Freeview on Tuesday, and its imports include Masterchef Australia (11am weekdays), Hair Battle Spectacular (4pm weekdays), and Tool Academy (9pm Tuesday). And, over on ESPN Classic, some 70s nostalgia from The (Sporting) Superstars (weekday mornings).
To have Weaver's Week emailed to you on publication day, receive our exclusive TV roundup of the game shows in the week ahead, and chat to other ukgameshows.com readers, sign up to our Yahoo! Group.