Weaver's Week 2013-09-15
Last week | Weaver's Week Index | Next week
"How much of your autobiography did you write?"
"None."
"Have you read it?"
"No."

12 Yard for ITV, from 4 September
Interviews can always surprise us. We noted last week how David Frost had a charm, a way of putting his guests at ease, and gently drawing out some shocking revelations. In this modern age, Stephen Mulhern is also able to relax his guests, surround them with familiar faces, and again draws some remarkable confessions. Who would have thought that Robbie Savage hadn't read his own life story? Well, in the chapter called "Robbie And His Daughter Go On National Telly", here's what happened.
Three children come into the studio. Each of them is accompanied by a famous parent (or, occasionally, grandparent). We're introduced to these young stars, hear a little of their life with the older relative. Very soon, the youngsters – typically about six years of age – are sent off the set and into a playroom. There is a boring reason for this: young children can only work very few hours on set, they have to have breaks after a very short time, and letting them mostly exist on video tape is a good way to eke out these limited hours. And if we didn't know this, we wouldn't find it out from the programme.
Round one, then, is a nice simple round of questions. Before the recording, Stephen borrowed the naughty chair from the ITV nursery. He sat down on it, next to a big chair for the young stars. And he asked them some simple questions. "What does mummy do when you go to school?" "What should daddy stop doing?" The response from the children is buried amongst four options. The job of the senior relative is to work out which is the true response in this sea of falsehood.
Of course, some of the false responses will be there for comedy, to cause mild embarrassment to the famous person. "When I go to school, mummy goes back to bed." C'mon, what child would say that? Especially when the correct answer is, "Tells the maids to clean up." Far more in keeping with the rock 'n' roll lifestyle, naturally. Because, yes, sometimes the correct answer will tell us something about a person. It'll tell us the sort of life they have, the way they spend their days, how they've handled their fame, and why they're the sort of person who would appear on a family game show on ITV.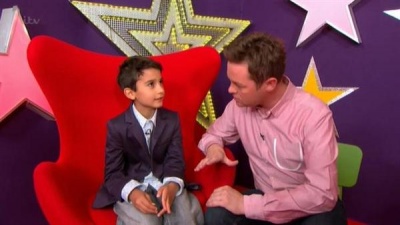 So, who was your favourite Catchphrase presenter?
Two questions to each player, and Stephen will often bring up the link to the children in the play room, and have a quick chat with them about some of the answers. After the break, we're into round two, and something familiar from Small Talk. In video inserts, the children have been asked to describe something from their daily life, something important to their parent. Two points if the parent can guess what it is from some of the clues, one point if they need to hear all of the description before twigging what it is. And, of course, should the parent hear everything and still miss the answer, they'll be a laughing stock, and have to blether in an embarrassing manner about their embarrassing failure.
Round one was a bit like Mr and Mrs. Round three is almost a direct lift from the Schofield-and-Holly revival. The children are brought back on set, and sit on separate seats. Between them is a large star, so that they can't copy each others' answers. Parent and child will be asked six questions, each with three answers. These questions test their knowledge of each other ("What would daughter's dream day with mummy be?") and their family relationships ("Who takes longest to get ready: mummy, daddy, or son?") This, that, or the other?
A point is scored every time parent and child agree, but it's clear that scoring points isn't really the aim of the programme. It's not a hyper-competitive programme, it's not the cut-and-thrust of University Challenge, it's not the pressure of Mastermind, it's not even the combative trolley-pushing of Supermarket Sweep. No, at the heart of Big Star's Little Star is a parent and a child, and the bond between them. Stephen Mulhern gently probes the link, testing here, teasing there, taking little shots at the celebrity, always with the primary aim of letting both of them show how much they respect and love each other.
The competition is a bit of a side-show. We know this from the way Stephen doesn't bang on about it, how he never puts anyone under pressure to beat the next player. There's no call of "you need three to win", not even the grand total for the team after they've played this round. Even though we must lose two pairs at the end of this round, we cannot honestly describe them as "losers". Merely "not winners".
But scores have been kept, a winner is declared, and a final game is upon us. The two "not winning" couples have secured a donation of £1000 for their chosen charity, the remaining pair have £5000 for their charity. All the children get a "Big Star's Little Star" trophy. And they can add to it with the pair the squares round. A grid of 20 squares contains ten pairs of pictures. Behind number 2 and number 4 is a favourite pillow. Behind 13 and 17 is daddy's football club. Behind 5 and 15 is Harry Styles, because every band needs a stunt double for the Artful Dodger. Stephen reveals two of these pictures (not a pair, naturally), and finds out the story behind them. And, just to make it even easier, he shows all of the pictures for five seconds before covering them up.
The parent and child are allowed 90 seconds to remember where the pairs were. No-one goes at a particularly frantic pace, Stephen continues to describe pictures when he sees them, and the child is encouraged to call the pairs they know, so there's only time for about eleven pairs. It's a modestly tense finish, and played for low stakes – the night's top prize is £15,000, and most winners are going to get somewhere close to that figure.
And that's the show. Nothing tremendously ground-breaking, we've seen all the elements before. But the combination is new, and Stephen Mulhern has just the right approach to make it work well – his cheeky manner allows him to be penetratingly nosey with the grown-ups, he's able to get the best out of the children. We were surprised to learn that 12 Yard's productions for ITV have never been renewed – the company's main presence is BBC stalwarts Eggheads and In It to Win It. We'll take a punt that Big Star's Little Star will break that duck – it's familiar, but just different enough to succeed.
This Week And Next
Two ancient colleges took part in this week's University Challenge: Balliol Oxford and Peterhouse Cambridge. The first set of bonuses were on politicians described by Chris Mullin in his diaries: we suggested one answer was "Tony Benn", only for it to be "Edward Heath". Thumper didn't hear us and saved his snark for the next bonuses, when Balliol offered "Chicken hawk", a bird the host is not aware of. He needs to watch more Foghorn Leghorn cartoons. The first visual round was on HTML tags: when this revival began in 1994, HTML was the preserve of nerds, and the best page on the nascent web was Richard K Lloyd's lottery page. Nowadays, anyone can code HTML, and Richard K Lloyd's lottery page is still amongst the best on the now-mature web. All of which brings us to Question Of the Week:
Q: What sporting event links the former Liberal Democrat MP David Rendel, the photographer and film-maker Lord Snowdon, the identical twin social network pioneers Tyler and Cameron Winklevoss...
Hats off for pushing the boat out, particularly noting this week's competitors. Rarely has a music round shifted from art-goth-doom merchants Bauhaus to The Theme from Friends, but that's what happened here. There were perhaps two million people trying to think of two US states that didn't contain any of the letters "a", "u", or "s"; Amy Vickers of Balliol may have beaten 1.8 million of them. Balliol had got off to a strong start, keeping Peterhouse out in the first quarter of the game, and generally maintaining a lead over 50 points.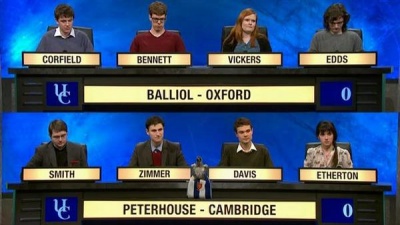 Balliol Oxford: George Corfield, Michael Bennett, Amy Vickers, Robin Edds.
Peterhouse Cambridge: Mark Smith, Edmund Zimmer, Alex Davis, Melanie Etherton.
Or they did, until Peterhouse came back at the second visual round: two starters later, they'd taken the lead, and momentum was clearly with them. From 50 back to 70 ahead before Balliol could draw breath. The Oxford side broke in with a starter, but it was one effort to soften the blow of loss. Peterhouse's final margin of victory is 250-145. Even seven minutes from the end, we thought that score would indicate a Balliol win.
Day 4805, and an unexpected press release from the National Trust. The organisation responsible for stuffy county mansions is organising tours around a twenty-first century constriction at Elstree. The residence, which sleeps up to 16 people in one large dormitory-style dormitory, has a modernistic design that changes every year. The currently dècor includes wall features of many vintage television sets, and an astroturfed garden. Though built barely a decade ago, the walls have many ghosts, and contain even more tales and points of interest. Here's where Jon Tickle read Shakespeare. Here's where Nikki Grahame had a meltdown. Here's a discarded and crushed poppadom. Here's one of the Duvets. Here's a leaflet saying, "Charlotte Crosby: Winning Here".
This column has long held that Big Brother is a proper cultural landmark, the bedrock for much discourse from the past eighth of a century. It's right and proper for the National Trust to recognise this. And it's only to be expected for the philistine element in cultural conservatism to criticise. Step forward the left feet of Ann Widdecombe on The Quotidian Today Programme, saying how this initiative was "tawdry and celebrity-obsessed". Ann Widdecombe was last spotted being rubbish on Strictly Come Prancing.

Onwards! Mastermind returned after a week off for athletics.
Janet Parfitt (Sitting Bull) suffered a potted biography at the start of the first question. Surely this can be given in the programme's time, rather than the contender's. A slow start led to 6 (3), and being out of contention doesn't encourage this contender to guess; even going on what she knew, her final score is a very respectable 22 (7).
Jon Jacob (Life and Work of Sir Arthur Sullivan) gave answers of surname only, trying to squeeze an extra question out of the round. The questions didn't fall, but 12 (1) is some score. His general knowledge is also some effort, giving many answers, the bulk of them correct. The potato, the site of a battlefield, Lister's work on medicine. The final of 31 (2) is surely going to bring him back, win or not.
Andrew Teale (Henry I) found that his subject was told to cut his hair and not look so effeminate. Clearly, army recruiting sergeants are nine hundred years out of date. 12 (1) is still some score. His general knowledge round is good, his general knowledge round is very good, but it's never quite as good as the one before. The final here is 27 (5), very marginal to come back as a high-scoring loser.
Howard Davies (Life and Music of Bob Dylan) a round of detail, giving a broad overview of the man's career. BBC2 viewers are assumed to know who Bob Dylan is. 13 (1) was the half-time lead, but the general knowledge round again lacked the fluency of Mr. Jacob's. The final score here is 26 (5).
Which means that Jon Jacob is through as a weekly winner. All of the contenders scored at least as many in their general knowledge round as in their specialist round, a mildly unusual event.

BBC The Voice of Holland of UK has announced its new spot in the schedule. The singing series, responsible for launching the careers of (erm) (er) (shuffles notes). The singing series will return in January next year, taking over the slot vacated by Britain's Brightest and The Magicians. The judging panel will be augmented by Kylie Minogue, the "Word Is Out" chanteuse will bring a quarter-century's experience of going a long way on very little talent. That's not something we can say about new host Emma Willis; the early rounds may clash with her tour-guide work on Celebrity Big Brother.
In last week's edition of Break the Safe, we heard that April and June are the first two months of the year to have 30 days. Are we seriously to believe that Thames Scotland's calendar doesn't contain "30 January" or "30 March"?
Ratings news. The X Factor returned in the week to 1 September, pulling 9.2m viewers on Sunday night. The Great British Bake Off was knocked down to second, but 6.65m still puts it ahead of Celebrity Masterchef (5.3m), Through the Keyhole (5.15m), and Stepping Out (3.35m), and knocks spots off University Challenge (2.5m on bank holiday Monday (not Scotland)).
Repeats of ultra-tough Only Connect editions peaked at 1.6m on Tuesday, ahead of Mastermind (1.5m) and Eggheads (1.15m), but behind Celebrity Juice (1.65m on ITV2). Channel 4's top game was Come Dine with Me (1.15m); Celebrity Big Brother peaked with 2.3m on Tuesday. Xtra Factor took just 790,000 to ITV2, we'd expect a bit more from the spin-off. 660,000 for A League Of Their Own Series 7 on The Satellite Channel. Over on CBBC, 220,000 for Alesha's Street Dance Stars in the unorthodox 9am slot; on Cbeebies, 425,000 for teatime Swashbuckle. Opposite it on BBC1, That Puppet Game Show struggles to clear a million.
The coming week has something for everyone. For brainiacs, a tribute to David Frost (ITV, 10.30 Monday), a new run of Round Britain Quiz (Radio 4, 3pm Monday), and The X Factor Us (ITV2, 8pm Fri). For food fans, a new run of Masterchef Australia (Watch, 7pm from Sunday), and The Great Irish Bake Off comes to Ireland (TV3, 9pm Thursday). And for people still living in the 1980s, Celebrity Fifteen-to-One (C4, 8pm Friday) is followed by Celebrity Countdown (C4, 9pm Friday) and another Big Fat Quiz of the 80s (C4, next Sunday). Next Saturday has the semi-finals of Stepping Out (ITV, 6.45), the last auditions on The X Factor (ITV, 8pm), and Bruce Forsyth gets grilled by Looking-glass Fingers Bunny Cardioid (as Britain's Brightest referred to Miranda Hart) (BBC1, 7.30).
To have Weaver's Week emailed to you on publication day, receive our exclusive TV roundup of the game shows in the week ahead, and chat to other ukgameshows.com readers, sign up to our Yahoo! Group.