Weaver's Week 2013-09-22
Last week | Weaver's Week Index | Next week
We're warming up for the new run of Only Connect (BBC4, Monday) with a few twizzlers. So, what completes the sequence: Popstars: The Rivals, Don't Stop Believing, Britain's Got a Brand New Jesus Christ Soapstar Superstar Strictly On Ice II+1!!?

ITV Studios for ITV, from 31 August
This review mostly based on the show of 14 September.
Shows hosted by Davina McCall is too large a topic for The OC, this is (at least) her fifteenth recurring job in about as many years. There aren't many more hard-working people in television.
Part of the reason why Davina is so ubiquitous is that we know what we're getting. High-octane, foot-to-the-floor stuff; her forte is in lively shows, ones where she can be a bit loud and a bit lairy. And we're getting seat-of-the-pants presenting, very few people handle live television entertainment better. And both of these characteristics are to the fore in ITV's new Saturday night dance show.
The programme opens with a performance by acrobatic dance troupe Floorless (they were, in fact, performing on a floor), while the Stepping Out house band perform in the background. We should start a checklist of Things Similar Between Stepping Out and Strictly Come Dancing, the BBC rival that this show is clearly trying to usurp. Live band, tick. Live vocals that aren't always as good as the original, tick. Host who is very experienced in television entertainment, tick.
Davina introduces the famous couples we'll be seeing during the course of the show. We've already missed Denise Welch from Big Brother and her husband Lincoln Townley. During the course of tonight's show, we'll lose Dempsey and Makepeace couple Glynis Barber and Michael Brandon. Then there's Brian McFadden from stool-sitting band Westside and his wife Vogue Williams. Who Wants to be a Millionaire regular Laurence Llewelyn-Bowen and wife Jackie. Boxer Carl Froch and Rachael Cordingley. And we begin with Mr. Oritsé Williams from The Jls and his girlfriend AJ Azari.
Astute readers might have noticed that there were a lot of people who already knew each other. That's the whole point of the show. Rather than pair a celebrity with a professional dancer, Stepping Out takes celebrity couples and invites them to dance on national television. Live. In front of an audience. And, being the sort of show that it is, we're going to see some behind-the-scenes footage of the couples. Mr. Oritsé and AJ relaxing backstage with a couple of The X Factor alumni. Mr. Oritsé and AJ having a blazing row. Another one from the tick-list there.
And then we're into the performances, dance routines from people who demonstrably know what they're doing, and from people who demonstrably don't know what they're doing. Stepping Out has a wide range of dance styles, from street dance to tango and lyrical dance. So You Think You Can Dance displayed similar breadth of scope, but Bruce would only accept one of those as a "proper" dance. "Street dance? Isn't that what Topol did? It was all carthorse tracks in my day."
After the performance, it's over to Front Row, where Mark Lawson has the planet's most tedious arts news, turning an exhibition of Australian paintings into a crashing snoozefest. No! Mercifully, this is far more interesting than Radio 4's daily burst of smug, it's a critical panel who are going to cast their expert eye over what we've just seen. Wayne Sleep has been doing this dance lark since Brucey first defected to ITV. Mel B was a Spice Girl, and here follows Geri and Emma and Mel C by joining a talent show judging panel. (Victoria's contribution to talent show panels is about the same as her contribution to "Wannabe". We don't think she's in a hurry to change that.) The third wheel on the panel is Jason Gardiner, because no ITV critical panel would be complete without at least one Jason Gardiner.
The judges give honest opinions, mostly constructive criticism, though some performances do defy improvement. Then they award "his-and-hers" marks out of ten. We're not entirely sure that a mark of 10/10 is right for this week, there's no room for improvement in the next two weeks. And we're not entirely sure what the judges are marking on: it's clearly not technical ability, because Mr. Oritsé was significantly and obviously better than Brian McFadden, yet got the same marks. Was it entertainment factor? Was it improvement over the baseline the judges had seen earlier in the run? Was it another outing for ITV's Random Integer Generator? Whatever, we can tick off a critical panel, a snippy judge, and marks out of ten.
It's obvious that everyone is giving a good effort on this programme. Laurence induces an apology from Davina after he appears to mouth some naughty words during his performance, frustrated that he's not done better. There's a performer whose top threatens to fall off, one who does actually fall over onto his backside, there are cracked fingernails, and more than a little argument between panel and performer. Everyone gives a good performance, though Davina completely fluffs her lines while introducing the interval act, and refers to the former lead singer of Boyzone as "Brian Keating". We could have been watching Brian on That Puppet Game Show, but we'd rather not.
Phone numbers have appeared on screen after all the performances, but Davina doesn't read them out until the lines open. She gives the tedious-but-oh-so-necessary warnings (don't vote if you're watching on +1 or on demand, calls cost 25p of which 15p will go to the Text Santa appeal). Phone vote, motivated performers, tick, tick. Charity donation, something that Strictly used to do until the Governors told them not to.
The biggest surprise is in the results. The judges' marks rank the competitors (tick), the phone vote ranks the competitors (tick), and these two elements are combined (tick). And then Davina starts by announcing the winner. And then the couple in second place. And so on. Rather than give the results in no particular order, she's actually giving them in Some Particular Order. Heresy! Shock! Never catch on! It'll shut up the conspiracy theorists on the message boards! Brilliant move! Completely naturally, giving the results in Some Particular Order reveals the final couple, and hence the ones to leave the contest.
Throughout the programme, we've had an unusual vibe. Yes, the competitors are taking this contest very seriously. But they're remembering to have some fun, that they're making an entertainment programme. Strictly fails on that front; there's too much tension, it's too formal and stiff. Stepping Out remembers to actually have some fun, the main job of a light programme.
Following an injury to Mr. Froch, next week's final is the one ITV has wanted all along. The battle of the boy bands. Ortisé from The Jls versus Brian from Westside. Who is the better dancer? Well, you never know, Vogue might do something to make Brian look halfway competent. It'll be more interesting than Strictly.
This Week And Next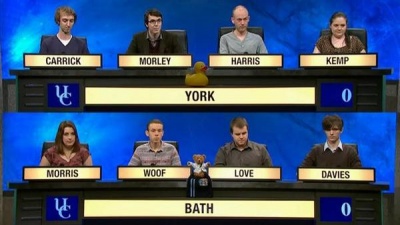 York: Greg Carrick, Brian Morley, Jeremy Harris, Laura Kemp
Bath: Lily Morris, Callum Woof, Simon Love, Jack Davies.
A pair of plate-glass institutions in this week's University Challenge, with York taking on Bath. Or, in mascots, the rubber duck took on the teddy bear. Though Bath buzz in on more questions, York has the correct answers, and races to a 90-0 lead by the first visual round. At some point in the past two months, the University Challenge office has had a new atlas of the UK, because their maps now show both Greater London and the 1974 metropolitan counties, such as Crater Manchester.
We wrote "Game over" in our notebook when Thumper said "There's plenty of time" immediately after the visual round, but before Brian Morley of York had a chance to demonstrate his knowledge of all things Star Trek. Though Bath does stage a bit of a rally in the second half, it's too little too late, and the Duck swims away with the match, winning by 270-70.
A month ago, we noted how a former resident of a National Trust property... 'scuse us.
Bawahahahahahaha-hahahahahaha.
Ahem. Straight face. Serious voice. A month ago, we noted how Mr. Nathan Dunn had taken his Northern Soul Food to That 'London'. He's selling burgers at the Three Compasses in Dalston, and that this made us hungry. The ever-intrepid UK Gameshows Burger Department went to get its chips on bus route 56. We said, "Feed us something lovely." They said, "Here, a chicken burger with tangy cheddar and spicy chorizo on top." We said, "Ooh, lovely." And, after experiencing something different in every bite, "Now we're full".
Back at BBC The Voice of Holland of UK, we understand that Marvin Who is going to be the new host, hiding out the back and being a tweet while Emma Willis holds the show together. Mr. Hums was formerly in S Club 8. The fourth occupant of a swivel chair will be Ricky Wilson from the Kaiser Chiefs, an indie-punk band from Leeds.
To Salford, where Mastermind took place.
Michael Frankl (Frederick the Great) of Prussia, influenced by Voltaire and Machiavelli, and architect of the Potato War. We thought that was an attempt to invade the local Spud-u-Like. 10 (3) meant he was quickly back in the chair, answering questions on Opportunity Knocks and the question "Who was the Home Secretary in 1993?" The contender seems to choose respectability to victory, and reaches his target at 21 (5).
Anne-Marie Rosoman (ABBA) had a perfect example of the long questions that are bugging us this year. "Benny, Björn, and Agnetha were all born in Sweden. In which country was Anne-Fried born; she moved to Sweden with her grandmother at the age of two." We can certainly lose the final clause; we might be able to lose the introductory sentence. Anyway, the round covered ABBA's career and pre-career, up to their split in 1982, and resulted in 12 (0). Second time around, the contender answers almost all of the questions, only some of them are correct, closing on 21 (1).
Richard Chaney (Life and Works of Charles M Schultz) is a sign-language communicator, and not a candidate for US vice-president. His subject was the "Peanuts" strip and very little else, from which he scored 12 (1). His general knowledge round begins with a nice hot cup of tea, and (as anyone who's ever used a finite improbability generator will know), this is a good move. Though the tea cools towards the end, the final score is 28 (4).
Bernard Walsh (Harold Larwood) made 13 (0) on the Nottinghamshire and England bowler. We didn't know that the subject emigrated to Australia in later life. The contender knows that he'll have to go like the wind to win, and the questions are very much against him: never picking up a head of steam, he finishes on 23 (0).
So Richard Chaney will be back next year for the second phase.
Ratings for the week to 8 September are out, and are we now entering the era of three massive game shows? In the red corner, Strictly Come Dancing, 9.55m for the opening show. In the blue-and-yellow corner, The X Factor, 8.9m for the second round of auditions. And in the teal corner, The Great British Bake Off, 7.15m avoided the soggy backsides. That eclipsed Celebrity Masterchef, 6.3m for the final.
Through the Keyhole, Pointless Celebrities, and Big Star's Little Star all had around 4.2m viewers. University Challenge, QI, and Dragons' Den all beat Celebrity Big Brother. Eggheads proved more popular than any Channel 4 game show, but less popular than the Sunday repeat of Bake Off. That Bake Off repeat also beat Celebrity Juice (1.3m), with 970,000 for Xtra Factor and 620,000 for Hell's Kitchen Us making a good week for ITV2. QI XL had a year-high 520,000 on Dave.
On last week's final edition of Break the Safe, we learned nothing. On Pointless Celebrities, we learned that only eight people out of the 100 knew the host of Only Connect. So, if you can link Richard III, Lauren Laverne, Michael Moore, and Floella Benjamin – or even if you can't – watch BBC4 at 8.30 on Monday. There's also another Big Fat Quiz of the 80s (C4, 9pm Sun) and a new run of Keep It in the Family (Radio 4Xtra, 4pm weekdays). Light entertainment has Never Mind the Buzzcocks (BBC2, 10pm Mon) and the resumption of Strictly Come Dancing (BBC1, 9pm Fri and 7pm Sat). Other Saturday times: I Love My Country reaches its logical time of 5.30, the Stepping Out final's at 7.20, X at 8.20, Keyhole at 9.50, and Dr Who Colin Baker is on Pointless Celebrities at 6.15.
To have Weaver's Week emailed to you on publication day, receive our exclusive TV roundup of the game shows in the week ahead, and chat to other ukgameshows.com readers, sign up to our Yahoo! Group.