Weaver's Week 2015-08-23
Last week | Weaver's Week Index | Next week
"People are sheep. TV is the shepherd."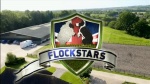 Liberty Bell for ITV, from 30 July
Last week, we looked at two daytime programmes on ITV. Next week, two teatime quizzes on ITV. This week, two primetime contests on ITV. Is anyone spotting a pattern here?
Here's how Flockstars works. Take some celebrities. Give them a new skill to learn. Test them on this skill. Make it so that if things go wrong, they go wrong in a very visible way. Over a number of shows, identify a winner.
Let's go through these elements in a little more detail. "Take some celebrities." Here, eight names to appeal to all ages. Actors from ITV shows, naturally, because this is an ITV show and it's what the ITV audience expects. Tony Blackburn, because he's game for anything. Brendan Cole for the older viewer, one of the N-Dubz that the young 'uns can watch. And Amanda Lamb, because everybody loves Amanda Lamb.
"Give them a new skill to learn." We're writing the review after the first round of programmes, introducing all of the stars across four episodes. Each show begins with a few minutes of the celebs learning their craft. We see them introduced to their sheepdogs, and the dogs getting thoroughly confused. Who are these people? Why are they shouting in the soft southern accents?
"Sheepdogs are best controlled with firm friendly demands," one hapless celeb heard. "He needs to find a fine balance between barking orders and asking gently." And, for some reason, they have to hear commands in a northern accent. "Com-baah" to go clockwise. "Awaeh!" to go the other way.
"Test them on this skill." Eventually, they wend their way to the "Flockstars Arena" – a converted shed at the Sterling Quarter Horses near Robertsbridge in East Sussex. It's in the countryside, but all we see is a giant arena. It could be the NIA in Birmingham, the Liverpool arena, anywhere. And it's in the deep south, full of soft southern grass. Not the proper Northern stuff that'll clean out the dirt between your paws.
Gabby welcomed the shepherd and dog into the arena, and then called the show's catchphrase. "Release the sheep!" Enter, stage right, a flock of sheep. And by "flock" we mean "four". We also heard from Jim Rosenthal, a jobbing ITV commentator who used to do proper sport.
"Fail in a visible way." For the first round, each show had a similar course. Bring the sheep from their luxury trailer at the far end of the arena, and circle them behind the shepherd's mark. Then drive the sheep over the bridge, loop them around a pretty hedge, and herd them into a pen. Simple, right?
Wrong. Anything can go wrong. When they're being driven from one end of the arena to the other, the dog might not listen to the whistle-nav, and send the sheep most of the way to Hastings. The sheep might start to go over the bridge, but then they might stop, or turn back, or do it in reverse. Some of them might split, some of them might shed. We haven't seen any of them gambolling, but they might have been fleeced on Supercasino.
And when it goes wrong, when Wendi Peters' flock gets half way up the bridge, it is a very visible failure. And it's a bit funny. We can watch the show for displays of shepherding excellence, or we can watch it hoping for the epic fail.
"Identify a winner." As we said, the celebs were paired off. The winners of each event return for the semi-finals, which begin next week. So do two of the other contenders. And these people aren't just going to be herding sheep: seen that, done that, bored now. No, the semi-finals introduces geese.
The unthinking sheep on social media have hit upon a meme. "Hur hur. This is just like Alan Partridge's pitch of Monkey Tennis. Chortle. I'm so funny and original, me. Shear quality. Hur hur. Favstar like upvote." Nonsense. Monkey Tennis was an idea thrown about by a desperate has-been. Flockstars has actually had some thought applied, it's not just sketched out on the back of a bus ticket.
Flockstars owes a debt to One Man and His Dog, a series of professional sheepdog trials which has been going since time immemorial. It also owes to the celebrity training shows that have been common over the past decade, led by Strictly. And it owes to the fact that the British public loves to watch Quaint British Pastimes, as we see in Bake Off.
And it brings a little of the countryside to ITV primetime. Sheep, border collies, an agricultural ring. They're hoping to grab something of the Countryfile gloss. Some argue that Flockstars turns the countryside into a theme park, and it's difficult to rebut that line. Yes, Flockstars is done for entertainment. Yes, real shepherding is far more than moving sheep over fake bridges and around hedges.
Flockstars is a short programme. ITV could have turned this into a one-hour show, making it a bit too long just because everything else on ITV is an hour. No, Flockstars works in a 30-minute slot, and it's the better for it. There's no time to witter, every moment is valuable, every second is used to advance the story. The show has pace, it tells its tale and gets out before we can be bored.
This is very different from anything else on ITV. It's a bizarre idea, turned into television by people who know how to make good telly. Yes, it's undemanding. We the audience can do nothing to influence the result, all we can do is sit back and enjoy it. Cheer for the brilliance, chortle at the incompetents. We've enjoyed this series, and we're certainly staying for the second half.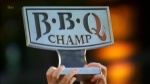 Whizz Kid Entertainment and County Of Kings for ITV, from 31 July
Flockstars is a very British show, few other nations could make primetime entertainment about dogs rounding up sheep. By contrast, BBQ Champ is very much from the Yankee-and-Australian culture, few other nations could make primetime entertainment about people cooking over an open fire.
Somehow, through magic best known to themselves, the producers have found ten people who regularly cook over a barbecue. Not for them the delights of a fitted kitchen, they do not care for such niceties as a smoke hood, an extractor fan, or just somewhere to avoid the rain. Across five programmes, these hardy souls will show us what they can cook, and will prove their abilities. Or lack thereof.
The first surprise when we tuned in: only eight contestants. When the producers say they found ten people who regularly cook over a barbecue, they include the judges. Mark Blatchford is a chef and restaurant owner, he will comment on the quality of the cooking without much caring that it's from a barbecue. Adam Richman knows a barbecue inside-out, he grew up over in the United Stations. A dab hand on the barbie, Richman is also a shrewd businessman. He co-owns the BBQ Champ format, and helped to adapt it from the Yankee original.
Host for the programme is Myleene Klass, known in these parts as a Quiz God. She gave a memorable performance on The People's Quiz, and re-wrote the record books on Celebrity Mastermind. It turns out that her cooking abilities are little better, she's quoted in publicity for the show as "Producers called me in to ask if I'd host this programme, and I was like, 'you know I can't cook!'"
Myleene does bring in her people skills, the uncanny ability to ask the question that the viewer was just about to think of, or that the producers can use to advance their preferred edit. She also does the narration, and provides the show's catchphrase: "Time's up! Tongs down!"
Each show is split into three parts. The first challenge is the freestyle round. Given a set of ingredients and a theme, such as "Sunday lunch", the contestants have some time to cook a quality meal. Later, they're taken away from the controlled environment of BBQ HQ, and allowed out into the wilds of the world. To the beach, for instance, where they're to cook something for families.
Now, this column's knowledge of barbecue cookery is minimal: we know how to cook asparagus, and we know it's safest to finish off dishes in the microwave so as not to contract food poisoning. It seems that the show wishes to keep viewers in a similar state of ignorance.
There are many minutes of slow motion footage, watching lamb shanks or potatoes gently roast over the grill, or do whatever they do in the covered oven thing. There's some discussion of side dishes, chopping cheese or preparing onion. But there aren't many tips for the amateur barbecue cook to use. Bake Off has become a success because Mary and Paul take time to explain why this cake works, and why that bread hasn't met their explanations. Created drama (will Solly have his fish finished in time?) and arty shots don't replace positive tips.
Many of the contestants also appear to be a little ignorant. More than once, they've said "I've never cooked that before", as if they didn't know what the challenges entailed. Either they're bluffing, and have rehearsed these dishes at home, or they're out of their depth already. At times, we wonder if the show might have worked better with a round in the style of The Generation Game: watch the experts do something, now go off and replicate it.
The programme went for the cliches early: the first challenge was to make a "signature dish", something that tells the judges about the cook's personality. And the first of many pop music inserts? "Burn". There are no fewer than five Massive Pauses, as Adam names his Star Barbecuer of each round, and names the two people up for elimination.
BBQ Champ also mixed metaphors like a bull in a glass house: round one was individual, and the location challenge was judged in teams. Ten years ago, CBBC's Raven demonstrated how to mix team and solo challenges: put the team ones at the start of the show.
So the chefs come back from their away trip. Some of them will have done well. Others will not. The worst two are selected for the "Grill off", a technical challenge. They're given a set of ingredients, and a strict time limit, and told to prepare a particular dish. There is some room for artistry and flair, but most of this round is determined by sheer competence. It could be dramatic, and it's certainly less frantic than the rest of the programme.
The elimination, of course, is done with the maximum of fuss. It's an ITV show, not everyone can get through, some things never change. Another fixture: the big prize, this time £25,000. That's more than the entire prize budget of Hello Campers.
Adam Richman is the star of the show: it's clear that he knows his onions, he knows everything about a barbecue. Myleene Klass doesn't add much to proceedings: it's great that there's a novice so the viewer isn't out of their depth, but we get the feeling that Myleene won't actually be putting any of this into practice herself. Mark Blatchford adds weight and expertise, a reference point for cooks who work in a kitchen.
Overall, we're not impressed with BBQ Champ. It's a foreign format, and the sort of format that the UK isn't going to do very well. Some of the judging is curious (one week's technical challenge was won by an undercooked chicken), and the programme doesn't quite gel. Maybe a more capable chef could help to bring out the best of the ideas here.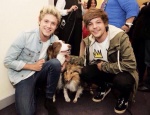 Barking Mad
A pressure group claimed that Britain's Got Talent misled viewers this year. OFCAM (the Outraged Folks Complaining About Modernity) said that magician Phil Packet And His Amazing Pack had "deceived viewers" during his card trick. The group's conclusion was a perfect demonstration of sleight of hand. ""We accepted ITV had no intention to deceive the audience. However, the presentation of the act did not make clear to viewers that a central part was performed by a second pack of cards. By failing to do so, we've concluded the presentation of the act was likely to have materially misled some people."
What are they wittering on about? We'll let OFCAM explain in their clear and unobfuscated style. "Although in the first round, only one pack of cards (the 'original pack') featured in the act, in both the semi-final and the series final other cards also took part. In the semi-final, a pack which looked similar to the original pack appeared onstage alongside the original pack immediately after the act while Phil Packet spoke to the panel of judges. Likewise, in the final a dog-eared pack appeared onstage as part of and immediately after the act."
Do they have a point? "OFCAM was concerned that viewers who had voted for Phil Packet And His Amazing Pack in the final had been misled, on the grounds that the programme did not make clear that the sequence had not been performed by the original pack."
For some reason, ITV and Thames Television indulged OFCAM's yapping. "We considered changing the act's name, but this would have spoiled the reveal in the semi-final," was the gist of their response. "But the semi did show that Phil Packet performed with more than one pack of cards. You saw them both!
"And it's obvious that a second pack is used in the high-wire stunt: Phil's original pack has a red back and numbers on two corners, this stunt pack had a white reverse and numbers on all four corners. We don't see how any sane person can possibly be confused. You'd have to be as thick as a dog to fall for this."
Ah, that'll be OFCAM to a tee. Easily misled, particularly by bow-wow-wow-ers, and so stupid they think that five pound notes grow inside lemons.
This Week and Next
One of our stringers watched Would I Lie to You last weekend, and noted just how little John Cooper Clarke contributed to the broadcast. He wasn't quite as mute as Sooty, but he didn't say more than a few sentences in the entire programme.
Paul Hollywood was punching bread and shattering dreams this week. The Great British Bake Off paid its own tribute to Only Connect, with the world's first connecting wall made out of dough.
Off The Telly is peeved that fans can't be properly fannish.
"If you search #GBBO on Twitter, you'll find companies trying to attach themselves to it. There's the Good Food channel, there's someone selling oven gloves, a brilliantly spurious one shilling vitamin pills that simply drops in the hashtag with no attempt at relevance.
"Worst offender, though, is the official BBC1 account, which smothers Bake Off during its transmission, every double entendre regurgitated in a JPEG. It's not written down anywhere, but Twitter feels like it should be the fans' domain. Alas @BBCOne won't let them play with its show unsupervised, and join in as unwelcome, over-zealous parents. #GBBO-off!"
Tom Jones impressed us with his quiet dignity last week: he was removed from the panel on BBC The Voice of UK and suggested that the producers could be more competent. This week, we hear that The Voice producers told all their competitors that they were out of the contest. All of them. There will be no series next year. The great Reflex revival starts here!
And ends here. Someone with a bit of a brain noticed the error, and sent a "correction" email to all the contestants, who have all been reinstated.
More names have dripped out for the Strictly floor. Katie Derham from The Proms represents Radio 3, and Carol Kirkwood flies the flag for BBC Breakfast. Peter Andre hopes to revive his flagging career, Daniel O'Donnell might get another booking in Dictionary Corner out of this. Anthony Ogogo becomes the first second Big Brother contestant to make the glitterfall; at 26, he's ticking the "young hunk" box.
Over in France, the "young hunk" box on Danse Avec Les Stars is ticked by Loïc Nottet, he sung the RTBF entry to the Eurovision Song Contest this year. They've also got Djibril Cissè, and a top vlogger. Hmm. What's Sprinkleofglitter doing this autumn..?
Quiz update
Episode (er) six of University Challenge was a London medical match. The Institute of Cancer Research London (Stuart Rankin, Ravindhi Nathavitharana, Sabrina Talukdar, Josh Meyers) played St George's (Alex Costley-White, Charles Nicholas, Tom Burns, Lucy Studd). St George's got all the starters before the first visual round, and won by 190-70. There was a slight bias towards questions on medicine and science, but nothing out of the ordinary. University Challenge needs to mix it up a little so it can be entertaining, and a medics special does just that.
"Connecticus Potts had a bad dream last night." The perils of being pregnant while hosting Only Connect. String Section (Tessa North, Pete Sorel-Cameron, Richard Aubrey) took on Headliners (Duncan Enright, Dave Robinson, Paddy Baker). On a number of questions, both teams wondered if they should gamble for extra points or see an extra clue to be sure. Mostly, they went for extra points. And didn't always get them.
It led to a low-scoring first round, broken only when the String Section took "red and yellow" for three points. They inched ahead late in the sequences round, getting "Saw III, Cars IV, Alien V" – a particularly devilish question. The gap became insurmountable in the wall, when the Headliners mistook ballets for works by Tchaikovsky. String Section won by a Pythagorean double, 25-16; the Headliners might cause problems elsewhere in the draw.
Misinformed took on the Lutrophiles on Hive Minds. It's the only quiz show where the category "United States" leads inevitably to "Ivy League universities", and "Religion" is code for "Hindu deities". It was a one-sided match, Lutrophiles took the lead early, and finished winners by 39-10. Hive Minds is very much a show where teams win and lose on their own merit, passed questions and the buzzer round count for little.
Alan Heath won Mastermind this week, his score of 31 included a perfect round on his specialist subject I Claudius. We don't expect to see any of the others this year: Diane Hardman scored 22, Grenville Davies, and John Thompson both made 20 points.
BARB ratings in the week to 9 August.
The Great British Bake Off returned, and 11.6m people saw it. Straight in at number one for the week; already number two for the year, behind the BGT final.
Dragons' Den stayed in silver position, 3.6m beat The One and Only Cilla Black (3.25m) and University Challenge (2.85m). With Bake Off An Extra Slice just beating Keep It In the Family (2.76 and 2.74m), BBC2 has three of the five biggest game shows this week.
Elsewhere on ITV, Celebrity The Cube was seen by 2.3m, Flockstars by 2.05m, and BBQ Champ by 1.75m. By comparison, Only Connect pulled 2.35m, Great British Menu got 1.95m, and Channel 5's coverage of Ausfail 60 attracted 2.1m gloating poms.
1.75m for Catsdown, the Hair final on BBC2 was seen by 1.11m, and 930,000 for Fifteen to One The Celebrity Edition.
On the non-PSB tier, imported Hell's Kitchen was top with 560,000 viewers. Mock the Week brought 455,000 to Dave, and Taskmaster pulled 365,000. America's Got Talent on Tru TV has risen to a healthy 115,000, and that's opposite Bake Off.
Just a Minute is at the Edinburgh Festival (R4, 9am Mon) and a new run of Celebrity Big Brother (C5, from Thu). KYTV have postponed Duck Quacks Don't Echo so they can ensure it falls beneath their quality threshold. Fighting Talk (Radio 5) and Through the Keyhole (ITV) are both back on Saturday. Only The Young appear on Ultimate Brain (CBBC); the search for the next guinea pigs begins on The X Factor (ITV).
Photo credits: Liberty Bell, Whizz Kid Entertainment / Company of Kings, SyCo / Thames, Initial (an Endemol company), Love Productions, Objective Productions.
To have Weaver's Week emailed to you on publication day, receive our exclusive TV roundup of the game shows in the week ahead, and chat to other ukgameshows.com readers, sign up to our Yahoo! Group.