Weaver's Week 2015-12-06
Last week | Weaver's Week Index | Next week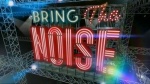 "The map room had games in the Fluxus style, taking the familiar and making a challenge out of it. Walk towards a wall, and stop before you walk into it: closest wins." — The Week, 20 September.
Twenty Six 03 for The Satellite Channel, 22 October to 10 December
Our review is mostly based on the shows from 12 and 26 November.
British Skytelly Broadcasting has spent some money on new entertainment shows this year. Some of them have been quite decent. Some of them have been quite poor. Bring The Noise is an entertainment that could be brilliant, shows many signs of excellence, but isn't yet there.
The programme is themed around popular music. Two of its stars are the resident team captains. Nicole Scherzinger is familiar from Best Time Ever and The Pop Factor. Tinie Tempah has no television experience, but six years' experience making very popular music. Ms Scherzinger is a traditional star who won't worry the parents, Mr. Tempah very much more contemporary and down with ver yoof.
Ricky Wilson hosts the show: we know him from BBC The Voice of Holland of UK. And here's the first problem: Ricky isn't yet as good as he could be. At times, he shines with the material he has to work with. But at times, he's uncomfortable, waiting for someone else to take the spotlight away from him.
Make no mistake: we're not saying that he's a bad presenter. Whether through hard work or judicious editing, Ricky Wilson is always competent and sometimes inspired. We do say that Mr. Wilson has many talents, and this shiny-floor entertainment show will be a footnote in his career.
With the host adding little to proceedings, much rests on the other contributors. Katherine Ryan and Joel Dommett appear most weeks. Bookings from the world of comedy, both are becoming very familiar faces this year. Ms Ryan has done Mock the Week and Hair; Mr. Dommett did Reality Bites and Sweat the Small Stuff. There's also a comedian and a musician booked each week, and Bring the Noise has a house band, The Noise.
The programme opens with a filmed comedy skit. In the second programme we saw, it was a spoof of Lady Gaga's video to "Telephone". The one set in a women's prison, here featuring Joel Dommett in a spiky bra. It was an affectionate and accurate pastiche, almost frightening in its attention to detail. And it was brilliant, a clear TV Highlight of the Week. Something we can clip and share and say, "watch this, it's great".
And this is a problem. Four minutes into the show, and we've already hit giddy heights. How on earth are they going to follow that? Quite simply, they're not. The panel walks on like pop stars (because half the panel are pop stars), and we're into a montage about one-hit wonders. Folk like Vanilla Ice, Hanson, Whigfield, Kris Kross. Nothing dates an audience like its hitmakers: by going for the 90s, they're appealing to an audience aged 25-40.
One of the one-hit wonders, Lou Bega, strides onto stage, to sing his hit "Mambo number five". While he's singing, someone from each team is asked to work out which of two hitmakers is pictured on the video screens. It's been an upbeat and fun first segment.
Round two is the same thing every week, and it's the performance they can clip to share on the interwebs. "Flip reverse" takes a brief extract from song, and plays it backwards. The challenge for the player is to sing it back, phonetically, keeping in as many of the plosives and glottal stops as they can.
Because once they've sung it, their performance will again be reversed, so that it's the same as the original. In theory, this should be the original vocal line recreated. In practice, it can be something completely different. It's fun when people sing their own songs in reverse, or make a mess out of a familiar line. It's jawdropping when David Tennant does a perfect reverse rendition...
So what next? Energy levels drop during part 3: one of the panel is here to perform her new single, and she's going to perform it. No matter how much it breaks up the flow of the programme, no matter how obvious the commercial placement, no matter how dull the performance. But then we think, we could be watching I'm a Celebrity, and don't change the channel.
Afterwards, a nebulous entertainment. One week, sculpt a head out of clay like they did in the "Hello" video. (That's Lionel Richie's "Hello" video from 1984, not newer works by Martin Solveig or Adele.) Another week there's a round inspired by the song "I'll stand by you", where the object is for players to move close to their team-mates, but not actually touch them, because that would be to lose. Didn't we see that idea at Now Play This?
We may have picked bad episodes to see, but twice it felt like they filled five minutes with those polystyrene wotsits.
Part 4 is a reward for sitting through part 3. One song in the style of many. The teams have been given a well-known song, and a list of styles they'll perform bits in. Ever wanted to hear "I want to know what love is" in the style of reggae? Or "Every breath you take" as a twangy country-and-western number? Well, keep wanting, this round plays to obvious stereotypes, it's what a mass market would expect of niche genres. Entertaining while it lasts, and doubtless done with one eye on the clip-and-share interwebs, we find this slightly patronising and mildly clichéd.
After that, Ricky declares a winner (the points are made up and no-one cares) and the credits roll.
Now, there are many novelties with this programme. At heart, Bring the Noise is a panel game, but it doesn't look like a panel game. It's got a massive stage, with "experts" around the side, sharing the look and some of the style from The Pop Factor. The panel are not facing the audience, but have their backs to the crowd of a few hundred.
The set design is all metal tubes and gentle curves, with a massive arch hanging over the arena. LED screens around the background are used for graphics in some rounds, and for effect elsewhere in the show. It's very likely that this looks excellent on super high-definition wrapround televisions. For those of us watching on a comfortably small flatscreen, the show is a bit squiffy – something between the camera movement and the backdrop screens just looks slightly wrong.
Nicole Scherzinger, Tinie Tempah, and Katherine Ryan are regular bookings. Already, we see that the programme isn't going to be full of straight white men. This reflects contemporary music, which has lots of room for women and people of colour, and lots of room for women of colour. Contemporary television does not: Bring the Noise is far more diverse than Mock the Week or Dara Ó Briain's School of Testosterone.
But we came away from Bring the Noise unsatisfied. The best bits had been at the beginning, a spoof of a familiar video done with affection and wit, a joyful rapid-fire game. After that, the programme had gone downhill as it went on, only picking up slightly for the final act. There is twenty minutes of good material, spread through a one-hour programme. Bring the Noise could be that bit better, it could yet rise from "it'll do" to "it's worth watching".
Wales Update
We've kept an eye on some returning series shown by S4C.
Agricultural competition Fferm Ffactor had a new format. "Brwydr y Ffermwyr" – battle of the farmers. Rather than ten individual farmers, this year's series featured eight teams of three farmers. Rather than a weekly elimination, the series ran on a straight knockout. The net result was that the champion team appeared in just four shows, we weren't able to get as deeply under the skin of the winners as in previous years.
The series did use the team format flexibly, beginning with a fun obstacle course contest featuring all eight competitors. The first round was mostly individual challenges, the semi-finals were entirely for the team as a whole, and the final had something new for this year.
We did appreciate the new judges, the change helped to shake up the series. But then we found the semi-finals featured the same challenges in the same order for all four teams. (The first round might have been the same for all, but we only caught one episode.) The final had something for all the family – Mastermind-style quizzing in The Chair, "a tough challenge" according to the experts. And then the finalists were larking about in a shopping centre wearing cow onesies, hoping to promote Welsh milk.
Overall, changing to a team format was an experiment worth trying. Not sure we'd keep it for next year.
Pyramid has also changed a bit. The app-a-long children's show didn't impress us last year, as it was too much quiz and not enough apping. For the second series, they've cut the contestants from eight to six, so we can focus more easily on the players.
The show still opens with a quiz round, but the top two from this quiz step up and play an app-a-long game. We don't have to grind through four quiz rounds before getting out the app, this is very welcome. Winner from this first app game goes through to the physical game, the loser drops back into the pool for the next quiz round.
Once we've had three app games, the three winners take part in a physical game in the studio. Winner of this goes through to the show's final.
All the other contestants – all five of them – take part in one last game, using a virtual reality sensor to splat blue blobs and avoid red ones. Winner takes the other spot in the final, and the final isn't always arithmetic using the Egyptian hieroglyphs (and guest Greek letter).
The show is still a little light on the app-a-long – where Ludus and Y Lifft gave seven games, Pyramid still only gives four – but works better as a television entertainment.
This Week and Next
For posterity, we should note claims in the press that Strictly Come Dancing is in some way "fixed". If we're to believe the nonsense in the tabloids, re-shooting a round of applause is evidence of a conspiracy stretching all the way to Lord Hall-Hall. They may actually be right: allowing the producers to have maximum flexibility in the edit, and make high-quality television, is exactly what we'd expect the BBC to do. But do they fix the result? Give us some actual evidence, or shut the flip up.
Let's look at some history. This year, performing celeb Jamelia made that claim about an ovation. In 2013, professional dancer James Jordan got confused between a second competition dance and corruption. In 2011, celeb Harry Judd was said to have an "unfair advantage" by performing on Children in Need. In 2009, celeb Joe Calzaghe wittered that he insulted a rival dancer and got marked down.
None of these claims has been backed by evidence. It's just supposition, claim, bletheration. Put up, or shut up.
We have only slightly more time for claims against The Apprentice. Contestant Scott Saunders tells Mr. Sugar where to get off, and says his property was held hostage by the producers. Contestant Selina Waterman-Smith declined to participate in spin-off activities and says the show's a fix. An un-named contestant told the New Statesman that producers made a habit out of lying to contestants, forcing their preferred result, and at one point compromised safety on a building site.
Boundless's press office said, "The show is in no way 'fixed' and we strongly refute any insinuation to the contrary." This is inaccurate: Boundless strongly denied the show was 'fixed'. To refute the claim, Boundless would have to provide evidence, and we don't have concrete facts. Many allegations, lots of opinions, but no facts.
Right now, it's all "he said", "she said". Claims about Strictly feel like sour grapes. Claims about The Apprentice have the ring of truthiness, but are capable of rebuttal. To convince us otherwise, Boundless need to provide evidence, not just a press statement in a huff.
Quiz Update
Christ's Cambridge took on York on University Challenge. One team had a duck on the desk. The other kept the game close for the first half, but had a penchant for penalties in the second half. York won, 225-120, so we'll not get to hear Mr. Tilling shout "Christ's Kitchen!" this year.
Paxman failed to explain that EEPROM stands for Erasable Electronic Programmable Read Only Memory. We'll get our coat...
Bookworms won a close match on Only Connect, beating the Athenians by 22-21, taking the victory by a mile on the Missing Vowels round. We enjoyed the opening picture question, pictures of the nicknames of London skyscrapers (we were hoping for a shot of the House of Cards.)
Athenians did well on music questions, working back from "Crazy in love" to "Crazy" songs, and later naming a single album after seeing some doubles, triples, and a quad album that you're meant to play in quadruplicate. Crazy! We have no idea what was so funny about words that can be followed by "____cock". It turns out that Bookworms have never seen the television soap Triangle. Victoria is right, there has never been a primetime show as grate.
Looks like Mastermind scheduled low-scoring episodes for the two FA Cup weeks. Heat 17 was won by Andrew Diamond, taking Pete Seeger, on a score of 21. All this week's contenders scored 10 or 11 on their specialist subject. Paul Styrin, Sue Clark and Alisdair Scott answered seven general knowledge questions correctly, and ended with scores of 17, 18, 17.
BARB ratings in the week to 22 November.
Strictly Come Dancing continues to reign supreme, with 11.75m viewers for Saturday's performance. The results on Sunday were seen by "only" 11.25m.
I'm a Celebrity continues to rescue ITV, the six editions fill the top six slots. 7.75m on Sunday was the peak. The Apprentice on BBC1 was hurt by Celeb, slipping to 6.95m, The X Factor drew 6.1m, HIGNFY and Pointless Celebrities both well over 5 million.
Masterchef The Professionals topped on BBC2, with 3.4m viewers. University Challenge had 3.15m, and both beat ITV's Mr and Mrs (3.05m). The Chase pulled up 2.98m, its best of the year.
I'm a Celeb Get Me Out of Here Now did the trick on ITV2, with 805,000 viewers. UK's Strongest Man scored 690,000 on Channel 5, and 79,000 on Spike. Neither Four in a Bed nor Come Dine with Me made Channel 4's top thirty.
260,000 for the Junior Bake Off final on CBBC, 245,000 for Landscape Artist on Artsworld, and Redneck Island on Tru TV+1 pulled (er) 8000.
More endings than beginnings this week: I'm a Celebrity... Get Me Out of Here! crowns its champion (ITV, Sun), The Great Pottery Throw Down finishes its glaze (BBC2, Tue), The X Factor final begins from the Empire Pool (ITV, Sat), and World's Ultimate Strongest Team (C5, Fri) is a one-off. Christmas special season begins with 8 Out of 10 Cats Does Countdown (C4, Tue), followed by Release the Hounds (ITV2, Wed) and Celebrity Juice (ITV2, Thu). Pointless Celebrities does relatives (BBC1, Sat), Catchphrase brings in celebrities and Louis Walsh (ITV, Sat).
Next week, we plan to look at UKTV's shows Humble Pie and Money Pit.
Photo credits: Twenty Six 03, Cwmni Da, Boom Pictures, BBC
To have Weaver's Week emailed to you on publication day, receive our exclusive TV roundup of the game shows in the week ahead, and chat to other ukgameshows.com readers, sign up to our Yahoo! Group.