Weaver's Week 2021-05-09
Last week | Weaver's Week Index | Next week
Let the peoples sing!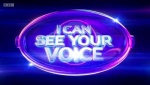 Thames and Naked Television (both Fremantle labels) in association with CJ ENM for BBC1, from 10 April
We know that The Masked Singer is hugely popular and that lots of people love it. We reckon it has got a fundamental problem: what is the aim of the show? Is it a singing competition? Is it a game to guess the identity of the singer? Is it an exhibition of the brilliant costumes? This column reckons that The Masked Singer tries to cover all of these bases, and only succeeds in one-and-a-half of them.
But while The Masked Singer waffles around its aim, I Can See Your Voice is so focussed that it's a veritable laser. The aim is very simple: find a good singer, and take them through to the final round. It's so simple that Paddy McGuinness can understand it, and explain it in one sentence.
Why so many comparisons with The Masked Singer? Both shows come from 2015, and have been spread via illuminated manuscript. Translated from Korean handwriting into American handwriting, and then into English handwriting, by a monastery full of scribes. The translations are highly idiomatic, introducing different format points and doubtless making some transcription errors.
The basic point of the show is very simple. (So why do they have a 90 second summary before the titles? Stop wasting our time, producers. We could hear Ronan Keating sing for a bit longer!) Six people are on the stage. They're here to try and convince us that they can sing. But the one thing they're not going to do is sing, because that would make the task too easy.
A pair of contestants will discuss the apparent merits of the contestants, and bicker between themselves. "Expert" advice comes from a Saturday night panel of available celebrities: Alison Hammond from The World's Strongest Picnic Tables, Jimmy Carr from Smug-u-Like, Amanda Holden from The Door, and this week's guest pop star. Danny from McFly!!! Fleur East!! Heather Small! Nadine Coyle, but also Ronan Keating.
Scoring on the show could not be more simple. There is no scoring. If our contestants pick a good singer at the end of the show, they win £10,000. But should our contestants choose a bad singer, it's the singer who pockets the ten grand. At no stage can it end up in Paddy McGuinness's pocket.
How do the contestants choose who to eliminate? It's all done on gut feelings, intuition, seeking clues and considering the "expert" advice offered by the panel.
Round one, for instance, is "First Impressions". The panel see tonight's six singers on stage. They're introduced by a short phrase, being their occupation ("The Teacher"), a description of their talent ("Songwriter"), their pastime ("Martial Artist"), or a pun based on one of the above ("Smooth Operator").
Based solely on the descriptions, a very short piece of film, and the physical appearance of the potentials, our panel are required to eliminate one of them. We're straight into stab-in-the-dark guesswork, and we've seen a lot of that lately in Richard Bacon formats. "Look at the way he's holding the microphone! No professional singer would hold it like that!" shouts one panellist about someone who turns out to be a professional singer.
After the team have made their choice, and pushed a button for no obvious reason, the eliminated singer comes on stage. The music swells, and we seem to wait an eternity while they do the reveal. Do they have the voice of an angel, or the voice of an angle-grinder? Finally, the eliminated person bursts into song, and we find out just how good they are. Or aren't.
Paddy makes a lot about how we don't know how many good or bad singers there are amongst the six. This is true, but we can be reasonably certain that there will be at least two good singers and at least two bad ones. Any more good singers and they might as well hand the dosh to the contestants. Any less and it becomes a dispiriting parade of losses, and the show becomes depressing with all the failure around. We want it to be a feelgood piece of light entertainment, let us feel good!
Sync or swim
Round two is the Lip Sync Challenge. The task here is to sing a song of your choice, either using your own voice, or using someone else's lovely voice. So we go down the line, left to right. Five performances, all of them great. But who has relied on external help? Whose voice is all from training, who has relied on performance-enhancing devices?
The panel give their advice and thoughts, or just their advice. "The microphone is in a good position. She's holding that well," the standard response. But remember, they don't get to throw anyone off the show. That honour falls to the contestants, and nobody else.
They get to choose who goes. They give Paddy the excuse to shout the programme's catchphrase: "Let's! Hear! Your! Voice!" Suspiciously similar to Game of Talents' catchphrase "Show! Us! Your! Talent!"
"Unlock my life" is the next round. The remaining contenders present a short video package to try and convince us that they are an excellent singer. The fake singers are allowed to tell lies, but only about their singing experience. If they're working a waitress in a cocktail bar, that's what the film clip will show. The clip includes distorted voices, like they had on The Masked Singer. We're running a little short of time, don't want to delay Match of the Day, so two eliminations are required after this round.
Again, the panel give us their views, and we're all beginning to get a good idea about this problem. Actually, no, we're all stumbling about in the dark as much as the panel and the players. There aren't many clues to go on, and we all need to go out on a limb throughout. One day, some contestant's going to roll a dice, and say that's the contestant they'll keep till the very end. Saves a lot of faffing about.
And so we're down to the final two possibilities. The contestants have 30 seconds to interview one of the singers, and it's all done live in the studio – none of the chipmunk effects from earlier. The interview is from a short script of about 20 possible questions, which the candidates have seen beforehand and can think about. One of the contestants is booted, and we hear them do a solo turn.
Which brings us to the big reveal. Our guest performer takes to the stage, and prepares to perform one of their biggest hits. They're joined by the player picked by the contestants. Are we going to end the game with a wonderful duet between Danny from McFly and an excellent singer? Or are we going to end with Ronan Keating and someone who simply cannot sing?
Conclusions?
Don't judge a book by its cover. We remember the sudden appearance of Susan Boyle on ITV's Got Talent: introduced to look like a shockingly bad singer, but turned out to be very good at this singing lark. I Can See Your Voice tries to recapture that moment of television magic.
Tries to take that magic, and fails. Got Talent had given us no reason to expect Susan Boyle would sing well. Got Talent had given us no reason to want Susan Boyle to sing well. I Can See Your Voice does give us a reason to want the last singer to sing well: we want the contestants to have the prize, it's the only way they'll get some reward for their efforts.
Psychologically, our expectations are raised. We want this foppish bloke to sing well. It'll be the culmination of the hour, he might even upstage the star talent. When the singer turns out to be full of tunes, our hopes and expectations are met, we don't get quite the same "wow!" moment. Only when our expectations are subverted in a good way can we get that Boyle factor.
That said, the rest of the show crackles along well. Paddy McGuinness is swift, witty, exchanges just the right sort of barb with the panel, and keeps the show motoring along. He does the same on Catchpoint, for smaller stakes. All of the celebrity panel bring something different – we've a comedian, a judge of talent, a Normal Person who got lucky, and a professional singer.
Because there are so few clues, it doesn't really matter if you join in halfway through: even if you've seen nothing of the first twenty minutes, you're just as clueless as the panel.
We mentioned earlier that I Can See Your Voice has been adapted from the Fox version, and the translation has dropped a whole round. "The Secret Studio" shows one singer in a recording studio, with their singing voice digitally altered. Instead, our version chops two people from the middle round. Don't think we've lost very much from this omission.
From the Fox version, we've also lost a far-too-complex prize structure. They gather money for each bad singer eliminated, and then double it by deciding if the last singer is good. We just say "10 grand, flat prize". Job done. Occam's razor applies: don't make things more complex than they need to be. A flat prize is fine.
Viewers have tended to agree. I Can See Your Voice has picked up adequate viewing numbers, around 3.5 million for the first three episodes. It's not Saturday Night Takeaway popular, but more than good enough, and they certainly justify making one of the less expensive Saturday night entertainments. More importantly, the trend has been positive, picking up viewers as the series rolls on, while ITV's Game of Talents has been losing viewers faster than a leaky colander. So much so that ITV have moved their show to an hour later, swapping with Alan Carr Makes Incredibly Variable Efforts At Vintage Telly. (And more on that story next week.)
Every episode of I Can See Your Voice takes us on a journey. There's a beginning, there's a clear end, and there are some stations along the way. We will learn something about the singing abilities of six strangers, and we'll have fun trying. And that's enough for us to file I Can See Your Voice under "Good".
This review was edited after publication, to correct the show's catchphrase.
In other news
"By arrangement with Marcel Stellman", one of the most familiar credits on television. He looked after the interests of Des Chiffres et des Lettres when Yorkshire TV turned it into Countdown, and was a regular guest in the audience when they recorded the show. But there were many more strings to Marcel's bow: songwriter and translator ("Tulips from Amsterdam", "Spanish flea", "Sukiyaki", "Dance on"), and talent-spotter, including The Rolling Stones and long-lived puppet pig singers Pinky and Perky. Survived by his wife Jean, Marcel Stellman died last Sunday, aged 96.
Circle broken After three series, Channel 4 has decided not to renew The Circle. It's the reality show where a group of people live on their own in flats, and converse through mediated social media. It became a cult television show: the people who loved it really loved it, but there were desperately few people who loved it. "We need to make space for new ideas", said a Channel 4 press release, pointing to new shows such as Bake Off, Taskmaster, and their latest idea Changing Rooms. There's still a chance that Netflix could step in and make a new series, the webcaster already makes an "international" version.
We wait weeks for a new daytime quiz to arrive, then two turn up at once. Unbeatable with Jason Manford (BBC1) The Answer Trap with Anita Rani (C4). In primetime, Tom Allen's Quizness (C4, Fri) is hosted by Tom Allen.
Two of the more established panel games return. Mock the Week (BBC2, Thu), and There's Something About Movies (The Satellite Channel, Thu). Television's most honest talent show Got What It Takes? is back (CBBC, Tue). New imports include Ninja Warrior Down Under (ITV, Sun), and Ellen's Game of Games (ITV2, weekdays)
Next Saturday is National Doris Day, as BBC2 devotes an afternoon to the film legend. There's also some football on BBC1. In for a Penny visits Barry, Epic Game Show tries Celebrity Name That Tune, and there's a twilight edition of Pointless Celebrities with reigning Pro-Celebrity Face//Off champion Lucy Porter.
Photo credits: Thames and Naked Television (both Fremantle labels) in association with CJ ENM, YTV, Studio Lambert and Motion Content Group.
To have Weaver's Week emailed to you on publication day, receive our exclusive TV roundup of the game shows in the week ahead, and chat to other ukgameshows.com readers, sign up to our Google Group.