House of Games (3)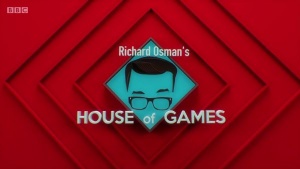 Host
Broadcast
Remarkable (part of Endemol Shine Group) for BBC Two, 4 September 2017 to present
Synopsis
Four celebrities are given quizzy things to do by Richard Osman.
A selection of four celebs take on rounds of quizzes, always with a twist. Some are general knowledge questions where the answers rhyme. Some are general knowledge questions where the answer is an anagram of part of the question, or found in the contestant's name.
Other rounds are more inventive. We might see the initial letters of a song lyric, in the original rhythm. Another round - played in pairs - invites guesstimates for a number and takes the average for the pair.
There are visual rounds, locate an item on a picture, or place somewhere on a map. And every show ends with "Answersmash", blending a picture with a definition.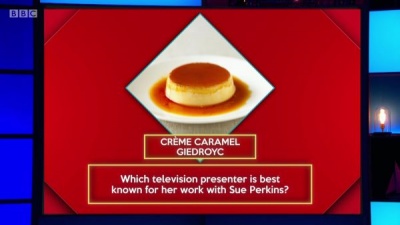 Crème caramel Giedroyc.
The show is impeccably cast: two men, two women. At least one familiar to the older viewer, at least one modern comedian from Mock the Week, at least one family entertainer. Richard Osman asks questions written with verve and wit.
A daily prize is drawn from the House of Games stall of stuff, with the winner lifting the House of Games Winners' Trophy.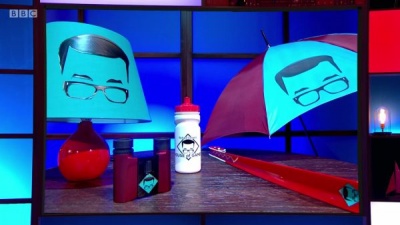 Daily prizes: Lightshade, umbrella, shoehorn, binoculars, water bottle, all branded with the show's logo.
We like this show a lot, it hits just the right notes for 6pm - and other hours, at least one UKGS editor shifts episodes till late evening, go to bed with a smile. ROHOG (as it became known) effectively replaced Eggheads, running for twenty weeks in the autumn and winter.
Participants
Series 1
Series 2
Week 1: Naga Munchetty, Jordan Stephens, Sally Lindsay, David O'Doherty
Week 2: Ellie Taylor, Steve Pemberton, Fern Britton, Josh Widdicombe
Week 3: Shappi Khorsandi, Michael Buerk, Amanda Abbington, Elis James
Week 4: Beattie Edmondson, Amol Rajan, Gaby Roslin, Hugh Dennis
Week 5: Chizzy Akudolu, Charlie Higson, Kate Williams, Tom Allen
Week 6: Rachel Riley, JB Gill, Katie Derham, Richard Herring
Week 7: Lolly Adefope, Dan Walker, Sarah Greene, Miles Jupp
Week 8: Samantha Womack, Rory Reid, Anne Diamond, James Acaster
Week 9: Kelly Cates, Tyger Drew-Honey, Desiree Burch, Matt Allwright
Week 10: Susie Dent, Nick Owen, Chemmy Alcott, Dane Baptiste
Series 3
Week 1: Miquita Oliver, Ed Gamble, Kate Thornton and Adrian Edmondson
Week 2: Scarlett Moffatt, Iain Stirling, Angellica Bell and Gyles Brandreth
Week 3: Kate Humble, Ivo Graham, Andi Oliver and Phill Jupitus
Week 4: June Sarpong, Dev Griffin, Debbie McGee and Alex Horne
Week 5: Nina Wadia, Johnny Ball, Suzi Ruffell and Danny Wallace
Week 6: Jay Blades, Rachel Parris, Shaun Keaveny and Jan Ravens
Week 7: Kate Bottley, John Thomson, YolanDa Brown and Joel Dommett
Week 8: Charlene White, Gregg Wallace, Holly Walsh and Chris Hollins
Week 9 (House of Champions with former winners): Scarlett Moffatt, Rick Edwards, Naga Munchetty and David O'Doherty
Week 10 (another champions week): Kate Williams, Richard Herring, June Sarpong and Dane Baptiste
Week 11: Rose Matafeo, Rav Wilding, Valerie Singleton and Gary Delaney
Week 12: Andrea McLean, Phil Wang, Rita Simons and Adil Ray
Week 13: Michelle Ackerley, Matt Forde, Judy Murray and Fred MacAulay
Week 14: Kerry Godliman, Radzi Chinyanganya, Ebony Rainford-Brent and Hal Cruttenden
Week 15: Lou Sanders, Richard Coles, Maggie Aderin-Pocock and Stuart Maconie
Week 16: Vick Hope, Gethin Jones, Nicki Chapman and Tim Vine
Week 17: Gareth Malone, Jamelia, Paul Martin and Susan Calman
Week 18: Samira Ahmed, John Robins, Angela Rippon and Dom Joly
Week 19 (back to the champions): Chizzy Akudolu, Miles Jupp, Ellie Taylor and Amol Rajan
Week 20 (more champions): Holly Walsh, Nish Kumar, Sarah Greene and Hugh Dennis
Key moments
The bastard hard questions in the House of Champions weeks featuring former contestants, which included questions in foreign languages and games that were originally declined for being too complicated.
Title music
Marc Sylvan is credited for "Music".
Trivia
Generally aired at 6 pm, the traditional Eggheads slot, with the exception of assorted year-end Fridays, where the monopolisation of the 6pm slot by It Takes Two forces them back to 7pm. A couple of episodes have aired on Saturday when live sport airs during the week. The penultimate episode of series 3 was put back to 6.30pm as a consequence of Covid-19.
Billed in some sources (and indeed on-screen) as Richard Osman's House of Games.
The first two series were recorded at The Hospital Club, a basement studio in Covent Garden. Production shifted to BBC Scotland from series 3, shown in October 2019.
So far no-one has yet scored the maximum 24 points across the week; Nish Kumar, Dane Baptiste, Ed Gamble, and Susan Calman have scored 23, while others to win four days are Naga Munchetty (18), Steve Pemberton (22), Richard Herring (20), Phill Jupitus (22), Rick Edwards (20), Hal Cruttenden (20) and Nish Kumar again, during his House of Champions week (22). Nina Wadia and Jay Blades have both scored the minimum 6 points.
Across the first three series, the most popular daily prize has been the fondue set, which has been chosen 15 times, well ahead of the Richard Osman action figure, toolbox, and smoking jacket on 11 each. The wheelie suitcase is gaining fast, though - introduced partway through series 3, it's already been chosen 10 times, putting it level with the only prize to have been offered every single week so far, the dartboard. At the other end of the scale, many prizes have never been chosen at all, but arguably the bottom of the heap is the Eau de Cologne, which has been on the prize table 26 times without a single taker. Prizes chosen only once include the roller skates (won by Danny Wallace and gifted to Suzi Ruffell), the tie (won by John Robins), pasta maker and pocket watch (both Kate Williams), hip flask (Richard Herring), scented candle (David O'Doherty), fedora (Amanda Abbington), coasters (Dan Walker), football (Sara Pascoe), and jigsaw puzzle (Elis James).
Web links
See also
Feedback