Weaver's Week 2012-02-26
Last week | Weaver's Week Index | Next week
This week, Jim Shelley of the Daily Mirror said that "The Bank Job shows Simon Cowell how it's done". Here, "it" is tabloid shorthand for "devise, construct, make and air a television game show containing so many errors that a primary school production would feel disappointed and resolve to do better." We enumerated many of the errors in The Bank Job just a few weeks ago, and the new series has done little to rectify them.
So, rather than re-review The Bank Job, we're going to look at a show with presenters who are somewhat more polished, who have a larger vocabulary, who have more sensible haircuts, and who make telly that is actually entertaining.
Initial (an Endemol company) for CBBC, 6-10 February
The plot of Jedward's Big Adventure is terribly simple. Two young Irish people are invited to lead a tourist party around a well-known British historical site. They'll be assisted by celebrity guests. After the tour, the party will be invited to sit a short examination, and whichever young Irish person and celebrity guest has imparted the fewer facts will face a forfeit. And that's it.
Now, the young Irish people are actually Jedward, the country's biggest and most successful export this century. In the two-and-a-half years since they first appeared on The X Factor, the celebrity haircuts have turned up literally everywhere. No show has been safe from their energy, their passion, their zest for life, or their ability to raise hair to new heights. Oh, they're tiring, but we have to salute the duo's indefatigability and ability to remain cheerful.
The only surprise is that it's taken two-and-a-half years for them to actually host a show on children's telly – very few performers are quite so naturally gifted at empathising with the younger viewers. Yes, that's because Jedward are basically hyperactive eight-year-olds grown up a bit, but we're not objecting. This is their talent, it's the unique thing they can contribute, and by gum they do it well.
Now, in amongst all the running about, there's actually something more going on. In the first half of the programme, Jedward go on a guided tour of the historic site. If they're to succeed as tour guides, they'll need to know something about this place. So Jed and Ward ask questions of the professional guide, interpret what they see, work out ways to pass on this information to the people in their tour party. The historical facts are related by the professional tour guide, to cut-out paper animations presented as dream sequences. A very clever visual method of distinguishing fact from cartoon antics.
And the viewer? Well, they're going on a professionally guided tour with Jedward. The viewer is also getting to learn about history, about what happened in places like the Tower of London or the Blaenavon coal mines. It's an education for Jedward, it's an education for the viewer, but because two of the craziest people on television are involved, it doesn't feel like formal learning.
While Jed and Ward have been busily swotting up, two other minor celebrities have been waiting outside. They'll plot with the brothers, helping to bring the stories to life. How minor are these additional celebrities? As minor as Joe Swash and Brian Dowling, so not actually as minor as all that. Everyone gets the night to think about what they're doing, and we suspect that they're able to call on the Endemol props cupboard.
The next morning, a small minibus collects a dozen people from a street corner. They've been selected as knowing nothing about the place they're about to visit. They've also been selected as knowing nothing about their tour guides. In fact, these people know so little that, after recording Jedward's Big Adventure, they'll be whisked off to The Bank Job.
It's a surprise when their tour guides start turning cartwheels and wearing huge amounts of hair. It's somewhat less of a surprise when the tour turns out to be chaotic, funny, and memorable. The lads and their guests know how to put on a show, but they don't know which facts from the dozens they heard will be on the final exam.
The only person who does know what's on the final exam (because he peeked) is The Narrator. For about half the show, we thought "oh, they've got Dave Lamb, at least it's not his namesake". But something about Lamby's voice wasn't quite right. Eventually, we found that it wasn't the Come Dine with Me narrator, but Jim Howick doing an uncannily good impression. Which means he's giving pithy remarks that help to advance the story and create dramatic tension.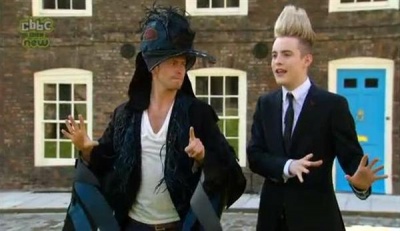 One of the Jedwards and Raven. No! Joe Swash!
The finale, then, is of the tourists sitting the final exam. We find it slightly annoying that most of the answers are isolated facts and numbers (for instance, how many people came through Traitor's Gate) rather than interpretation of the information, but that would make the marking a whole lot harder. Someone from the tourist attraction announces the result with the maximum of fuss. Then it's the comedy forfeit and credits and close.
There's something for everyone in this show. Jedward's fans have thirty undiluted minutes of their heroes. Jedward's enemies (apparently, there are some), see one of the lads getting soaked. People who appreciate witty commentary have a very good example to critique. And, underpinning it all, there's some soft education about some historic sites. The show entertains, but it very gently improves, and we applaud this sort of thing.
Jedward's Big Adventure continued in Ireland this week. This time, they were given a bit of time to learn and sing a soppy love song, with Linda Martin dressing up as Terminal Three at an airport, for no adequately explored reason. Their final examination was live on The Late Late Show with Ryan Tubridy, where a panel of critics and the Irish voting public determined that – yes! – there would be another episode. Coming to screens in May, Jedward explore Baku and the Eurovision Song Contest in Azerbaijan.
Trans-Siberian Segment, Match 844,165: Manchester v Clare Cambridge
Manchester's win was against Newcastle three weeks ago, Clare lost to Pembroke a week later. We say "won" and "lost" as though that's all they've done, both sides have played about ten million matches to arrive here. but this is the denouement. One side will win and progress to the quarter-final, the other will lose and finally get to go home. Always assuming that their home still exists, and it hasn't been replaced by a high-rise block of flats, itself knocked down and turned into homes for stockbrokers.
It took a piece in the Irish Independent for us to recognise the connection between the Manchester team's family names: Messrs Kelly, McKenna, Burke, and Joyce all allowed the Dublin-based tabloid to go on about "how big an impact emigration from the west of Ireland has made on the city." Never mind the way all four introduce themselves as being from England.
Anyway. Manchester get off to the best of starts, getting nicknames used by Private Eye, one-word pseudonyms, and questions about Egyptian deities. Clare, they start by picking up a couple of missignals, but shorten their first set of bonuses – fishing in literature, no less – by shouting the answers before Thumper has even asked the questions. The first visual round is on female heads of government, after which Clare has trimmed the lead, 70-35.
Later, Manchester gets some questions about literary arithmetic, for instance Vonnegut's "Slaughterhouse" multiplied by Tolkein's "Towers" (so five by two, so ten). Voiceover Man is having to give "Clare, Janes" very quickly, as he found the contender shouting him down earlier in the show. How can they ask a question about Cher without mentioning Miss Lloyd?
And how can the contenders know so much? Going into the music round, ten starters have been answered correctly, and of the thirty bonuses, no fewer than twenty five (25) have been answered correctly. A superlative achievement. The audio round is on avant-garde music, including an extract from Cage's 4'33"*, allowing Clare to take the lead by 125-115.
"These bonuses are on nothing", says Thumper a few moments later. Nothing will come from nothing, as Brian of Nazareth would say, apparently quoting King Lear. We did not know that. Rhinoceroses are related to horses? We did not know that, nor that the plural is "Rhinoceroses", "Rhinoceri", or just "Rhinoceros". We're also obliged to mention the political grouping to which they gave their name, the Rhinoceros Party of Canada, a party only out-sillied by the Liberals, and the New Democrats, and the Conservative-Reform Alliance Party.
Manchester engage in wordplay with their food, and catalepsy – the condition when someone's muscles become rigid. The second picture round is on pictures stolen and recovered, and Manchester has regained the lead, 195-165. Clare pull within ten on the next starter, and pounce as one of Manchester's side confuses Thomas More with Thomas Cromwell in the plot of "Wolf Hall"*. Five minutes to play, Clare have a missignal, but Manchester drop the starter.
Many definitions of "lacuna" bring Manchester level, and states of India pull them ahead. Asquith brings Clare possession, ten points, and the lead, and fifteen quick-fire points on bones. How many black keys on the piano? Clare buzzes, but don't answer, allowing Manchester to take the bonuses – on Scottish ferry routes – and eventually the lead. Mammals that can lay eggs? That's advantage Manchester, but they still need a starter, and some bonuses would be nice. Eponymous lines yields ten, but Clare manages to pull off this one:
Q: "Words meaning Tokyo stock market index, worthless household ornament, and aficionado of the fictional universe of the Starship Enterprise all contain..."
Clare, Janes: "K"
Three questions on raw food bring the sides level. We have a tie. 250-250. Knowledge "a priori" gives Manchester ten, the chance to run down the clock, but they need a bonus. They don't find it on farm animals, but they do get the next starter.
And that's it! That's it! Manchester has won, 270-250. Both sides were superlative: Manchester 28/39 bonuses, 42/70 overall. Clare managed 29/36 bonuses, 41/67 overall, and Daniel Janes answered correctly a remarkable ten (10) starters. The overall accuracy rate: 83/106. That's more correct answers than there were questions in UCL's last match. And Clare has a small place in history, with the highest losing score in the BBC revival.
Next match: Balliol Oxford v UCL
Heat 17
This episode was shown in Northern Ireland at 6.50 on Saturday, and in Wales at 7.20 on Saturday.
Nick Smith starts us tonight, with the Life and Work of Thomas Jefferson Hogg (1792-1862). He was a writer, best-known as the biographer of Shelley. There was a lot more to this man, and the contender finishes the round on 13 (0).
Next up is David Buck, taking The Diggers. Scoop, Block, Dizzy, Jason Ceebee, er, Shovell from The M People. These cartoon characters do not appear in this round. Nor do the Protestant radicals of the Civil War era. No, these are a radical bunch from San Fransisco in the late 1960s. At least the contender know which Diggers he was on about. 12 (0).
Paul Jenkins has been reading the Life and Short Stories of Raymond Carver (1938-89). Born in Oregon, educated in California, Carver wrote about the outcomes of the American Dream: alcoholism, divorce, addiction, and violence. 12 (3). Read more: "What We Talk About When We Talk About Love"*.
Alan Clarke is going to tell us about Luton Town FC 1965 to present. The era begins with the club's relegation to Division IV; within ten years, they were in the top flight, and remained there for ten years, reaching 7th position in 1987. Away fans were banned, and a plastic pitch laid. The Kenilworth Road ground is generally acknowledged as too small for the club's ambitions; mooted replacements have included the Kohlerdome and moving the club to Milton Keynes, neither of which came off. Luton's famous players include Bruce Rioch and Matthew Upson; celebrity fans include Eric Morecambe and current chairman Nick Owen, and the club has not been defeated in the Football League Trophy since 2007. The score: 15 (0).
David Buck kicks off with the Beach Boys, a marionette, and the World Health Organisation. After this strong start, the round loses pace rapidly, and even John Humphreys' carefully-rehearsed pronunciation of a footballer's name can't advance the score. 18 (6) the final score. Paul Jenkins has Worzel Gummidge and an atom, then the writer of "The Office"* (it's not a real documentary) and the parentage of Gabby Logan help him to advance his claim. Even when this contender doesn't know, he makes a credible guess, and finishes on 24 (6).
Nick Smith – one of the Bridge Players from Only Connect a year or so back – remembers to sing "Auld Lang Syne", though perhaps he doesn't bring out the First Easter Eggs of the year. Silicon Valley and the Battle of Austerlitz keep the scoreboard ticking over, but it's clear he's not entirely comfortable in the hot seat. He finishes on 23 (5).
Which means Alan Clarke (no, not the MP and diarist, someone much younger) needs ten to win. Bing Crosby and the Gallagher brothers are separated by some Gruyere cheese, then there's a javelin and a rottweiler. We suddenly wonder if we've come across an out-take from The Exit List. There's a slight stutter here and there, but there's never tremendous doubt that the contender will reach his target. He doesn't have all that much to spare, finishing on 27 (4).
Heat 18
This episode was shown in Wales at 7.50 on Saturday, and will air in Northern Ireland at 7pm on Tuesday. O'Spoiler!
Once more unto the breeches, Joyce Wilson has chosen to take the Human Body. Not exactly the smallest of subjects, this, covering answers such as "liver", "quadriceps", "Islets of Langerhans", "adenoids", and "Shatner's bassoon". It's clear the contender and setter didn't have the same ideas about this subject, and the final score is 4 (1). Anatomise more: "The Concise Human Body Book"*.
Ian Jones sails into view, taking the Life and Work of James Brindley (1716-72). He's most famous for engineering canals across England, particularly the Bridgewater canal – not in Somerset, actually between Runcorn and Manchester, and named after its patron Duke. He put a lot of work into the network of canals in and around Birmingham, where he's remembered by the Brindley Place development in the city centre. 12 (0). Cut more: biography by Christine Richardson*.
Rocketing into the seat is Ewen McPherson, taking the Soviet space programme (c. 1950-91). Successes include Sputnik, Vostok, exploration of Venus and Mars, the concept of the space laboratory, and scaring the Americans into spending huge amounts of money on rocket development. There were failures, particularly with probes that always failed just at the wrong moment, and the whole endeavour has become much more co-operative in the years since the USSR imploded. The round only has a handful of questions set after the late 1960, and the contender finishes on 12 (0).
Chris Cummins is our last contender tonight, taking the Television Career of Victoria Wood (b 1953). A winner of New Faces, married to The Great Soprendo, Wood met with Julie Walters in 1978. Their partnership produced Wood and Walters*, the BAFTA-winning Victoria Wood As Seen on TV*, and dinnerladies*. Wood has most recently been writing a biopic telling the bizarre story of Joyce Hatto. When the music fades, the final score's 15 (2).
Joyce Wilson makes some very logical responses, and remembers the 1989 Comic Relief single "Help!"*. We can still do harmonies to the "oooooh" at the end. She also gets the Mastermind Question about the Rhinoceros, which reminds us that we also need to take the rip out of the Green Party of Canada and the Parti Québecois. Just for balance, mind. 9 (2), and a friendly word from the host.
Ian Jones gets yeast and Texas and some smog and Bruce Lee, and some cock-a-leekie soup. The points keep coming on – the painting of Stubbs, coffee from Colombia, the rugby league Challenge Cup, Harrow School, even Madison Square Gardens allow him to score. 27 (1) is enough to put Mr. Jones on the repechage board – if he finishes second!
Ewen McPherson knows he has his work cut out, so begins with the Wimbledon tournament that Mastermind is only avoiding by doubling up episodes. He scores with Nell Gwyn, the kookaburra, Amsterdam, David Steel, and when he doesn't know, he passes promptly. On the other hand, he doesn't know where to find the Clent and Lickey Hills, both of which we can see from our house roof. Anyway, the round's already lost, finishing on 25 (4).
The repechage board:
John Marshall 31 (5)
John Snedden 30 (4)
Paul Smith 28 (3)
Eliot Wilson 28 (5)
Chris Wills 27 (1), Ian Jones 27 (1)
Chris Cummins is already a legend on Countdown, and has graced the Only Connect studios on finals day. Here, he gets the "post mortem", the charity work of Ian Botham, and the mullet. No, this is the fish. Consecutive answers ask after the award-winning album "21"* by Adele, and the catchphrase "Let's get ready to rumble"*. We'd love to hear her version. Popping up a little later: Simon Cowell. All of which allows Mr. Cummins to pull out a victory, scoring 30 (5).
Ian Jones moves into joint-fifth place on the repechage board, level with Chris Wills. It's the last double-bill next week, when a score of 29 points in first or second place should be enough to come back.
This Week And Next
We mentioned that RTÉ has selected its entry for the Eurovision Song Contest. Of the BBC's representative, not a peep. It could be that they're negotiating with a Huge International Megastar, the likes of which has never competed before, and would be sure to bring the contest to Cardiff next year. Paul McCartney's not said he's not taking part. However, it could be that the BBC is going to send one of its own employees, and we've no evidence that Dodge T. Dog can't sing.
Another fortnight, another OFCOM complaints bulletin. This one discusses Jeremy Clarkson on The Nod Show, the paper review on The Wright Stuff, and confirms there's nothing wrong with the scheduling of Shipwrecked on E4. The commissioning of Shipwrecked on E4 is not a matter over which OFCOM has jurisdiction.
We do note that OFCOM has rejected a complaint of age discrimination against The Million Pound Drop, without giving any detail. It's clear that there is age discrimination in the contestant selection for this show, and for The Bank Job. It's also clear that this discrimination is not being publicly acknowledged by the show's producers, Endemol. And it's a fact that discrimination on the grounds of age is only an offence when employing someone; provisions of the Equality Act to cover age discrimination in goods and services have not yet come into effect. Whether anyone would bother to bring a case under the European Convention on Human Rights, we don't know: it feels like deploying an atomic bomb to crack a small and not particularly tasty nut.
ITV took a break in the BPI Awards this Tuesday to remind the nation, "We don't just broadcast tacky awards ceremonies where the star is shushed before she delivers the punchline. We broadcast shows that people watch, like Celebrity Juice, and Take Me Out, too." The slot is usually taken up by Game Shows That Absolutely No One Watches, such as 71 Degrees North, High Stakes, The Biggest Loser UK, and The Exit List. Good of ITV to publicise its more popular programmes, there.
Ratings for the week to 12 February, and Dancing on Ice is slipping, down to 6.85m viewers. Who Dares Wins is on 5.65m, and Take Me Out scales the heights to 5.45m. Masterchef had 5.15m, Family Fortunes 3.6m, and University Challenge 3.05m. Celebrity Juice came back this week, bringing 2.75m viewers to ITV2. That's more than QI and The Million Pound Drop (both 2.35m), Deal or No Deal (2.05m), and Mastermind (1.95m in England and Scotland only). Digital's number two show, Take Me Out The Gossip (1.16m) only just missed World's Toughest Trucker on Channel 5 (1.24m). Got to Dance registered 1.05m, and Pop Idle Us 800,000. Big Ask returned to Dave, 330,000 tuned in for Alexander Armstrong's questions.
Coming up this week, Jacpot is back on S4C (8.30 Friday), though Can i Gymru doesn't go out until next Sunday. Cleverdicks lands on The Murdoch-o-vision Promotional Channel (7pm weekdays), and Channel 4 runs with an idea that could make wonderful television: asking British citizens to sit the test used to determine eligibility for UK immigration. Test The Nation The National Nationality Test (9pm Thursday) isn't a show in itself, but is the starting point for further debate.
Next Saturday has Pointless Celebrities (BBC1, 6.05, including trope namer Anthea Turner, and BRIAN BLESSED). Celebrity Family Fortunes (UK, ITV 6.05) has folk from Coronation Street and Emmerdale; Celebrity Family Fortunes (Ireland, TV3 9pm) has Shane Byrne and Lisa Fitzpatrick. Let's Dance for Comic Relief for Sport Relief (BBC1, 7pm) includes Bamzooki reject Scott Mills, Deal or No Deal's Olly Murs, and the lovely Dani Harmer. Highlight is the final of Fort Boyard (CITV, 9am).
Links marked with a * help support the UKGameshows servers.
To have Weaver's Week emailed to you on publication day, receive our exclusive TV roundup of the game shows in the week ahead, and chat to other ukgameshows.com readers, sign up to our Yahoo! Group.