Weaver's Week 2015-05-03
Last week | Weaver's Week Index | Next week
This week, we're looking at parking restrictions in Camden, complaints to the Kent police force, and whispering about Australia's television awards. And we're waiting for someone to boom out:

CPL for BBC1, from 20 April
Last week, we had a look at The Edge, and concluded it was a lot of quiz for little reward. Its successor on BBC1 daytimes is, again, a lot of quiz for little reward.
Decimate is played by teams of three players. It's hosted by Shane Richie, and is played in front of a big video wall. At the start, this wall is filled with thousands of golden lights, each representing some money. The players' aim is to hold on to as much of that loot as they can; perfect play will let them take home £20,000.
The players applied as a team, and play as a team, so we spend the first few minutes getting to know them. Before round one, the team is shown ten "key words", they'll appear in the questions. One of the team emerges to play the round, either through volunteering or being told "you do it".
The other members get twenty seconds to transfer as much knowledge as they can about the "key words". Because this is a BBC daytime programme, memory transfer matrices and Borg-style hive minds are forbidden. The players have to talk, using their mouths and words and nothing else. And they've only got twenty seconds to do it.
So, the chosen player stands in the middle of the stage, with Shane Richie for company. Shane Richie is a great host, we'll always want to see more of him on our screens, and he's as good as ever. The other two players sit on the subs' bench, with nothing more than a large, provocative buzzer for company. Shane asks a question, and gives three possible answers. We already know roughly where the question is going, but how will it turn out? Or, by question seven, will we remember or care about the keyword at all?
The contender thinks about the three possible answers, and thinks out loud. Did Alan Dedicoat regularly read the shipping forecast? The contender doesn't recall, so will completely guess based on nothing more than a hunch. And, by saying that he's guessing based on nothing more than a hunch, he's providing a clue to how confident he is to the other players on the subs' bench.
Why is this signalling important? Five times in the whole show, the subs' bench can push that provocative buzzer and over-rule the player in the middle. The original answer is tossed out, and replaced by the one picked by the pair of players. Should the player in the middle be completely stumped, he can pass the question back to the substitutes, again this happens just five times in the whole game.
And by "whole game", we mean "the first three rounds". For each round, the prize fund is split into ten equal segments, and an incorrect answer to any question will lose that segment from the game. The show's jackpot is always for £20,000, meaning that questions in the first round are always for £2000. Round two is for what's left, usually around £14,000; the third round is played at about £1000 per segment.
Right answers are marked by a musical chord, pleasant and immemorable. Wrong answers are heralded by a big deep voice booming "DECIMATE!" in an ominous fashion, before the money drains from the video wall. The big deep voice o'doom is provided by format creator Hugh Rycroft.
This fact is more interesting than the bulk of the game play: three rounds, played at about one question per minute, and for diminishing amounts of money. We might care if a team is still on for a five-figure win going into round three, we might watch for the absurdity if they look like going into the final round with a few hundred quid.
The final round is a speed challenge. Again, the players are shown ten "keywords" (categories). They'll be asked up to three questions in each category, each question is meant to be easier than the last. Get any question right and the money is safe, the player moves on to the next category. They need to get something right in all ten segments in the time to win the money.
Fail on all three questions, the money is lost and the player must stop. Not only have they lost 10% of their money, but they've lost 20% of their time. Should all three players fail on the run, the team leaves with nothing.
The net result: wins are rare, but those rare wins are for several thousands of pounds. The prize budget probably comes out somewhere around £1500 per show, the same area as other BBC daytime programmes like Pointless, Eggheads, Pressure Pad, and many more.
There are four ways to dish out prizes: Decimate is an example of large amounts given away rarely (The Chase is a prime example). Another approach is small amounts doled out regularly, as seems to be the way on Pointless these days.
Large amounts given out regularly was the hallmark on Deal or No Deal, and £16,000 per day is still a huge amount. Our only problem is with shows that give away small amounts too regularly: we derided Face the Clock with its "prize" of £155, we sneered at Beat the Pack with its "prize" of coming back tomorrow.
Our view is that Tipping Point finds the best middle ground: a prize around £2500 most days, and players have the choice to sacrifice that money for a shot at £10,000.
As for Decimate, we're not convinced. There is a good show, but it's drawn out too long. We watched two episodes to learn about the programme, and both times reached for the fast-forward button to cut complete rounds. Yes, there's slight tension from using the lifelines, but that doesn't overcome the tedium of In It to Win It questions answered in the languid style of In It to Win It.
We're also not certain that "here's a wodge of money, defend it through being brilliant" works that well as a mechanic. The game show tradition has been "you start with nothing and get rewards", working up to a goal rather than defending one's already elevated position. The Million Pound Drop is an exception to this rule, but it a) has Davina and b) lost its novelty after about fifty episodes.
But were Decimate to be faster, we can see it would be a nifty quiz. Get on with the quizzing, perhaps stick it in a half-hour slot, or wrap it round the lottery.
It's Debateable
A series of short pieces somewhere between game shows and British politics.
"Hello voters! My name is Bean. Mr Bean. And I want to be elected. Thank you!"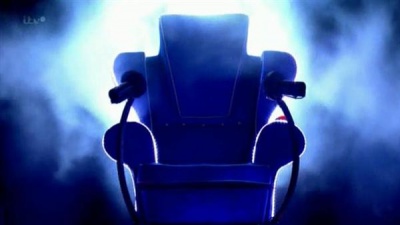 It's Debateable concludes in this week's TV Guide.
This Week and Next
We heard on Tuesday that Dame Sandi Toksvig will leave The News Quiz. The host since 2006, Toksvig said, "The show is in great shape and, like a good house guest, you should always depart when people still wish you'd stay a bit longer." Her final series will air in May and June, and a new host is likely to arrive for the run in late autumn.
On Thursday, the story changed somewhat. Dame Sandi is to launch a new political party. The Women's Equality Party will, we're told, "unite people who share the same views on issues". Presumably that's different from all the other parties, because there's so much difference within Party X on Unifying Matter Y.
For instance, how UKIP is united by its distaste for the BBC. The isolationist party has complained to the police over "false statements" on Have I Got News for You. This column regrets that taxpayers' money must be squandered to massage the fragile egos of some never-weres. We asked pro-parsimony pressure group The Taxpayers' Alliance Ltd for a comment, but they've not got back to us.
Residents in Camden are worried that The Apprentice will nick their parking spaces. According to the Camden New Journal, the "latest team of apprentices are rumoured to be moving into a property on the road in Holborn over the coming weeks[...] But homeowners have complained that their parking permits could be suspended in order to give more room to visiting camera crews." One resident is quoted as saying, "when were we asked whether we'd like The Apprentice house to be in our street and all that that means?"
Democracy season continued with the BAFTA Craft Awards. These gongs recognise the people behind the scenes, those who make the television but don't star in it. Just one game show winner: Dave Davey, Robert Edwards, Falk Rosenthal were the Entertainment Craft Team on The X Factor.
This week, democracy season continues when Dick and Dom present awards in Australia. What, they're called the Logies? Oh.
We're sorry to hear about the passing of Keith Harris; with his characters Orville and Cuddles, Keith brought an innocence to shows such as Blankety Blank and Crackerjack. He remains the reigning champion of Channel 5's reality series The Farm.
The new series of Big Brother begins on 12 May. It's got a subtitle "Timebomb", which will doubtless be forgotten before June. It's an early start, looks like new owners Viacom want a break before the celebrity series during August.
ITV has announced its summer schedule, which includes BBQ Champ, a show featuring lots of burnt offerings.
BARB ratings news for the week to 18 April.
Britain's Got Talent remained the most-seen show, 8.95m this week.
Masterchef (5.6m) and Have I Got News for You (5.2m) led for BBC1.
Ninja Warrior (3.2m) proved more popular than the University Challenge final (2.9m), but thumped Play to the Whistle (2.25m).
1.345m for Britain's Got More Talent on ITV2, just ahead of Celebrity Juice (1.26m).
Lip Sync Battle drew 155,000 to the new Spike channel, and 28,000 watched the Cor Cymru final on S4C.
New episodes of Pointless (BBC1, all week) and Eggheads (BBC2, from Thu), BBC Young Dancer concludes (BBC2, Sat), and Romnesh Ranganathan gets absolutely everywhere. It's a game show special on Pointless Celebrities (BBC1, Sat, not Scotland), featuring Henry Kelly, Matthew Kelly, Tom O'Connor, Jenny Powell, Nina Myskow, Gyles Brandreth, Ulrika Jonsson, Nick Hancock.
Photo credits: BBC Entertainment, ITV Studios, Thames.
To have Weaver's Week emailed to you on publication day, receive our exclusive TV roundup of the game shows in the week ahead, and chat to other ukgameshows.com readers, sign up to our Yahoo! Group.