Weaver's Week 2015-07-26
Last week | Weaver's Week Index | Next week
"Let's be brave, be bold, and make smart women being smart in public the new cultural norm."

Objective Productions (an All3Media company) for The Satellite Channel, from 12 July
Regular readers will know that this column has problems with The Satellite Channel (see the Weeks of 2 and 9 February 2014). Its revolution in choice and quality has produced no more choice and far lower quality.
The nadir came with There's Something About Miriam (2003), a show that set out to ridicule and abuse transgender people. There were other decisions around that time – cuts made from Muffy the Werewolf Slayer, Kay Burley's misanthropic material on the KYTV Comedy channel, its habit of over-promoting very mediocre shows, and the company's deliberate policy to Balkanise television across Europe. We avoided the company's channels until we had hard evidence that they had improved. (This task was made easier when KYTV withdrew its channels from The Cable Corp for almost two years, thus making The Cable Corp's service significantly better value for money.)
We have sufficient evidence that the KYTV corporate culture has improved; it now values minority groups on air, in a way it didn't ten years ago. We were gently encouraged by The Fanatics (see 25 Jan 2015), and hoped that King of the Nerds would help us to find out.
King of the Nerds strikes the same tone as The Fanatics: simultaneously impressed with the knowledge shown by the contestants and fearful that they might have wasted promising lives. But this could well stem from the fact that it's a copy of the Yankee original. The editing style, identical. The captions, identical. Many of the games, identical.
According to the publicity, the show is intended as a celebration of stereotypical nerds. It would be very easy to make a sneering, superior programme. The line between "laughing at" and "laughing with" is very narrow. For our money, the opening "nerd war" crossed that line. Picking team captains out of a hat? Entirely reasonable. Getting them to pick team members? OK. Leaving someone till last? Someone has to be.
But the commentary went on and on about "every nerd's nightmare: being picked last", which is nonsense. The nightmare isn't being picked last, it's being picked for a team that will expose your weakness, a team that won't be losing from the start. "Being picked last is a nightmare" is a fallacy, put about and perpetuated by people who aren't themselves nerds. We don't think the payoff (the last person has lots of power) made up for the fact that the game is built on a myth.
The choice of contestants played to many stereotypes, but subverted some. So we have a mathematician, a Harry Potter fan, followers of various movie franchises beginning with the word "Star". We have a board gamer, a video gamer, a comic book guy. But then there are some more unusual types of nerdery: Japanese art, costume design, crosswords and trivia, snakes. Not all of the players were spotty and speccy and with flyaway hair. Not all of the players were blokes, either. In fact, six of the initial eleven – plus host Konnie Huq – were women.
On the other hand, the show's whole thrust is that these are outlandish, unusual, rare activities. King of the Nerds defines its "nerds" as different, as social misfits who care nothing outside their specialities. And it promptly shows them being social, making decisions about the psychology of their group and the other group, and having fun with each other. Every episode, the programme undermines its own reason for existing. Every episode, almost every minute, the programme ignores the contradictions it has exposed and ploughs on without heed to logic.
It's clear that the programme has been very heavily edited. Being a straight transliteration of a Yankee format, it follows the Yankee framing device: let the contestants do most of the narrating in flashback from the diary room. There are two reasons why British game shows prefer an omniscient voiceover: it's a whole lot better, and it improves the programme no end.
There is an omniscient voiceover: Greg McHugh has delivered a few lines in post-production. He introduces guests, reminds us of what happened before the commercial break, and sells the myths and falsehoods that help keep King of the Nerds floating in its bubble of babble. Konnie could deliver these lines, but regular Blue Peter viewers will remember that voiceovers were not her strong point.
Regular Blue Peter viewers will also remember that Konnie could make magnificent television on a shoestring budget. While King of the Nerds has a bigger budget, it's not splashed the cash. The toys in the playroom look impressive on screen, but we suspect they look more expensive than they were. The costume challenge in week two was as much about acting and performance as it was about great costumes – again, the budget looked more than it was. And the cost of each episode's final act – the "Nerd Off" – is close to zero.
Each episode begins with a "Nerd War", a challenge for the two teams. Whichever team is adjudged the winner is safe from elimination. This challenge takes up the first half of the programme. The losing team will pick one of their number to compete in the "Nerd Off". Their opponent will be picked by members of the winning team. Be too strong, and the other side will pick you; be blamed for defeat, and your own side will pick you.
So far, the "Nerd Off" has always been a quiz, on a specialist subject. The competitors are given time to revise, and it appears they're given set texts to learn as best they can. Again, we bump into myths. Simple pub quiz learning is not necessarily a thing nerds do. Earlier in the show, the message is that nerds immerse themselves in their culture. They live as Star Wash characters, they ride broomsticks in disused graveyards. The way to win level 22 of Lemmings matters more than remembering the capital of Montenegro for two hours.
Some would argue that King of the Nerds makes a further solecism here, confusing things nerd with things geek. The geek collects knowledge, the nerd is somewhat anti-social. Others would suggest that only people who are both nerds and geeks make a fuss about the difference. Either way, it's further evidence that Kings of the Nerds is an outsider's view, the programme hasn't come from lifelong nerds/geeks/crossovers/whatever.
The average viewer won't spot that a quiz round is seriously cheap. The average viewer will spot the way one player used irony to foreshadow her victory: "I know nothing about this! I'm bound to lose! I will fail! I won!" Before the series ends, we confidently predict another player will say, "I know everything about this! I won't study! I'm bound to win! I lost!"
We have two final problems. Just before the "Nerd Off", the two competitors are invited to genuflect before the "Throne of Games", a gold-painted chair with some ornate decoration. We find this a distasteful scene, it is so artificial and forced for a light contest. And at the very end, Konnie uses a remote control to blast eliminated contestants into a scorch mark. But we just know that the final challenge will feature these players; continuity is not a King of the Nerds strong point
So there are many little reasons why King of the Nerds isn't fun. We haven't mentioned the casting, because after two weeks we hardly know the competitors, and most of those we have got to know have been eliminated. What little we know of the remaining players has been heavily edited; Big Brother has taught us to be very suspicious of heavy editing, it can be used to conceal and mislead.
We can see that King of the Nerds tries not to laugh at its competitors, but it recycles so many myths and peddles so much misinformation that good intentions count for naught. It isn't "a celebration of all things nerd", as the pre-publicity said. It's an entertainment based on non-nerd stereotypes about nerds.
The worst part: King of the Nerds is completely, totally and utterly about rejection. Without the eliminations, there is no programme. It manages to say both "You're not enough of a nerd, sneer sneer, pull up the drawbridge" and "You're too much of a nerd, sneer sneer, lock up and throw away the key". Feel bad television, just what we don't need on a Sunday evening.
Does the blame for this lie with KYTV? Does it lie with Electus, the format owners from Yankeeland? We suspect more the latter than the former. We do know that we don't plan to watch any further episodes.
This Week and Next
Britain has a new Chaser. Jenny Ryan from Bolton will be "The Vixen". According to a profile in the Bolton News in 2009, "Miss Ryan first became interested in quizzing when her granddad, who used to run a Bolton quiz league, asked her questions as a child." She made the semi-finals of University Challenge with Leeds in 2003, took second place in the European Quiz Championships of 2008, popped up on Are You an Egghead?, answered on Buffy the Vampire Slayer when she did Mastermind, and won Only Connect as one-third of the Gamblers in spring 2010.
"The most visible quizzers on UK TV are the Eggheads and the Chasers," Jenny Ryan wrote for Buzzerblog in May 2014. "Twelve professional quizzers – of which just three are women. A quarter. That makes me sad, because I don't see the retention of general knowledge as a gendered thing. I do, however, wonder if there's a cultural conditioning which means our smart women get a harder time of it when they choose to show off just how smart they are."
It may have started out as a dispassionate analysis, but Jenny Ryan's piece turned into a call to arms. "What it comes down to is a cultural norm: women can't be cleverer than men. Which is, of course, total nonsense but clearly lingers. How are we going to kick that outdated concept's ass and run it out of town? Make it obvious that all that matters is that we have brilliant brains, and we're going to use them to maximum effect."
Jenny Ryan will, doubtless, triumph over many teams. Beaten by a brilliant brain, used to maximum effect. Here is a top quizzer, doing top quiz. She happens to be quizzing while young and female, and this mere fact is going to annoy some people. We encourage such sexists to find something else to do, such as audition for Stand By Your Man.
We're sorry to report the demise of Slingshot, makers of 2.8 Hours Later. Cashflow problems, and the abject failure of their fundraiser for Hyde (see 28 June), have left the owners with no alternative. A great shame; they had lots of good ideas, and their hearts were in the right place. Players can get refunds from their credit card company; actors and make-up suppliers are more likely to be out of pocket.
Remember when ITV showed genuine talent shows on Saturday nights? Cory Spedding does; she competed in the Junior Eurovision Song Contest in 2004. Eleven years later, she went in for a badly-scripted "entertainment" masquerading under the "talent" banner.
This was an error; Miss Spedding had been pushed through auditions because she attended the same stage school as new judge Rita Ora. Miss Spedding was told which song to sing, one with a long instrumental break. While performing, Miss Spedding was stopped during the long instrumental break, purely to fit in with the narrative the producers wanted to tell.
This year's series is going to be Simon Cowell telling Rita Ora what to do, because Robson and Jerome is a hallmark of quality music. Now that we've worked out the "big" story from the shows, we don't need to watch The X Factor. We'd rather listen to Cory's vocal talent on that massive zeitgeist song "Let it go".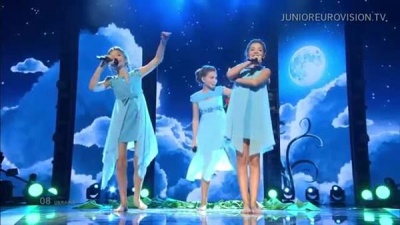 Actually, we'd rather wear a carrot on our nose for a night than watch
X Factor
, but that would ruin the carrot.
An outside broadcast on University Challenge, won by Zach Johnson, beating Oosthuizen and Leishman on extra questions after the gong. We do approve of the verdant backdrop, and the new tie-break procedure – a series of four starters with more available if needed.
Over on Only Connect, the new widescreen set allows for teams of four, not three. Victory went to Scousers (Jenny McLoughlin, Jack Bennett, Robin Wainwright, Ed Bretherton) over Isis Keyholders (Isaac Kang, Jeremy Thundow, Nathan Gower, Yaroslav Sky Walker) by 205-130. A lovely Only Connect question gave three cities cities and distances, and asking which capital city was that distance from all three. Victoria's pregnancy seems to be doing strange things to her.
Which brings us to some even more intellectual stimulation. Swashbuckle was contested by Polyglots (Dan Shane, Lyndsay Coo, Vicki Sunter) and Yorkers (Jack Johannes Alexander, Joe Crowther, Alasdair Middleton). Discussion went around the best James Bond (our money is still on Bob Holness), the keeping of chickens, and the longest-serving Blue Peter presenters. The suggestion of "Matt Baker" is still wrong even if we count The One Show as a sort of dumbed-down spin-off.
Polyglots were a little lucky to have translations of "Raindrops keep fallin' on my head" thrown over, but chance evens out – "eat your own dog food" is wrong by the "Y is not a vowel" house rule. The Yorkers emerge winners, 21-20. The key? Dedication to Lily Allen. One of the Yorkers saw Ms Allen perform while she was pregnant. The host noted, "To watch anyone doing anything when they're pregnant, frankly you've got to be a real fan."
We have a theory: BBC4's Hive Minds will stand or fall based on the Superhive. Here's one construction, from last Tuesday's programme. Find eight card games, using each letter exactly once. Answer when we review the show next week.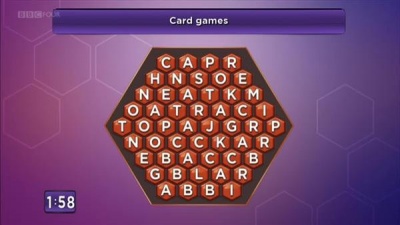 BARB ratings for the week to 12 July.
The Eastenders is still number one, with 7.1m viewers. Celebrity Masterchef is still the top game show, 4.4m saw the final heats week.
Who Dares Wins peaked with 3.85m, The Cube closed with an audience of 2.75m, ahead of Catchphrase (2.65m) and The Chase (2.4m).
Catsdown (1.5m) was top game on Channel 4, Big Brother (1.45m) on Channel 5. We don't have data this week for BBC2.
Love Island leads on the new channels, a cool 750,000 saw Monday's episode. Best Of A League of Their Own (440,000) falls beneath Come Dine on More4 (455,000).
America's Next Top Model is a hit on UK Living, with 265,000. But owners BSkyB have dropped the rights to make a British version, the Lifetime channel (owners: Hearst and Disney) will make a show next year.
ITV daytime has new shows: Guess This House (asset bubbles) and Hello Campers (Come European Campsite With Me). ITV also has Flockstars (herding, Thu) and BBQ Champ (outdoor cookery, Fri). The Challenge Channel has a documentary on Bullseye You Can't Beat a Bit of Bully (Mon), and BBC1 Wales celebrates Rob Brydon at 50 (Thu). Next Saturday has a celebrity edition of The Cube (ITV), with Fabrice Muamba and Katherine Ryan.
Photo credits: Objective Productions (an All3Media company), Presentable, PBS / EBU, Green Inc / Saltbeef.
To have Weaver's Week emailed to you on publication day, receive our exclusive TV roundup of the game shows in the week ahead, and chat to other ukgameshows.com readers, sign up to our Yahoo! Group.