Weaver's Week 2018-03-11
Last week | Weaver's Week Index | Next week
The world is in peril!
Er, not this week. There are no more threats from useless villains with silly haircuts. No more computers who think they're competent. And no more horrible noises that leave us clutching our ears in pain.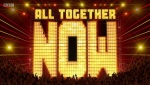 Remarkable (part of EndemolShine group) for BBC1, 27 January – 3 March
The BBC has run a number of series about good singers. Fame Academy (2002-3) was the "credible" alternative to Pop Stars and Pop Idol, it emphasised technique and songwriting as much as performance. One star emerged from the show, Lemar had a good few years in the spotlight. Series winners David Sneddon and Alex Parks enjoyed their successes, and it all helped to concentrate their minds on what they wanted from life.
A sequence of casting shows for musicals followed: How Do You Solve a Problem Like Maria? (2006) and its sequels wanted to find a leading performer on the theatre stage. The singers didn't need to write their own material, but did need to tell stories: they had to act as much as they had to sing. All of the winners had long careers, both in their shows and elsewhere.
Then came an acquired format, BBC The Voice of This Territory (2012-16). Everyone's favourite bit turned out to be the Incredible Spinning Chairs at the start of the series: the battles and eliminations proved to be less interesting. No stars have emerged from the series, with the possible exception of dance vocalist Becky Hill. BBC The Voice went to ITV from 2017.
Last year, there was Let It Shine, looking for a boy band to star in a hit musical, singing other people's songs. By "star" they meant "appear", and by "hit" they meant "still hasn't premiered a year after, pretty much squandered all the television exposure, why are you hiding from us Gary Barlobe?"
Put elements from all these shows into a blender, mix them up, and the result is All Together Now.
Take a bunch of good singers. Give them free rein to sing any song they like. Anything at all: light opera, heavy rock, soul, dance. Anything from Abba to ZZ Top.
These good singers will perform in front of 100 musical experts. And by "musical experts", we mean cabaret singers, stage performers, street buskers. We mean drag acts, lounge lizards, and Ginger Spice. The leader of The 100 is a small girl with a big attitude.
Geri Horner (the singer formerly known as Geri Halliwell) is the most famous face, the hook to promote the series. When the show begins, we find Geri is not the centre of attention, she's not the head judge, her opinion counts for no more and no less than anyone else's. Geri is first amongst equals, one voice amongst many. This isn't the Ginger Spice show, whatever the publicity might have implied.
The stars of the show are the people on stage, the ones singing their song. They're given a short time to establish themselves, for The 100 to get a feel for their talent. Then, should someone in The 100 like what they hear, they'll press a button, stand up, and join in with the song. As the song continues, more of The 100 will press their button, stand up, join in. Once the song's finished, the singer gets a score. It's the number of people who stood up and joined in.
In effect, each performance is like The Incredible Spinning Chairs bit from The Voice. Singers do their best to impress a panel of experts, and hope that some will press their button and show how much they like what they hear. The obvious difference: a bijou panel of will.i.am, Tom Jones Tom Jones, Token Woman, and Interchangeable Rock Bloke has become a massive wall of talent. We've not seen a set this big since the heyday of One Versus One Hundred a decade back, and we've not seen such casting diversity since The Muppet Show.
But there's a structure difference, too. After the performance has finished, after The 100 have stood up or not, that's it. We're finished, we can move right along. Sure, host Rob Beckett might want to talk with some of the panel, or with the performer, but he might not. On The Voice, they have these long drawn-out negotiations to persuade the singer onto your "team". None of that on All Together Now, the result is the result, and it's all killer and no filler. It's a non-stop queue of quality, hit after hit after hit.
Unlike The Voice, but like all of the other shows, each edition has a beginning and a middle and an end. The three best scores at the end of the show will return to sing again. The night's top score will go straight through to the end-of-series final. The next two will perform once more, and the better performance earns a second spot in the final.
There's some purpose to each episode, we finish knowing that someone has won, and that the programme we're watching does have a clear end point. Some of the other series – Fame Academy in particular – dragged on longer than they needed to.
What of the host? Rob Beckett has left no impression on us at all, we cannot recall him adding anything to proceedings. Nor can we recall him taking any of the limelight away from the performers – and he might have done exactly what this job requires.
The best thing about All Together Now is that it's fun. We found it to be like a massive karaoke session, with singers who are way better than your average punter. Not every singer was grade-A excellent – one who performed "I dreamed a dream" invited the comparison, "She's no Susan Boyle". But everyone was very good, some were superb, and the mood just bowled on like a rolling snowball.
Viewers seem to have agreed. We have grown accustomed to singing shows losing chunks of their audience as the series progresses – The Voice and Let It Shine fell away by about a third from start to finish. All Together Now appears to have started with a decent audience, and held on to it – those of us distracted by Ant and Dec have come back on catchup.
We've long thought that if a format could bottle the Incredible Spinning Chairs bit of The Voice, it would be on to a winner. All Together Now has concentrated on what makes a hit, and it's turned into a modest hit of its own.
Chris Thorn was the champion last time we looked. He became an octochamp, winning all eight heat games before retiring. A total of 760 doesn't look much these days, but he had very difficult numbers games, and this might be better than it looks.
Louise Regan took over the champion chair, losing on her first defence to David Shipley. He made two wins before Phil Davies started his octochamp run. Phil's total score of 757 leaves him just behind Chris, but from somewhat easier selections – if they met, we'd make Chris favourite by a round.
Simon Baker had one win, Becky Taberner won two and lost a cracking game to Jill Thwaites. She lost next time to Philip Aston, a very strong player. His total of 760 was achieved in six wins and a loss, and we'd make him favourite over Chris Thorn by a round.
But Philip only achieved six wins, because he ran into an even better player. Zarte Siempre had impressed in July 2013, but his run was abruptly stopped by Dylan Taylor, the most recent Champion of Champions. Allowed back for another go, Zarte has won and won and won. After seven wins, his total score is 856 points. Dylan Taylor holds the record octochamp points total (974), and this might just be under threat tomorrow.
This Week and Next
Nominations are out for the Celtic Media Festival, the best from Wales, Scotland, Ireland, Brittany, and Cornwall. Game shows up for awards include Côr Cymru (S4C / Rondo Media, in Entertainment), The Dog Ate My Homework (CBBC / BBC Scotland, in Children's Programme), Antiques Road Trip (BBC2 / STV, in Factual Entertainment).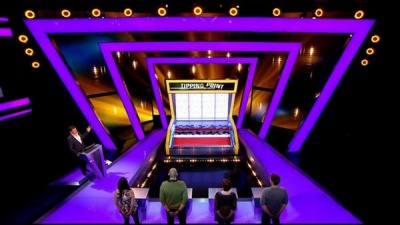 Great news for fans of hit ITV quiz shows. Tipping Point has a big new order. 330 episodes (count 'em!) for the daytime, plus 24 new episodes of Lucky Stars. Ben and The Machine will record the new series in Bristol, so we look forward to the inevitable crossover with The Crystal Maze.
We also note a press release from ITV saying that Who Wants to be a Millionaire will be back, and will be hosted by Jeremy Clarkson (Repton and punching researchers). We're threatened with "exciting changes", a phrase that could lose one of its "c"s. The new series will be recorded in Salford, so we look forward to the host being replaced by a more charismatic animatronic hare.
An elimination match on Only Connect between the Wanderers and Eco-Warriors. The Wanderers took a lead after the first exchange, but handed away a bonus on the picture clue – people who share their name with spaniels. Eco-Warriors scored with cities called ____polis, and new government departments, and took an 8-2 lead after sequences. Neither side spotted "characters played by AA, BB, CC, DD", nor definitions of "teenage, mutant, ninja, turtles". More pizza for that writer!
A pair of tough walls didn't split the teams, and neither did Missing Vowels. 17-11 the final score, the Warriors will warrior on, the Wanderers will wander home.
An elimination match on University Challenge, and how. Bristol beat Ulster by 205-45, Perhaps the most interesting stat: Bristol split their starters 2-3-4-4, they all have strength and buzzer speed.
Mastermind returned with semi-final 5. Jonathan Wright (Manchester music since 1978) closed his account on 15 points, and Claire Slater (ER) on 16. Neither feels like a winning score, both were solid general knowledge rounds after disappointing specialist sets.
Christine Quigley took the Battle of Clontarf, and left the host with the delicious task of pronouncing "Aibhell". And by "delicious", we mean "he'll need a zillion re-takes, or a phonetic guide on his card". The general knowledge round was less stellar, closing on 17 points.
Jonathan Frere had the Life and Work of Augustus Pitt Rivers, the father of archaeology. His second round turns 9 into 19, which still doesn't feel like a winning score.
Not when Brian Chesney is over halfway there – he scored a perfect 11 on the Giordano Bruno novels by SJ Parris. This is a winning performance – not quite perfect, but much closer than anyone else managed. 23 is his final score, and Brian will be in the final two weeks from now.
BARB ratings in the week to 25 February, with the BBC still not quite crunching their schedules.
Saturday Night Takeaway is back, and it's top of the pile, with 8.95m viewers.
BBC The Voice (ITV, Sat), followed with 6.5m, and Dancing on Ice (ITV, Sun) took 5.6m.
The Chase continues to rate well (ITV, Mon, 3.8m), with Through the Keyhole (ITV, Sat, 3.15m) and What Would Your Kid Do? (ITV, Tue, 3.1m) also doing the business. (We expect to review this last show next week.)
Four in a Bed was Channel 4's top game (Wed, 960,000).
On the digital side, Survival of the Fittest consolidates well (ITV2, Mon, 610,000), but the trend appears down. Yankee Next Top Model (UK Living, Fri, 415,000) and Portrait Artist of the Year (Artsworld, Tue, 370,000) had great numbers for KYTV's channels.
Some more big numbers from makes and takes: Dara Ó Briain's Go 8 Bit (Dave, Mon, 265,000), Sam and Mark's Big Friday Wind Up (CBBC, Fri, 260,000), Rupaul's Drag Race (Comedy Central, Sat, 185,000).
Masters of their art take centre stage on Sunday: it's the Dancing on Ice final (ITV), and Forsyth fans have Sir Bruce: A Celebration (BBC1). The press office has flagged up Five Star Hotel (E4, weeknights), but we're not sure if it is a game show or not. In a quiet week, we'll take what we can.
Next Saturday, Sam and Mark make their return to primetime telly on Pointless Celebrities (BBC1). Over on ITV, BBC The Voice brings out the giant penguin costumes as it's Knockout Week.
Photo credits: Remarkable (part of EndemolShine group), RDF.
To have Weaver's Week emailed to you on publication day, receive our exclusive TV roundup of the game shows in the week ahead, and chat to other ukgameshows.com readers, sign up to our Yahoo! Group.