Weaver's Week 2011-06-12
Last week | Weaver's Week Index | Next week

It would be remiss not to note the game show people given awards in the Queen's Birthday Honours this week. Tim Brooke-Taylor and Graeme Garden were appointed Commanders of the Order of the British Empire, as was Bernard Cribbins. Emma Freud was appointed an Officer of the Order of the British Empire, for her work hosting Worldwise. And there was a Knight Commander of the Order of the British Empire for someone called Bruce Forsyth, so you can stop writing now.
Series 2: BBC1, 26 March – 11 June
We first saw the competitive dancing programme So You Think You Can Dance in January last year. In its seven weeks on air, it achieved better ratings than most programmes in its slot, and smuggled some remarkable artistry into the Saturday evening entertainment schedule. It was no surprise to find that the programme was quickly renewed for a second series, and that series ended last night. We find it sad that the new run hasn't proven either a popular or a critical success.
Looking back through the series, we think we've identified three errors. Two were under the control of the producers made, and there's one further error of scheduling.
It seems to be a tradition on talent shows that the audience gets to see some of the audition process. Some programmes – Britain's Got Talent, we're looking in your direction – take this too far, with eight weeks of audition and one week of actual voting. Others, such as the late Big Brother, treat the audition process as an expendable warm-up to the main show – if you miss it, there's no harm done.
So You Think You Can Dance decided to air three weeks of formal auditions. The first two saw the dance panel travel around the UK, looking at the various dancers; show three contained callbacks and further training to whittle the competitors down. In itself, this wasn't a major error, though the editing was sloppy enough to betray who would go through from a very early stage. Why are we learning so much about Paige in the opening programme, and so little about the man she's dancing with?
The first major error was to have three audition programmes, and a gala performance show, and only then get into the voting. No-one left the programme until the end of the fifth week of transmissions, and that's in a 12-week series. There was criticism last year that the audition process had been rushed through in one hour; this year, fans had to wait a month to get rid of the weaker dancers. The programme had started in a desert, and it was a long arid trek to find the water of elimination. Not every viewer had the stamina.
Main performance programmes followed a now-traditional formula: male-female couples performed together, were voted upon as a unit, and the lowest two in the public vote performed solo routines to remain in the contest. This is unexceptional, it does the job to get two people out each week, and maintain sex parity.
The problem was that these couples remained the same for the first five elimination programmes. We were itching for Nigel Lythgoe to announce that the couples would be mixed up, that Luke and Charlotte would no longer be the power couple, that Katie could stop carrying Lee. That announcement never came, the couples stayed together for so long that we could predict who would leave, just from the previous week's results.
We were pleased to see that the judges had improved their performances from last year: Sisco Gomez actually said that some things weren't brilliant, and gave some particularly useful critiques of urban dancing. Louise Redknapp had occasional flashes of insight, and Arlene Phillips remains dependable for an honest assessment. Nigel Lythgoe continues to bug us: while his criticism is technically accurate, he continues to pretend that dance is always always about the man being strong and (by inference) the woman being weak. Not only is this patronising, it's also directly contradicting a good number of the dances, where the female performer has the lead role.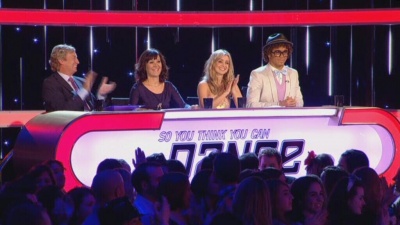 The judging panel are unchanged from last year, apart from the week Nigel turned into Jack Harkness.
All televoting shows encourage its audience to identify with one of the contenders. Vote for the person you wish you were. Vote for the one you wish you were with, the one who reminds you of yourself. Or, failing that, the one who is from the same locality. In an esoteric art like dance, most viewers will never expect to emulate the moves they see on screen, and we still wonder if they're able to discern the slight differences between the brilliant and the even better. Voting for someone local is easy to explain, most viewers know where they live.
Voting for someone local also gives bias, especially against contestants who aren't from the UK, and who don't have a place inclined to vote for them. The partnership of Shane (from Australia) and Rithy (from Brazil) was doomed from the start, and the judges sacrificed at least one better dancer to keep them in. Were the couples mixed up every second week, this would have been a lesser problem – Rithy would have had to draw a British gentleman, and Shane's limitations would have been exposed sooner.
Charlie's elimination in the third voting week perplexed us: he might have had technical limitations, but so did Shane; Charlie had personality, and Shane simply didn't. But, with many more weeks to go, this probably didn't alter the result. Katrina's exit in the week of 10 was a surprise, but it was Charlotte's exit the following week that left us open-mouthed: dance for dance, she was clearly superior to Bethany Rose. Yes, the latter had improved more, but from a lower base. The production decision to insist on strictly equal numbers of men and women ensured that the final couldn't be between the four best dancers in the semis, because three of them were men.
The judges were only able to make these perverse decisions because the Grate British Public allowed them to, by voting in ways this column found strange and bizarre. Perhaps they were only strange and bizarre because we've taken dance classes in the recent past, and know a good jazz routine when we see it, and how a contemporary piece should be structured – a long way from how this column did it. Most of the viewers won't have done, and will base their voting decisions on less information. Mostly, their voting decision is not to vote.
The third problem, the one that completely holed So You Think You Can Dance below the waterline, was its scheduling. The audition shows, and the first three elimination programmes, went out around the National Lottery programme. Over on the other side, Britain's Got Talent was flexing its muscles and inviting people to sit back and laugh at the freaks, fools, and German popstars. So You Think had its short voting window while Talent was on the air, and not many people voted.
Indeed, not many people were watching at all – viewing figures remained stuck at the disappointing level of 3m. Nigel Lythgoe was refreshingly honest about these numbers, saying in early May, "I'm more than happy to make a show that gets three to four million viewers if it is a proper dance show. I'm very proud to be making a programme that celebrates talent and that maintains the integrity of dance."
The BBC1 schedulers were less happy, and relegated So You Think to the teatime slot occupied by Fame Academy and vacated by uber-flop Don't Scare the Hare. It was an admission of failure, confirmation that the show was going to see out the remainder of its run and probably not come back.
We think that's a shame. It's very rare for this column to review a programme that puts high art on popular display, showing something a bit different to inspire the viewers. When attracting a tenth of the population, So You Think You Can Dance was a perfect example of public service broadcasting, and just what the BBC should be doing. It's a credible dance programme, with the competition forming a storyline to keep people watching. Bluntly, we'd sooner they aired this celebration of new talent than the celebrity vehicle Strictly Come Dancing.
If this is the end, if Matt Flint is to remain the defending So You Think You Can Dance champion for the rest of time, it'll be a shame. The programme was brave, the programme over-reached itself, the programme appears to have transmitted its last.
Ed Forsdick
We regret to report the death of Ed Forsdick, entertainment producer. His big break came on The Big Breakfast in the late 1990s, where he helmsed the programme when presented by Johnny Vaughan and Denise Van Outen. He went with Charlie Parsons to the Survivor project, and ITV's bizarre show The Club. Time producing Saturday Night Takeaway was well-spent, his years coincided with the programme finding its voice and becoming spectacular entertainment. Ed was a personal friend of Ant and Dec, and joined their production company Gallowgate. There he was the driving force to make Poker Face, the All Star Cup, and managed to sell Beat the Star back to the Germans.
Tributes were paid by his peers: Charlie Parsons said, "It's a devastating loss to all", and ITV's director of entertainment said, "His relationship with Ant and Dec was one of those great pieces of chemistry between a producer and on-screen talent that's hard to come by." Ed will also be remembered for creating Watercolour Challenge, Channel 4's turn-of-the-century daytime favourite.
Headnote added 5 July 2011: A man accepted a police caution under the Malicious Communications Act in relation to the internet post discussed below. Sony Music stated that he had apologised to all concerned. The opinions expressed below were thought to be credible at the time of writing, but have since turned out to be incorrect.
On Thursday the 2nd, portions of the internet got very excited indeed, because someone was writing nasty things about Simon Cowell. You know, high-waisted trousers, owner of a grilled-cheese toastie maker, used to be on telly a lot.
The essay, which comes in at about three full pages, has some substantial allegations about the then-current series of Britain's Got Talent, a show originated by Mr. Cowell's production company. It was claimed that one of the competitors had been signed by Simon Cowell's production company some years ago and trained. It was claimed that everything on Britain's Got Talent is scripted, right down to the audience voting. There were also claims relating to the presentation and appearance of the contender, suggesting that "skater chic" and "looking homosexual" are polar opposites. Really?
This column is not going to address the claims contained in the document; there is no way of knowing their validity, everything is claim and counterclaim. We trust neither the whistleblower nor Mr. Cowell's company to say what their actions and motives are, still less discern the truth about what they're doing. All we will do is assume that this was a deliberate attempt to discredit someone involved with Britain's Got Talent – people don't put 1500-word pieces on the internet by accident, so it was done by design. Instead, we'll look at the actions of participants in the made-for-internet drama.
The original work was up for about twelve hours, and Mr. Cowell's company was straight into damage-limitation mode. They made a complaint to police, claiming that it amounted to what the lawyers call a "malicious communication". The police dusted off their law books, because no-one's been prosecuted for that offence in many years, and took no further action. Mr. Cowell addressed the nation in Friday's broadcast of Britain's Got Talent, ensuring that whispered conversations on the internet were now projected into millions of living rooms throughout the nation. It was like taking out a superinjunction to stop people from talking about what they were already talking about. Mr. Cowell only legitimised the claims, and Saturday's tabloid newspapers mostly led with the tale.
That day's Daily Star caught our eye: a banner headline read, "BGT Fix Exclusive! Cowell and me ... the truth", with a picture of the contender. Tucked into the bottom right corner of the page were about 25 words, giving the impression that the paper had swung its pickaxe and struck a nugget of truth. But this is the Daily Star, and it wouldn't know the truth if handed a map with a big glow-in-the-dark arrow saying "Truth Here!!!". Because the paper doesn't, we'll disclosure its conflicts of interest: the Daily Star is owned by Richard Desmond, who also owns rival station Channel 5; and the Daily Star withdrew from the jurisdiction of the Press Complaints Commission at the start of the year, effectively giving it a license to print any old nonsense, so long as it's not libellous.
Commentators on the internet are more reliable. James Ward traced back the meme to its source, and wrote up his thoughts. Here, we're informed that the first mention came from a Twitter account, who claimed to have come across the document on a super-sekrit The Facebook group for members of the Anonymous hacktivist organisation. The document follows the Twitterer's conversation topics, talking a lot about Norwich City FC and hostility towards gay men.
How much fashion does this explanation contain? "Twitter" and "The Facebook" are the most well-publicised new media, most UK-produced programmes will have something on one or both of these foreign companies. "Anonymous" is a group of people who take it upon themselves to protest on the internet, usually by changing a website or blocking access to it.
The traditional media has started to pay attention to this form of activity in the last few months, and Anonymous might be portrayed as the Root of All Evil In the World. Especially as that media scapegoat position has recently been left empty by the enforced death of the previous title-holder. This leaderless and decentralised Anonymous group has been blamed for the failed revolution in Iran, security breaches at Sony, and subverting Fine Gael's send-a-valentine service.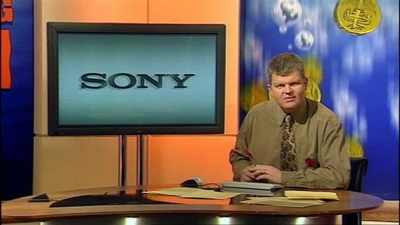 Even Adrian Chiles knows who Sony are.
Did we mention Sony? We mentioned Sony. That's a familiar name. They part-own the record label Sony/BMG, and one of that company's employees is cheese-toaster owner Mr. Simon Cowell. In the first line, the writer claimed to be an executive with Sony Music UK, and everything this person said would, indirectly, reflect back on Sony. If we're to believe the document, Sony was aware of this corruption, and did nothing to stop it.
It's generally accepted that the essay is mostly (if not entirely) untrue, not least because the "inevitable winner", the anointed one for whom the contest was rigged, didn't win. We wonder if the kerfuffle was aimed not at that contender, not directly at Mr. Cowell and his entertainment behemoth, but at his employers.
If the aim was to get the nation discussing Britain's Got Talent, the pranksters succeeded. If the aim was to discredit the show, and indirectly to damage Simon Cowell, they can chalk up success. If the aim was to rubbish Sony, that might have been a little too indirect to achieve.
For the second time this year, we reckon we've been trolled.
This Week And Next
Ratings for the week to 29 May have arrived, and show that Britain's Got Talent on Sunday remained popular, with 9.9m people seeing the show. The Apprentice is still gaining viewers, 8.6m for the main show, 3.45m for You're Fired. The Million Pound Drop ended its run with a series-best 2.55m.
Celebrity Juice was in highlights mode, and only 1.91m people tuned in. Talent on ITV-HD took another 1.19m viewers, and Come Dine With Me had 810,000 on More4. Pop Idle US pulled 700,000 viewers, and School of Silence 310,000.
It's BBC Cardiff Singer of the World week (from Tuesday on Radio 3 at 1pm, BBC4 at 7.30 and BBC2 Wales at 10pm). Bungalow owners Dick and Dom return with Splatalot (CBBC, 4.30 weekdays). Britain's Got Talent US comes to ITV2 (from 8pm Tuesday. CAUTION: contains Piers Morgan). Some new shows try to entertain on Saturday nights: Odd One In (7.15), a series of Penn & Teller: Fool Us (8pm), and newcomer The Marriage Ref (9pm). They're all on ITV, so won't entertain. And with it being the Friday in mid-June, it's the first Big Brother eviction of ... what? Oh. Just bung on Come Dine with Me (C4, 8pm Friday) and 8 Out of 10 Cats (C4, 9pm Friday). And remember to vote a woman off first.
To have Weaver's Week emailed to you on publication day, receive our exclusive TV roundup of the game shows in the week ahead, and chat to other ukgameshows.com readers, sign up to our Yahoo! Group.