House of Games (3)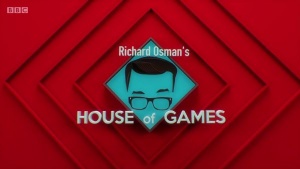 Host
Co-host
Alexander Armstrong (Hey Alexander narrator, 2020-1)
David O'Doherty (House of Games Night bandleader, 2021-)
Broadcast
Remarkable Television (part of Endemol Shine Group) for BBC Two, 4 September 2017 to present
as Richard Osman's House of Games Night, BBC One, 20 November 2020 to present
Synopsis
Four celebrities are given quizzy things to do by Richard Osman.
A selection of four celebs take on rounds of quizzes, always with a twist. Some are general knowledge questions where the answers rhyme. Some are general knowledge questions where the answer is an anagram of part of the question, or found in the contestant's name.
Other rounds are more inventive. We might see the initial letters of a song lyric, in the original rhythm. Another round - played in pairs - invites guesstimates for a number and takes the average for the pair.
There are visual rounds, locate an item on a picture, or place somewhere on a map. And every show ends with "Answersmash", blending a picture with a definition.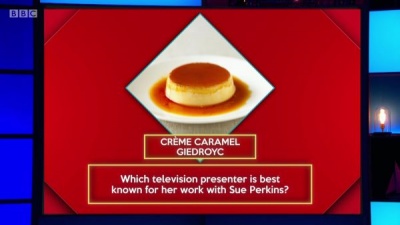 Crème caramel Giedroyc.
The show is impeccably cast: two men, two women. At least one familiar to the older viewer, at least one modern comedian from Mock the Week, at least one family entertainer. Richard Osman asks questions written with verve and wit.
A daily prize is drawn from the House of Games stall of stuff, with the winner lifting the House of Games Winners' Trophy.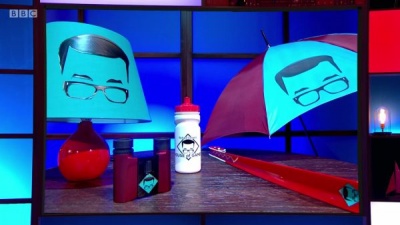 Daily prizes: Lightshade, umbrella, shoehorn, binoculars, water bottle, all branded with the show's logo.
We like this show a lot, it hits just the right notes for 6pm - and other hours, at least one UKGS editor shifts episodes till late evening, go to bed with a smile. ROHOG (as it became known) effectively replaced Eggheads, running for twenty weeks in the autumn and winter.
A series of House of Games Night ran in late 2020, effectively a timeshifted (and timestretched, in that it ran over five weeks rather than five consecutive nights) version of the main series. A six-episode Night series was broadcast the following year, with panels playing three shows each. These had a small studio audience (some of whom had things to do as part of certain games) and the introduction of David O'Doherty as nominal bandleader and foil to Osman; critical consensus was that the latter episodes lost some of their sparkle.
Participants
Series 1
Series 2
Week 1: Naga Munchetty, Jordan Stephens, Sally Lindsay, David O'Doherty
Week 2: Ellie Taylor, Steve Pemberton, Fern Britton, Josh Widdicombe
Week 3: Shappi Khorsandi, Michael Buerk, Amanda Abbington, Elis James
Week 4: Beattie Edmondson, Amol Rajan, Gaby Roslin, Hugh Dennis
Week 5: Chizzy Akudolu, Charlie Higson, Kate Williams, Tom Allen
Week 6: Rachel Riley, JB Gill, Katie Derham, Richard Herring
Week 7: Lolly Adefope, Dan Walker, Sarah Greene, Miles Jupp
Week 8: Samantha Womack, Rory Reid, Anne Diamond, James Acaster
Week 9: Kelly Cates, Tyger Drew-Honey, Desiree Burch, Matt Allwright
Week 10: Susie Dent, Nick Owen, Chemmy Alcott, Dane Baptiste
Series 3
Week 1: Miquita Oliver, Ed Gamble, Kate Thornton and Adrian Edmondson
Week 2: Scarlett Moffatt, Iain Stirling, Angellica Bell and Gyles Brandreth
Week 3: Kate Humble, Ivo Graham, Andi Oliver and Phill Jupitus
Week 4: June Sarpong, Dev Griffin, Debbie McGee and Alex Horne
Week 5: Nina Wadia, Johnny Ball, Suzi Ruffell and Danny Wallace
Week 6: Jay Blades, Rachel Parris, Shaun Keaveny and Jan Ravens
Week 7: Kate Bottley, John Thomson, YolanDa Brown and Joel Dommett
Week 8: Charlene White, Gregg Wallace, Holly Walsh and Chris Hollins
Week 9 (House of Champions with former winners): Scarlett Moffatt, Rick Edwards, Naga Munchetty and David O'Doherty
Week 10 (another champions week): Kate Williams, Richard Herring, June Sarpong and Dane Baptiste
Week 11: Rose Matafeo, Rav Wilding, Valerie Singleton and Gary Delaney
Week 12: Andrea McLean, Phil Wang, Rita Simons and Adil Ray
Week 13: Michelle Ackerley, Matt Forde, Judy Murray and Fred MacAulay
Week 14: Kerry Godliman, Radzi Chinyanganya, Ebony Rainford-Brent and Hal Cruttenden
Week 15: Lou Sanders, Richard Coles, Maggie Aderin-Pocock and Stuart Maconie
Week 16: Vick Hope, Gethin Jones, Nicki Chapman and Tim Vine
Week 17: Gareth Malone, Jamelia, Paul Martin and Susan Calman
Week 18: Samira Ahmed, John Robins, Angela Rippon and Dom Joly
Week 19 (back to the champions): Chizzy Akudolu, Miles Jupp, Ellie Taylor and Amol Rajan
Week 20 (more champions): Holly Walsh, Nish Kumar, Sarah Greene and Hugh Dennis
Series 4
Week 1: Vikki Stone, Ade Adepitan, Jean Johansson and Stephen Mangan
Week 2: Mike Bushell, Aisling Bea, Sunetra Sarker and Dion Dublin
Week 3: Scott Mills, Josie d'Arby, Jayde Adams and Rufus Hound
Week 4: AJ Odudu, Neil Delamere, Mark Billingham and Lucy Porter
Week 5: Meera Syal, Steve Backshall, Catherine Bohart and Ranj Singh
Week 6: Melvin Odoom, Denise Van Outen, Greg Rutherford and Angela Barnes
Games Night: Jennifer Saunders, Jermaine Jenas, Jason Manford and Roisin Conaty
Week 7: Denise Lewis, Rhys James, Isy Suttie and David James
Week 8: Sara Barron, Anton Du Beke, Jessica Fostekew and Rickie Haywood-Williams
Week 9: Alex Jones, Robert Rinder, Jessica Knappett and Karim Zeroual
Week 10: Jeanette Kwakye, Lloyd Griffith, Josie Long and Steve Cram
Christmas Special: Sarah Hadland, Alex Horne, Charlene White and Craig Revel Horwood
Week 11: Gabby Logan, Tim Key, Gemma Cairney and Jeff Stelling
Week 12: Alex Brooker, Sophie Duker, Charlotte Hawkins and David Baddiel
Week 13: Maisie Adam, Rory Bremner, Michelle Gayle and James Cracknell
Week 14: Charlie Brooks, Darren Harriott, Melinda Messenger and Les Dennis
Week 15: Josie Lawrence, Raj Bisram, Laura Whitmore and Mark Watson
Week 16: Kae Kurd, Zoe Lyons, Andrew Hunter Murray and Kate Robbins
Week 17: Sindhu Vee, Tom Rosenthal, Anna Richardson and Marcus Brigstocke
Week 18: Colin Murray, Sally Phillips, Nathan Caton and Ronni Ancona
Week 19: Nihal Arthanayake, Patsy Kensit, Jake Humphrey and Mae Martin
Week 20: Mina Anwar, Glenn Moore, Kiri Pritchard-McLean and Shaun Williamson
Series 5
Week 1: Gareth Thomas, Olga Koch, Reeta Chakrabarti and Andrew Maxwell
Week 2: Jamali Maddix, Jodie Kidd, Suzi Perry and Hugh Fearnley-Whittingstall
Week 3: Joe Thomas, Lucy Beaumont, Jake Wood and Shazia Mirza
Week 4: Kevin Clifton, Kemah Bob, Victoria Derbyshire and JJ Chalmers
Week 5: Philip Glenister, Thanyia Moore, Mark Chapman and Kaye Adams
Week 6: Matthew Pinsent, Ruby Bhogal, Ingrid Oliver and Ed Byrne
Week 7: Cariad Lloyd, Dennis Taylor, Yasmine Akram and Geoff Norcott
House of Games Night Week 1: Ed Gamble, Sian Gibson, Dara Ó Briain and Sindhu Vee
Week 8: Jo Brand, Roger Black, Tiff Stevenson and Sanjeev Kohli
Week 9: Andy Hamilton, Sabrina Grant, Kirsty Wark and Matt Edmondson
Week 10: Joanne McNally, Bill Turnbull, Michelle Collins and Reginald D. Hunter
House of Games Night Week 2: Steph McGovern, Ben Miller, Janette Manrara and Ed Balls
Week 11: Sean Fletcher, Kimberly Wyatt, Louise Minchin and Chris Washington
Week 12: Sarah Millican, Nabil Abdulrashid, Philippa Perry and Luke Kempner
Week 13: Mike Wozniak, Clare Balding, Mehreen Baig and Jamie Laing
Week 14: Will Kirk, Edith Bowman, Fern Brady and Martin Lewis
Week 15: Athena Kugblenu, Nick Helm, Nina Conti and Toby Tarrant
Week 16: Jessie Cave, AJ Pritchard, Ayesha Hazarika and Simon Hickson
Week 17: (House of Champions): Vikki Stone, Sally Phillips, Rickie Haywood-Williams and Dan Walker
Week 18: (House of Champions): Maisie Adam, Dev Griffin, Ivo Graham and Zoe Lyons
Week 19: (House of Champions): Beattie Edmondson, Adrian Edmondson, Kemah Bob and Angela Barnes
Week 20: (House of Champions): Sara Barron, Gregg Wallace, Sanjeev Kohli and Josie Long
Week 21: Jennie McAlpine, Felicity Ward, Joe Pasquale and Ugo Monye
Week 22: Jen Brister, Kelvin Fletcher, Zoe Williams and Ian Moore
Week 23: Stephen Bailey, Crystelle Pereira, Amanda Lamb and Nick Moran
Week 24: Carol Smillie, Babatunde Aléshé, Richie Anderson and Jo Caulfield
Week 25: Briony May Williams, Milton Jones, Ria Lina and Martin Roberts
Week 26: Martel Maxwell, Mathew Horne, Chloe Petts and Alex Beresford
Week 27: Kimberley Nixon, Rachel Fairburn, Trevor Nelson and Des Clarke
Week 28: Jay McGuiness, Linda Robson, Sarah Kendall and Bobby Seagull
Series 6
Week 1: Hannah Cockroft, Neil Morrissey, Penny Smith and Rhys Stephenson
Week 2: Rob Deering, Katya Jones, Jayne Middlemiss and Phil Tufnell
Week 3: Charlie Baker, Val McDermid, Martin Offiah and Rebecca Lucy Taylor
Week 4: Eddie Kadi, Natasha Raskin Sharp, Charlie Stayt and Faye Tozer
Week 5: Joe Sugg, Kerry Howard, Evelyn Mok and Toby Anstis
Week 6: Roo Irvine, Claire Richards, John Kearns and Diarmuid Gavin
Week 7: Cally Beaton, Louis Emerick, Helen George and Justin Moorhouse
Week 8: (Redemption Week with five-show losers): Radzi Chinyanganya, Janet Ellis, Darren Harriott and Suzi Ruffell
Week 9: (more losers): Sian Gibson, Jean Johansson, Iain Stirling and Rav Wilding
Week 10: (House of Champions): Laura Whitmore, Tim Key, Sunetra Sarker and Jamie Laing
Week 11: (House of Champions): Yasmine Akram, Stephen Mangan, Ingrid Oliver and Tom Rosenthal
Week 12: (House of Champions): Maggie Aderin-Pocock, Cariad Lloyd, Gareth Malone and Mike Wozniak
Week 13: (House of Champions): Stephen Bailey, Charlie Brooks, Ria Lina and John Thomson
Week 14: Ashley John-Baptiste, Simon Rimmer, Claire Sweeney and Esme Young
Week 15: Kevin Eldon, Sarah Keyworth, Laila Rouass and John Whaite
Week 16 (Festive House of Games - you work it out): Clare Balding, Ivo Graham, Ugo Monye and Su Pollard
Week 17 (more festivities): Brian Conley, Scarlett Moffatt, Anneka Rice and Phil Wang
Week 18: Adrian Chiles, Greg McHugh, Sukh Ojla and Jayne Sharp
Week 19: Jasmine Harman, Jason Mohammad, Suzannah Lipscomb and Dave Johns
Week 20: Kriss Akabusi, Grace Dent, Tim Lovejoy and Lauren Steadman
Week 21: Jon Culshaw, Harriet Kemsley, Laurence Llewelyn-Bowen and Verona Rose
Week 22: Mike Bubbins, Kirsten O'Brien, Christine Ohuruogu and Kai Widdrington
Key moments
Angela Scanlon throwing her stylus at Rick Edwards after he insulted her.
Michael Buerk threatening the involvement of the European Court of Human Rights after Elis James deluded him by confusing Dick Turpin and Dick Whittington during The Nice Round. To make matters worse, Elis won that show by one point, so Buerk may well have dipped out on a prize as a result…
Nick Owen asking his wife what prize she wanted. Aw.
The Reverend Kate Bottley literally hissing at Joel Dommett and John Thomson during YolanDa Brown's Highbrow/Lowbrow question after they put their fingers on their buzzers. Not so much The Reverend Kate Bottley as… ah, you're ahead of us.
Kemah Bob's tour de force appearance as guest, including squealing with genuine delight whenever she got an answer right.
Dara O'Briain instigating Sian Gibson and Sindhu Vee into sabotaging Ed Gamble's go at The Nice Round variant Get Your Head in the Game, only to lose a point after Osman let Gamble take a point off a player of his choice.
The unexpectedly titanic battle between polymath University Challenge captain Bobby Seagull and boyband singer Jay McGuiness from The Wanted, which McGuiness won!
Title music
Marc Sylvan is credited for "Music".
Trivia
Generally aired at 6pm, the then-traditional Eggheads slot, with the exception of assorted year-end Fridays, where the monopolisation of the 6pm slot by It Takes Two forces them back to 7pm. A couple of episodes have aired on Saturday when live sport airs during the week. The penultimate episode of series 3 was put back to 6.30pm as a consequence of Covid-19.
Billed in some sources (and indeed on-screen) as Richard Osman's House of Games.
The first two series were recorded at The Hospital Club, a basement studio in Covent Garden. Production shifted to BBC Scotland for series 3 and the first five episodes recorded for series 4 (Shaun Williamson's week) before moving to Riverside Studios as another consequence of COVID-19. Guests in the fourth series were spaced two metres apart, and answers for some games were sent to the contestants' tablets rather than passed out on little cards. The trophy was also not passed down the line to the winner (neither were the paddles for the "Is It Me?" game, which was a rather surprising inclusion anyway as (i) the game appeared to have been retired after series two, and (ii) the questions were recycled from the House of Games quiz book published in 2019). Oddly enough the show did retain the swapping of positions for pairs rounds (although you could argue that none of the games really required it) but cunningly cut away at that point so that we didn't see the production staff in masks and gloves physically move the chairs, allowing everyone to stay in the same literal seat throughout. More frivolously, the pandemic gave rise to a running joke that the prize shampoo doubled as hand sanitiser, though this still didn't convince anyone to take it.
So far, Angela Barnes is the only person to score the maximum 24 points across the week; she would eventually be beaten by Beattie Edmondson in a Champions week. Nina Wadia, Jay Blades, Ade Adepitan, AJ Odudu, Karim Zeroual and Patsy Kensit have all scored the minimum 6 points across regular weeks; Brian Conley scored six in a festive week and Dr. Maggie Aderin-Pocock scored six in a Champions week. Sindhu Vee scored five across three Games Nights. Darren Harriott is the only contestant to play ten episodes and lose them all, though Scarlett Moffatt played fifteen and lost eleven.
Series 6 included a couple of weeks where non-winners returned - the first was initially described as "second place, second chance" week, until Osman came up with "redemption week", on the spot, about 30 seconds into the first episode, immediately decided it was a better name, and never mentioned the original branding again.
Across the first six series (plus the peak-time spin-off), the most-awarded daily prize has been the wheelie luggage which has been chosen 61 times, ahead of the dartboard (the only prize to have been offered every single week since the start) on 53, fondue set (45) and toolbox (33). At the other end of the scale, many prizes have never been chosen at all - and let's face it, when are you ever going to wear House of Games cufflinks? [For the House of Champions week, of course! - Ed.] Prizes chosen only once include the roller skates (won by Danny Wallace and gifted to Suzi Ruffell), biscuit tin (Rufus Hound), hip flask (Richard Herring), fedora (Amanda Abbington), football (Sara Pascoe), playing cards (Natasha Raskin Sharp) and yoga mat (often picked out as a favoured prize at the start of the show, but only Joanne McNally has actually taken it home). You can also add the jigsaw, which Elis James was gifted for his daughter (he couldn't decide between that and the toolbox). The specials have featured some unique prizes: the eggcups and table tennis bats and ball were both unique to the first series of House of Games Night and now in the possession of Jennifer Saunders, series 2 awarded a beer keg and karaoke machine to Ed Balls (which he donated to a care home he is involved with) and Champions weeks have given a pocket watch to Kate Williams and a set of goblets to Gregg Wallace.
Two for the matches and dispatches department; Bill Turnbull made his final TV appearances on the show in October 2021, and Osman met his wife Ingrid Oliver on the show. The latter caused some head-scratching for the producers - normally, one half of a married couple would not be allowed to be a contestant on the other's show. The BBC board concluded that "the prizes on House of Games are so insignificant" that they would make an exception, allowing Ingrid Oliver to play in a champions' week.
Series seven included a week with comedian Chris McCausland, who is blind, as a panellist. A few games, such as "Where is Kazakhstan?", "Z to A", and "I Am Not a Robot", were off-limits for obvious reasons but the only major change was that "Answer Smash" used song clips instead of pictures. As it turned out, the week was more notable for the rivalry between Malorie Blackman and Matt Dawson, with two days going to tie-breaks and another being decided on the last question.
Despite Richard always mentioning that sports people are particularly competitive, it bears noting that in fact they often prove to be among the most laid-back players on the show - and in six series, the only one to have actually won a week is sometime competition dancer Kevin Clifton. (However, sports presenters often do prove to be both highly competitive and good at the games: Mark Chapman, Colin Murray, Chris Hollins and Jason Mohammad all won their weeks, and Clare Balding came second in a well-matched battle with Mike Wozniak, but went on to win her "Festive" champions week.) On the other hand, Richard's oft-made observation that stand-up comics tend to do well is a truism; it has not gone without notice that many of the rounds are based on wordplay of some kind and so naturally suit people who make words funny for a living.
Web links
See also
Feedback