A Song for Europe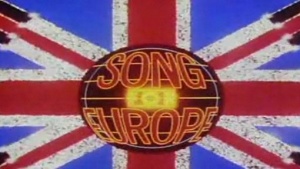 Host
Wilfred Thomas (1956)
David Jacobs (1957, 60, 62-66)
Pete Murray (1959)
Katie Boyle (1961)
Rolf Harris (1967)
Cilla Black (1968, 73)
Michael Aspel (1969, 76)
Cliff Richard (1970-72)
Jimmy Savile (1974)
Lulu (1975)
Terry Wogan (1977-96, 98, 2003-08)
Dale Winton (1997)
Ulrika Jonsson (1998-99)
Katy Hill (2000-01)
Claire Sweeney and Christopher Price (2002)
Gaby Roslin (2004)
Natasha Kaplinsky (2005-06)
Fearne Cotton (2007)
Claudia Winkleman (2008)
Graham Norton (2009-10)
Mel Giedroyc (2016-19)
Måns Zelmerlöw (2018-19)
Co-hosts
Judges:
Carrie Grant (2004, 08, 16)
Lorraine Kelly (2004)
Harry Hill (2004)
Bruno Tonioli (2005-06, 10, 17)
Jonathan Ross (2005-06)
Natalie Cassidy (2005)
Patrick O'Connell (2005)
Kelly Osbourne (2006)
Fearne Cotton (2006)
John Barrowman (2007-08)
Mel Giedroyc (2007)
Andrew Lloyd Webber (2009)
Alesha Dixon (2009)
Duncan James (2009)
Lulu (2009)
Arlene Phillips (2009)
Emma Bunton (2009)
Dima Bilan (2009)
Pete Waterman (2010)
Jade Ewen (2010)
Katrina Leskanich (2016)
Jay Revell (2016)
Sophie Ellis-Bextor (2017)
CeCe Sammy (2017)
Rylan Clark-Neal (2018-9)
Rochelle Humes (2018)
Tom Fletcher (2018)
Marvin Humes (2019)
Mollie King (2019)
Broadcast
as Festival of British Popular Songs: BBC Television Service, 7 May 1956 to 12 February 1957 (11 episodes in 2 series)
BBC Television Service, 2 February 1959 to 31 March 1995 (1967 as part of The Rolf Harris Show, 1968 & 73 as part of Cilla, 1969 & 75 as part of Lulu, 1970-72 as part of It's Cliff Richard, 1974 as part of Clunk-Click, 1985-88 & 90-92 as part of Wogan)
as The Great British Song Contest: BBC1/BBC Radio 2, 1 March 1996 to 12 March 1999 (1996 & 99 as part of Top of the Pops and 1997-98 as part of National Lottery Draw)
BBC One/BBC Radio 2, 14 January 2000 to 2 March 2003
as Making Your Mind Up: BBC One, 28 February 2004 to 17 March 2007 (4 specials)
as Your Decision: BBC One, 1 March 2008
as Your Country Needs You: BBC One, 3 January 2009 to 12 March 2010 (5 episodes in 1 series + 1 special)
as You Decide: BBC Four/Two, 26 February 2016 to 8 February 2019 (4 specials)
Synopsis
The UK qualifying competition for the Eurovision Song Contest.
This has followed various formats over the years. In the nineties having one singer sing six to eight songs for the public to choose from via phone vote was all the rage, then having different acts sing different songs was "in". The conclusion has been reached via different ways over the years, veering between a straight phone in popularity contest, Eurovision-esque regional points scoring and back to straight phone voting again.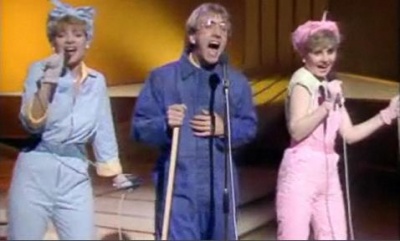 Casablanca sing their hearts out in 1983.
After the triumphant 0 points scored by Jemini in 2003, it changed its name to Making Your Mind Up in 2004 in an attempt to look like it was making more of an effort, although it's hardly Melodifest.
In 2008, the format was monickered Your Decision, and made more use of Wogan who was given various casting votes and a wildcard to ensure that the judges didn't step out too far of line with the popular vote.
At the start of 2009, the format was again renamed to Your Country Needs You with Andrew Lloyd Webber seeking a performer or performers to sing a song - which he would write the music and Diane Warren would write the lyrics for - to represent the UK at the Eurovision Song Contest. It started with a reality show style talent hunt and six finalists were chosen. The Emperors of Soul, The Twins, Mark, Jade, Charlotte and Damien were the six acts. For the first and second weeks they would perform a song and then the panel gave their critical view. The phone lines were then opened for you, the great British public, to vote. The votes were then totalled up and the bottom two were then left on stage for Andrew to decide who he wished to keep in the contest. The semi-final saw each contestant having to sing twice with the phone lines opening after each act had sung once. In the final, Dima Bilan (last year's Eurovision winner) was invited into the studio to sing his winning entry and the final three sung a song of their choice, their best song of the series and their version of Andrew and Diane's song It's My Time. The lines were opened after the first song and the winner was announced who then reprised their version of the song they would be singing in Moscow.
A much curtailed format of Your Country Needs You was introduced in March 2010. Rather than taking place over four weeks, the selection process took place in just one show. In the programme, six acts performed live, after which the judges, led by Pete Waterman, whittled the field down to three. The chosen acts then each performed the UK's entry for Eurovision, That Sounds Good To Me, which Pete Waterman, together with his old partner Mike Stock had written for the contest. Once each act had performed the song, the phone lines opened, and the public voted on who they wanted to perform the song, representing the UK at the Eurovision Song Contest in Oslo.
The BBC decided to drop the format in 2011, and instead opted to make a decision internally as to who would represent the UK at that year's contest. They chose reformed boyband Blue, comprised of Lee Ryan, Simon Webbe, Antony Costa, and Duncan James. There was a token nod to the format in the title of a documentary aired a few weeks before the contest - Eurovision: Your Country Needs Blue. Blue would eventually finish in 11th place in Dusseldorf, three places behind X Factor irritants Jedward, representing Ireland.
After five years of internal selections had produced very modest results, Eurovision You Decide was resurrected in 2016. A one-off final, in which Mel Giedroyc and a guest host present six songs for the viewers' approval. Behind the scenes, respected music producer Hugh Goldsmith sought something good, the songs were validated by Eurovision fan group OGAE, and many performers came from musical theatre and other talent shows. After four years, none of the chosen songs had made any sort of impression on the voting audiences, and the BBC selected its own entry once more.
Champions
Includes results of The Festival of British Songs in 1956, which ran independently of the Eurovision Song Contest.
From 1956-63, 76-91, 95-2008 and 2016-19, the entries were songs and performers, viewers voted on the song as sung by that performer. From 1964-75 and 92-94, the performer was chosen by the BBC and the viewers voted on the song. From 2009-10, the song was chosen by the BBC and the viewers voted on the performer.
From 2011-15 and since 2020, both song and performer were chosen by the BBC without viewers voting. We include these to make a complete list of BBC entries to the Eurovision Song Contest.
Year
Song
Performer
Composer
Lyricist
1956
Everybody Falls In Love With Someone
Denis Lotis and the Keynotes
Peter Hart
Norman Newell
1957
All
Patricia Bredin
Reynell Wreford
Alan Stranks
1958
(no contest)
1959
Sing, Little Birdie
Pearl Carr & Teddy Johnson
Stan Butcher
Syd Cordell
1960
Looking High, High, High
Bryan Johnson
John Watson
1961
Are You Sure?
The Allisons
John Allison, Bob Allison
1962
Ring-a-ding Girl
Ronnie Carroll
Syd Cordett
Stan Butcher
1963
Say Wonderful Things
Ronnie Carroll
Philip Green
Norman Newell
1964
I Love the Little Things
Matt Monro
Tony Hatch
1965
I Belong
Kathy Kirby
Peter Lee Sterling
Phil Peters
1966
A Man Without Love
Kenneth McKellar
Cyril Ornadel
Peter Callander
1967
Puppet on a String
Sandie Shaw
Bill Martin and Phil Coulter
1968
Congratulations
Cliff Richard
Bill Martin and Phil Coulter
1969
Boom Bang-a-bang
Lulu
Alan Moorhouse
Peter Warne
1970
Knock, Knock (who's There?)
Mary Hopkin
John Carter and Geoff Stephens
1971
Jack in the Box
Clodagh Rodgers
John Worsley
Johnny Arthey
1972
Beg, Steal or Borrow
The New Seekers
Tony Cole, Steve Wolfe, Graeme Hall
1973
Power to All Our Friends
Cliff Richard
Guy Fletcher
Doug Flett
1974
Long Live Love
Olivia Newton-John
Valerie Avon & Harold Spiro
1975
Let Me Be the One
The Shadows
Paul Curtis
1976
Save Your Kisses for Me
Brotherhood of Man
Tony Hiller, Lee Sheriden, Martin Lee
1977
Rock Bottom
Lynsey de Paul and Mike Moran
Lynsey de Paul and Mike Moran
1978
The Bad Old Days
Co-Co
Stephanie de Sykes & Stuart Slater
1979
Mary Ann
Black Lace
Peter Morris
1980
Love Enough for Two
Prima Donna
Stephanie de Sykes & Stuart Slater
1981
Making Your Mind Up
Bucks Fizz
John Danter
Andy Hill
1982
One Step Further
Bardo
Simon Jefferis
1983
I'm Never Giving Up
Sweet Dreams
Ron Roker, Jan Pulsford, Phil Wigger
1984
Love Games
Belle and the Devotions
Paul Curtis and Graham Sacher
1985
Love Is
Vikki
James Kaleth and Vikki Watson
1986
Runner In the Night
Ryder
Brian Wade
Maureen Darbyshire
1987
Only the Light
Rikki
Richard Peebles
1988
Go
Scott Fitzgerald
Julie Forsyth
1989
Why Do I Always Get It Wrong?
Live Report
Brian Hodgson and John Beeby
1990
Give a Little Love Back to the World
Emma
Paul Curtis
1991
A Message to Your Heart
Samantha Janus
Paul Curtis
1992
One Step Out of Time
Michael Ball
Paul Davies, Tony Ryan, Victor Stratton
1993
Better the Devil You Know
Sonia
Brian Teasdale and Dean Collinson
1994
We Will Be Free (Lonely Symphony)
Frances Ruffelle
George De Angelis, Mark Dean
1995
Love City Groove
Love City Groove
Paul Hardy, Jay Williams, Tatsiana Mais, Stephen Rudden
1996
Ooh Aah... Just a Little Bit
Gina G
Steve Rodway
Simon Tauber
1997
Love Shine a Light
Katrina and the Waves
Kimberley Rew
1998
Where Are You?
Imani
Scott English, Phil Manikiza, Simon Stirling
1999
Say It Again
Precious
Paul Varney
2000
Don't Play That Song Again
Nikki French
John Springate, Gerry Shephard
2001
No Dream Impossible
Lindsay D.
Russ Ballard, Chris Winter
2002
Come Back
Jessica Garlick
Martyn Baylay
2003
Bye Bye Baby
Jemini
Martin Isherwood
2004
Hold On to Our Love
James Fox
Gary Miller
Tim Woodcock
2005
Touch My Fire
Javine
Javine Hilton & John Themis
2006
Teenage Life
Daz Sampson
John Matthews, Daz Sampson
2007
Flying the Flag (For You)
Scooch
Russ Spencer, Morten Schjolin, Andrew Hill, Paul Tarry
2008
Even If
Andy Abrahams
Andy Abraham, Paul Wilson, Andy Watkins
2009
It's My Time
Jade Ewen
Andrew Lloyd Webber
Andrew Lloyd Webber, Diane Warren
2010
That Sounds Good to Me
Josh Dubovie
Pete Waterman, Mike Stock, Steve Crosby
2011
I Can
Blue
Duncan James, Lee Ryan, Ciaron Bell, Ben Collier, Ian Hope, Liam Keenan, StarSign
2012
Love Will Set You Free
Englebert Humperdinck
Martin Terefe and Sacha Skarbek
2013
Believe in Me
Bonnie Tyler
Desmond Child, Lauren Christy, Christopher Braide
2014
Children of the Universe
Molly
Molly Smitten-Downes, Anders Hansson
2015
Still in Love With You
Electro Velvet
David Mindel, Adrian Bax White
2016
You're Not Alone
Joe and Jake
Justin J Benson, Schwartz and S Kanes
2017
I Will Never Give Up On You
Lucie Jones
The Treatment, Emmelie De Forest, Lawrie Martin
2018
Storm
SuRie
Sean Hargreaves, Gil Lewis, Nicole Blair
2019
Bigger Than Us
Michael Rice
Laurell Barker, John Lundvik, Jonas Thander, Anna-Klara Folin
2020
My Last Breath
James Newman
James Newman, Iain James, Ed Drewett, Adam Argyle
2021
Embers
James Newman
James Newman, Conor Blake, Danny Shah, Tom Hollings, Samuel Brennan
2022
Space Man
Sam Ryder
Amy Victoria Wadge, Sam Robert Robinson, Max Wolfgang
2023
I Wrote a Song
Mae Muller
Mae Muller, Karen Poole, Lewis Thompson
Key moments
El Tel had a scary few minutes in 1980 when Happy Everything by Maggie Moone and Love Enough for Two by Prima Donna both ended up on a tie at 131 points, and there was no procedure to sort this out on any form of countback system. Eventually the tie was split by a show of hands from the regional presenters.
Prima Donna go to the ESC, Maggie Moone goes to Name That Tune. So who
really
wins?
In 2007, the contest was decided by a phone vote knocking four of the six acts out, the remaining two going into a "sing-off" (how very X-Factor). Following the sing-off between French singer Cyndi and cheesy-pop-from-1999-group Scooch, the winner was announced by hosts Terry Wogan and Fearne Cotton. Unfortunately, Wogan and Cotton both announced different winners, leading to much justified confusion among the singers, the audience, and... well, everyone. Scooch, as announced by Fearne Cotton, were in fact the winners.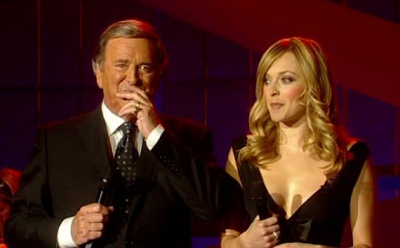 Wogan realizes where United Kingdom will end up on the scoreboard.
Esma Akkilic unfortunately forgetting the lyrics part way through her performance of Pete Waterman's 2010 song.

Who could blame her?
Trivia
The first competition, in 1956, was intended to produce an entrant for that year's Eurovision Song Contest but didn't, because the BBC missed the registration deadline! The Festival of British Popular Songs became a monthly series instead, until January 1957 when it ran as a series of three heats and a final to decide (in plenty of time) which song would go to Eurovision.
Under the name 'Making Your Mind Up', the show has mainly been broadcast from BBC Television Centre, but did vacate to The Maidstone Studios for the 2007 final.
See also
Weaver's Week reviews of 2004, 2005, 2006, 2007, 2008, 2009, 2010, 2016, 2017, 2018, 2019.
Feedback