Game Show Spoofs
(→Spoofs of real game shows)

Line 48:
Line 48:

*[[Through the Keyhole]] - Way back in its TV-am days, there was once a spoof edition with Peter Cook as [[Loyd Grossman]], poking around Loyd's home.

*[[Through the Keyhole]] - Way back in its TV-am days, there was once a spoof edition with Peter Cook as [[Loyd Grossman]], poking around Loyd's home.

*[[Top of the Form]] - spoofed in ''At Last the 1948 Show''. A reworked version of the sketch later turned up in ''The Secret Policeman's Other Ball''.

*[[Top of the Form]] - spoofed in ''At Last the 1948 Show''. A reworked version of the sketch later turned up in ''The Secret Policeman's Other Ball''.

-

*[[University Challenge]] - memorably demolished by ''The Young Ones'', with real-life UC contestant [[Stephen Fry]] among the guest stars, and Griff Rhys-Jones providing the definitive "interpretation" of the [[Bamber Gascoigne]] role. '''[http://www.youtube.com/watch?v=nxA0a5G6ccg Watch the clip]'''. Griff also gave us his Bamber in a ''Not The Nine O'Clock News'' sketch involving a supergrass being quizzed UC-style. The Who's ''30 Years of Maximum R&B'' box set includes a UC skit that Keith Moon recorded when he stood in for Radio 1's John Peel in 1973 (and it's only 28 seconds, so you can hear it in full on any site that offers 30-second previews). The 2006 film ''Starter for Ten'' revolved around the lives and loves of a 1980s University Challenge team and featured a turn by Mark Gatiss as Bamber. The format was also copied for a Labour party political broadcast in 1970.

+

*[[University Challenge]] - memorably demolished by ''The Young Ones'', with real-life UC contestant [[Stephen Fry]] among the guest stars, and Griff Rhys Jones providing the definitive "interpretation" of the [[Bamber Gascoigne]] role. '''[http://www.youtube.com/watch?v=nxA0a5G6ccg Watch the clip]'''. Griff also gave us his Bamber in a ''Not The Nine O'Clock News'' sketch involving a supergrass being quizzed UC-style. The Who's ''30 Years of Maximum R&B'' box set includes a UC skit that Keith Moon recorded when he stood in for Radio 1's John Peel in 1973 (and it's only 28 seconds, so you can hear it in full on any site that offers 30-second previews). The 2006 film ''Starter for Ten'' revolved around the lives and loves of a 1980s University Challenge team and featured a turn by Mark Gatiss as Bamber. The format was also copied for a Labour party political broadcast in 1970.

<div class="image">[[Image:Universitychallenge scumbag bambispoof.jpg|400px]]''"Toxteth O'Grady, USA"''</div>

<div class="image">[[Image:Universitychallenge scumbag bambispoof.jpg|400px]]''"Toxteth O'Grady, USA"''</div>
---
Revision as of 17:22, 19 July 2010
Introduction
Whenever you're doing a sketch show, the easy fallback position is to target the game show. So easy to parody, the laughs almost write themselves. Er, quite. Here is our own half-assed attempt to catalogue some of the finer moments of British comedy masquerading as incisive comment. Also listed are other places and references where you might not otherwise expect game show action to pop up.
Spoofs of real game shows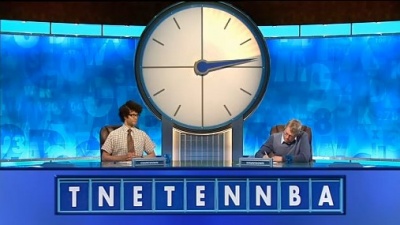 "Good morning, that's a nice tnetennba"
The Crystal Maze - Three of note here: Steve Punt gurning as a skullcapped Richard O'Brien inviting teams to do the Making a Cup of Tea game in The Mary Whitehouse Experience. The Adam & Joe Show, RO'B was played by Yoda who accompanied a load of Star Wars toys. And in Tony Robinson's Maid Marian and her Merry Men it featured in the entire last half of one episode, featuring Wayne Morris as Robin Hood doing a spookily accurate version of RO'B.
Deal or No Deal - Impressively, this was spoofed by at least three shows in its first year on air. Dick and Dom had Muck or No Muck with Ian Kirkby donning the beard, as did Rory Bremner and Jon Culshaw in the spoofs in their shows (Bremner, Bird and Fortune and Dead Ringers), neither sounding much like Noel Edmonds, but it was nice of them to try. Culshaw even appeared on DOND itself for the first birthday special, in his Edmonds guise.
Double Your Money - Spoofed by That Was The Week That Was with David Frost as a Russian Hughie Green and Lance Percival as the "normal" Hughie Green.
Dragons' Den - Done by Messrs Enfield and Whitehouse in Harry and Paul.
Family Fortunes - Appeared on an episode of sitcom Barbara and, when Les Dennis was on it, Celebrity Big Brother series 2.
Film Buff of the Year - Blue Film Buff of the Year from Naked Video. Watch the clip (scroll to 7:14).
Find the Link - spoofed in an advert for Cadbury's Drinking Chocolate which was the second ad ever shown on ITV (after the famous one for Gibbs' SR toothpaste).
The Generation Game was spoofed by LWT sketch series End of Part One in the form of Larry Grayson's Fat Ladies Embarrassment Game Watch the clip.
Going for a Song was spoofed by Do Not Adjust Your Set.
The Golden Shot was parodied on The Benny Hill Show as The Golden Shoot, with Hill impersonating then-host Bob Monkhouse (during the latter's first stint); Bernie the Bolt was changed to Barney the Bolt.
Hard Spell - As Muck Spell, this was one of Dick and Dom's more successful games.
The Krypton Factor - the lesser-known of the A Bit of Fry and Laurie take-offs. The Armstrong and Miller Show did it as "The Critical Factor".
Lose a Million, staggeringly, was deemed worthy enough to appear in the Brit horror flick Shallow Grave. Answers on a postcard...
Mastermind - Again, too many to mention really, but the stand-out must shurely go to the Two Ronnies sketch, specialist subject: Answering the Question Before Last - Watch the clip and read the updated 1983 stage version. Benny Hill had two parodies of it - (watch both here and here - the latter known as Masterbrane), Paul Hogan's show did Thickhead and Lenny Henry's show did (it says here) Masterbonk. The children's show Whizzkids Guide had Kenneth Williams as a contender (watch the clip). Magnus Magnusson himself starred in a Mastermind sketch with Morecambe and Wise (watch the clip) and also once hosted a spoof version (written by Stephen Fry) which appeared out of the blue during an edition of Wogan on April Fool's Day 1987. There was also Strip Masterbrain, at which point we draw a veil.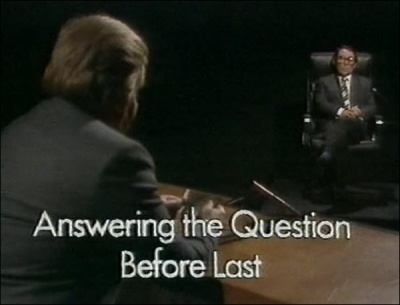 "He's a fat man who tells blue jokes."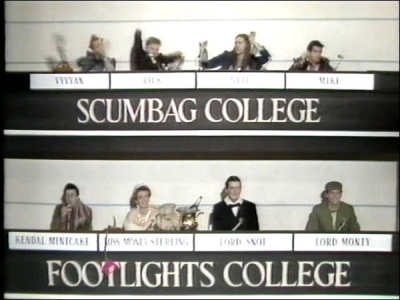 "Toxteth O'Grady, USA"
Political spoofs
Some programmes have been presented as game shows to make some kind of political or social point. In some cases, the fictional nature of the show has been hidden from the viewers until the end of the broadcast, although in truth it's not that hard to tell when something's been scripted to the hilt.
The Great Big Giveaway Show, hosted by Neil and Christine Hamilton (and with announcements by Darren Day!), was actually part of a police sting operation filmed for Channel 5's documentary Donal MacIntyre's Big Sting. Seventeen fine-dodgers were lured to Portsmouth Guildhall, supposedly to take part in a big money gameshow - and were promptly nicked. So remember, if you're on the run from the law and you get an invitation to take part in a gameshow you never applied for, held in a location that isn't a TV studio and hosted by people you could never in a million years imagine fronting a big money quiz, it may be a trap. Later in the series, MacIntyre also pulled the same stunt in Leeds, with the Richard Whiteley-hosted Just the Ticket.
Also making a serious point was the one-off Come On Down and Out, a spoof produced for Channel 4's Gimme Shelter season in 1993, in which homeless people (played by actors) competed to win a house. It was hosted by Andrew O'Connor and Annabel Giles and supported by the charity Shelter. The same charity put out a press release for a similar show called Homeless Hotel in 2010, supposedly fronted by Duncan Bannatyne, but it was a rather obvious spoof - not least because if it was real, they'd hardly use the word "tramps" in the first sentence.
In 1997, a company called Hubris made a one-off show for Channel 4 in 1997 called A Date With... hosted by Tony Slattery. The show was Blind Date for disabled people, with Slattery making inappropriate jokes at the expense of the contestants. Over the credits, the continuity announcer revealed that the show was in fact a spoof - it turned out all the contestants were trained actors etc. The programme was promoted as a real game show but, as such, few people took any notice of it.
Not quite a spoof, but then not quite a game show either, 2008's two-part Horizon special How Mad are You? placed ten people in a castle, gave them tasks, and challenged three psychiatric experts to pick out the five people who had previously been diagnosed with mental health disorders. Paul McGann narrated.
Invented game shows
A few nods to game shows that didn't really exist, even if some of them sounded rather promising:
The first spoof panel game arrived as early as 1946. Ignorance is Bliss (BBC Light Programme) warned that "four hand-picked halfwits propose to prove it!". Such comic characters as a cockney ignoramus (played by Harold Berens), a fluff-headed debutante, and an upper-class twit wearing a monocle competed to answer very simple questions posed by announcer Stuart MacPherson. The show was based on the CBS series It Pays to be Ignorant, and was scripted entertainment in the music hall cross-talk tradition. Eamonn Andrews and Patrick Burns hosted later series, and the show ran until 1953.
Monty Python's Flying Circus did a number of game show spoofs, the most complete of which was probably Blackmail whereby a well-known politician had to ring in and stop the money clock before too many compromising details were, er, compromised. . Others included Spot The Braincell (a reworking of At Last The 1948 Show's "Nosmo Claphanger Show" - see below), Stake Your Claim and The World Forum Trivia Game (shurely one for the National Geographic channel?). On their Previous Record there's the radio panel game spoof What Do You Do, "a new radio quiz game loosely based on all the old radio quiz games", where the complicated rules are explained through the medium of silly noises.
Do Not Adjust Your Set featured a game show so complicated that by the time the rules had been explained, there was no time for the actual game. This sketch (penned by Eric Idle) had previously appeared on radio in I'm Sorry I'll Read That Again and was later redone by the Python team on the LP Monty Python's Previous Record. If you have Flash, you can hear the ISIRTA version on the SOTCAA Python Pages - scroll down to point 4.
2DTV suggested Paper in the Bin.
In The New Statesman, the Honorable Member for Haltemprice, Alan B'Stard, featured on a quiz game called What's the Question? hosted by Nicholas Parsons.
At Last The 1948 Show amalgamated The Golden Shot, Double Your Money and Take Your Pick into The Nosmo Claphanger Show with John Cleese as an amalgam of all the worst aspects of Bob Monkhouse, Hughie Green and Michael Miles.
Only Fools And Horses featured the incomprehensible Goldrush, hosted by Jonathan Ross, though only because ITV wouldn't let them use Who Wants to be a Millionaire?. They're actually using the set at the BBC centre for people who come in on tours!
Tyneside children's drama Byker Grove featured Ritual Humiliation. And that wasn't just Ant and Dec's haircuts. Oi!
Short-lived Jasper "Golden Balls" Carrott vehicle Carrott Confidential recreated the Sizewell B inquiry in the form of a rigged game show, Public Inquiry. One of the winning Atomic Energy Commission team was played by Steve Punt.
Father Ted gave us Morning Quiz hosted by closet alcoholic Henry Sellers and The Eoin McLove Show on which Ted's specialist subject was William Shatner's Tek Wars.
Radio sketch show A Look Back At The Nineties gave us what sounded at the time like the ultimate bad-taste quiz "Are They Dead Yet?". Not long after, Simon Mayo did it for real and no-one batted an eyelid. The online revival of Quizmania also brought Dead or Alive to much the same response.
Yes, Quizzlestick! OK, it wasn't real, but between you and us... nobody's noticed. Or they have and they don't care. Adam and Joe also did a spoof of 100% called 200%, but that's less well remembered.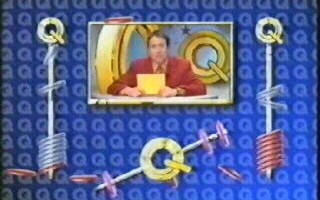 "...unless it's a general knowledge question."
Dale Winton challenges Renton to 'Take the Test' in the film Trainspotting.
In 2005, the Beeb's speculative docu-drama If... TV Goes Down The Tube featured The Cage, a boring reality show of 2015 in which some people are, er, locked in a cage, and one of them commits suicide on air.
Quickfire, the quiz game hosted by Bob Martin in the comedy drama of the same name. (The title character host was played by Michael Barrymore, who co-wrote the script with Bob Mills.)
I'm Alan Partridge contained numerous references to Skirmish, a military quiz Alan apparently hosted on that well-known cable TV station, UK Conquest. At one point there were plans to actually make an episode of this show as a one-off, but they came to nothing, alas.
Also sadly never made was a Hancock's Half Hour episode called "The ITA Quiz", though it got as far as a full camera script before being scrapped. It would have satirised the then-current "give-away shows" by having Tony Hancock as a contestant on a rigged game show hosted by Sid James. Writers Galton and Simpson have suggested the episode was scrapped because it was too near-the-knuckle in the wake of the US game show scandals; Hancock's biographer John Fisher reckons it might simply have been because Hancock himself didn't have enough screen time.
Kenny Everett's Star Quiz took celebrity guests and completely humiliated them. It featured on The Kenny Everett Video Show (or Video Cassette) where the likes of Bernard Manning, Terry Wogan and Billy Connolly were given a good gunging for failing to utter a silly secret word (e.g. Rampart) whilst being asked questions such as "A British Prime Minister on a famous occasion said 'You've never had it so good'. How many furlongs in a mile?".
One of the regular features of Channel 4's not-very-funny comedy series Balls of Steel was presenter Alex Zane duping real members of the public into taking part in various unfair game shows, such as "Alex Zane's Buzzing Game" (with a dodgy buzzer that wouldn't buzz when it was supposed to, and did when it wasn't), "Alex Zane's Lying Game" in which contestants were hooked up to a "lie detector" (actually an air-conditioning unit with bicycle lights attached) and "Alex Zane's Cleverness Game", a Mastermind-like quiz with a lot of incorrect answers. Generic catchphrase: "Nice to see you - yes it is."
It's a Shame! was a recurring skit on a late series of Going Live!. Hosts Trevor and Simon hosted a show with no budget, no prizes, no shame, and no respite from their silliness.
Victoria Wood's character in BBC's dinnerladies, Bren, appeared on "Totally Trivial", which was hosted by Henry Kelly.
The last regular episode of Jonathan Creek (which incidentally featured Bamber Gascoigne in a cameo) satirised celebrity reality shows with a sub-plot involving the programme Animal Farm, in which minor celebs lived in a pig sty, with pigs. Eyebrows were raised when, mere weeks after this episode first aired, Five announced they were making The Farm. (Thing of note: many years earlier, Creek creator/writer David Renwick also penned the Two Ronnies' "Mastermind" sketch.)
Creek star Alan Davies also featured in an episode of Lewis in which he played the questionmaster and organiser of a quizzers' convention at which two attendees wind up dead. OK, so that's not actually a spoof television show, but we just wanted to observe that while Alan Plater may have been a good screenwriter (and he had the CBE to prove it), his question-setting was just abysmal. Mind you, Davies' character turns out to be a conman, so maybe the poor quality of the questions was meant to be a clue.
For BBC Three's Mischief, Danny Robins devised a deliberately bad taste reality show, Let's Make A Baby (a.k.a. IMPREGnation) in which thirteen strangers would share a house and the first couple to conceive would win a hundred grand each. Robins and David Brook (the man behind Quiz Nation) then toted it around the international formats fair in Cannes to see if anyone would go for it. Which quite a few did.
Marc Wootton's High Spirits With Shirley Ghostman featured Spirit Academy, supposedly a search for new "psychic talent". Which turned out to be an uncannily accurate premonition of the subsequent Britain's Psychic Challenge. Spooky!
The comedy show Rob Brydon's Annually Retentive featured Brydon playing himself (or at least an approximation thereof) as host of the invented game show Annually Retentive, a celebrity panel game about years gone by, which shamelessly steals rounds from Have I Got News for You, Never Mind the Buzzcocks and the like. The programme cuts between the panel show (which is recorded as a real show) and its production meetings and suchlike (which are scripted).
That Mitchell and Webb Sound/Look gave us the maths quiz that EVERYONE is talking about - NumberWang! The writers have suggested that it's the opposite joke to Quizzlestick. The third series of Look followed it with The Quiz Broadcast, a post-apocalyptic gameshow strongly advising you to Remain Indoors.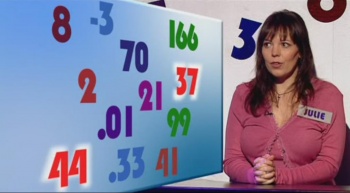 "Eight?"
The Outer Hebrides Broadcasting Corporation brought us the simplistic 'Come On Now, Out With It' as part of Naked Video. Watch clip (scroll to 2:50)
Channel 4 laughed at overnight premium-rate quiz shows on Swizzcall; by the show's airing in October 2007, the genre was fast becoming history.
ITV's big drama hope for 2008, Rock Rivals, revolved around two judges on a fictional X Factor-style talent show. In a weird blurring of reality and fiction, at the end of the series viewers were asked to vote for which fictional act should "win" the show-within-the-show.
I'm Sorry I Haven't a Clue once presented The Quiz of Quizzes, which packaged elements from Play Your Cards Right, 15-to-1, Who Wants to be a Millionaire?, Countdown, Family Fortunes, Just a Minute, Deal or No Deal and The Weakest Link into 5 minutes & 48 seconds, precisely.
2008 brought us Peter Kay's one-off talent show spoof Britain's Got the Pop Factor and Possibly a New Celebrity Jesus Christ Soapstar Superstar Strictly on Ice... hosted by the real Cat Deeley. Taking the joke a stage further, or milking it beyond what is strictly decent (you decide!), a spoof follow-up to the spoof show (so is that a double negative, thus making it a real show, or what?), Britain's Got an Extra Pop Factor and Then Some 2 + 1, was presented by Ben Shephard.
Still in casting shows, Search for a Sexxbomb appeared in the 2009 series of Skins. The game sought a new member for a salacious band, and included the obligatory sob story from every contestant. And Scott Mills hosting.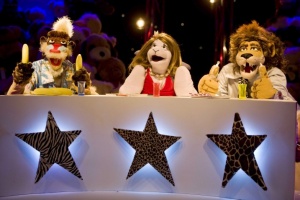 "If you're beaten, you're eaten!"
Numberwang co-creator Mark Evans also had a substantial hand in the CBBC puppet show Zoo Factor, a spoof talent show for animals hosted by one Hilly Wallaby, in which the losers get eaten by a lion. That's right. A gameshow-friendly voice cast included the likes of Tim Vine, Mel Giedroyc (as Ms Wallaby) and Dave Lamb.
Meanwhile, Stewart Lee's Comedy Vehicle offered a reality show in which actors competed to play the wandering idiot in "Waiting For Godot", You Should Be So Lucky. Because the character is called "Lucky", you see, and... oh, never mind.
And finally, who could forget Spitting Image's ultimate Paul Daniels hosted game show: Knock Your Odd Block Mr Family Price Lines-2-1?
Feedback