UK Game Show Records
This Good Game Guide lists various UK game show records. If you have a question that you think should be included, feel free to contact us.
Firsts
First UK-produced radio game show: The earliest we know of is Inter Regional Spelling Competition, broadcast on the BBC Regional Service on 25 November 1937.
First TV game show: Spelling Bee, shown by the British Broadcasting Corporation (BBC) on 31st May 1938, transmitted live from Alexandra Palace.
First TV game show offering cash prizes: Take Your Pick, broadcast on 23rd September 1955 by Associated-Rediffusion.
Broadcasting records
Longest running
All-time longest-running game show (TV): Come Dancing, which ran in its knockout format from 1953 to 1995. During that run, it was broadcast every year except 1982 and 1987 (and even a span from 1953 to 1981 would still make it the second longest continually-running show behind A Question of Sport). It's debatable whether Strictly Come Dancing counts as the same format despite its clear lineage to the original series.
All-time longest-running game show (radio):Round Britain Quiz has run continuously since 1947.
Longest-running current game show (TV): University Challenge with over 39 different years clocked up since 1962. Not far behind are A Question of Sport which has run since 1970, and Mastermind which has been going since 1972, albeit with a few years' break in the late 1990s and early 2000s. Credit must also be given to Call My Bluff, which ran for 23 years originally, and another nine in the revival.
Longest-running game show broadcast in UK (TV): Technically, it's A Song for Europe, which first aired in 1957, and annually between 1959 and 2010 (sometimes under different titles). The Eurovision Song Contest has been broadcast annually since 1956, but is not usually a UK production.
Most episodes produced: Countdown aired its 5000th episode on 26 March 2010, and is still going strong with around 250 new episodes each year.
Shortest running
All-time shortest-running game show (TV): Aside from intentional one-offs, ITV Play's The Debbie King Show started and ended on Monday 5th March 2007.
Exports
Most successful UK format export: Who Wants to be a Millionaire? has been licensed to at least 107 territories including Algeria, Argentina, Armenia, Australia, Austria, Azerbaijan, Belgium, Brazil, Bulgaria, Canada, the Caribbean, Chile, China, Colombia, Croatia, Cyprus, Czech Republic, Denmark, Ecuador, Estonia, Finland, France, Georgia, Germany, Greece, Hong Kong, Hungary, Iceland, India, Indonesia, Israel, Italy, Japan, Kazakhstan, Kenya, Latvia, Lithuania, Malaysia, Mexico, Middle East, Netherlands, New Zealand, Nigeria, Norway, Pakistan, Peru, the Philippines, Poland, Portugal, Republic of Ireland, Republic of Macedonia, Romania, Russia, San Marino, Serbia, Singapore, Slovakia, Slovenia, South Africa, Spain, Sweden, Switzerland, Taiwan, Turkey, Ukraine, United States, Uruguay, Venezuela, and Vietnam. The Weakest Link is not far behind with at least 98 territories licensed.
Hosts
Longest serving hosts
Longest tenure by time (TV): Counting only regular series, Magnus Magnusson's span as host of Mastermind lasted ten days short of 25 years, beating Bamber Gascoigne's tenure on University Challenge by eight days. However, if you count the 1987 International University Challenge specials which followed the end of the regular series, then Bamber's run is extended by nearly four months. You could extend it even further by including Bamber's appearances on the 1992 one-off, and 1998's Red Dwarf special, but then you'd also have to count Geoffrey Wheeler's technical 44-year span on Television Top of the Form, which beats all comers. Not far behind comes Richard Whiteley, who had been hosting Countdown for nearly 23 years at the time of his death in 2005 - in fact, if you include the show's regional precursor Calendar Countdown, he actually passed the 23-year mark. The longest-serving current host is Jeremy Paxman, who's been at the helm of University Challenge since 1994. The all-time longest serving woman is Cilla Black, who dished up over 17 years of Blind Date, and the current longest-serving female host is Sue Barker, who's been posing A Question of Sport since 1997.
Longest tenure by time (radio): Nicholas Parsons has presented nearly every programme of Just a Minute since 1967. However, as Parsons very occasionally lets guest hosts take the chair, Humphrey Lyttelton is possibly the host with the longest unbroken spell as he spent nearly 36 years sitting on Samantha's left hand from 1972.
Longest tenure by on-air time (TV): With 30 or 45 minutes of exposure almost every weekday for 23 years, Countdown host Richard Whiteley is the out-and-out winner here. It is estimated that up to his death he was the second-most frequently seen face on British television, second only to the test card girl Carol Hersee.
Oldest and youngest hosts
Oldest game show host: Nicholas Parsons (born 10 October 1923) became the oldest game show host with the summer 2010 series of Just a Minute. Previously the oldest was Humphrey Lyttelton, who was still hosting I'm Sorry I Haven't a Clue just before his death at the age of 86.
Oldest debut game show host: With the 2009 one-off panel game Percy Edwards Showdown, broadcasting legend David Attenborough finally added "game show host" to his CV at the age of 82.
Youngest game show host: Jacob Scipio began hosting Kerwhizz at 15.
Most formats hosted
Host of the most UK game shows: Crumbs, this is complicated because of the fly-by-night nature of some of the jobs entailed. This "medal table", if you will, should help the matter:
Last updated 13 June 2014.
This table doesn't include unaired pilots as these cannot be accurately ascertained.
(a) This number would go down by 1, but the "One-offs" column would rise by 7, if you counted Gameshow Marathon as a series of individual shows rather than its own format.
(b) However, PSI and Crazy Comparisons were just different titles for the same show.
(c) Dick and Dom have combined to host 7 series, and appeared together on a single one-off show.
(d) Rent Free and Get Staffed are also different titles for the same show.
Contestants
Most successful (£): Ian Woodley is known to have won at least £1,050,000 on game shows when his winnings from Someone's Going to be a Millionaire and Poker Den are combined. Counting just quiz shows, Sarah Lang has won at least £1,033,100, including £1m on PokerFace (16th July 2006), plus appearances on In It to Win It and Wipeout.
Most successful (programmes won): Ian Lygo won 75 consecutive shows of 100%, without defeat, in 1998. This is thought to be a world record.
Most successful (different formats): In terms of different programmes on which a contestant won, Daphne Fowler is possibly the most successful.
Two prolific UK contestants, Daphne Fowler and David St John, meet on the Australian version of Sale of the Century in 1986.
Most appearances (different formats): Again, there are no definitive records, but David St John has been reported as having appeared on the most different shows, with 26 between 1982 and 2013 (asterisks denote wins): Sale of the Century*, Music Match, Chain Letters*, Winner Takes All*, Keynotes, Brainwave, Star Quality, Talkabout*, Timekeepers*, Jeopardy!*, Fifteen-to-One, Wipeout*, Weakest Link, Number One, The Biggest Game in Town, No Win, No Fee, The Machine, Judgemental, Brainteaser*, Memory Bank, Rovers Return Quiz Night*, Eggheads, A Question of Genius, Wordplay, The Chase and Face the Clock.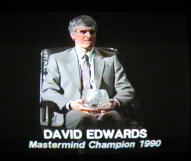 David Edwards, halfway to an impressive double
Doubles and trebles: Some of the most prestigious quizzes do not carry huge prizes, so the following contestants are not necessarily the most successful financially, but have won multiple "prestige" shows:
Pat Gibson (Who Wants to be a Millionaire 2004, Mastermind 2005, Brain of Britain 2006, Are You an Egghead? 2009 - also Mastermind Champion of Champions)
Kevin Ashman (Fifteen-to-One 1989, Mastermind 1995, Brain of Britain 1996) - also Brain of Brains, Top Brain and Fifteen-to-One's Millennium Quiz
Daphne Fowler (Going for Gold 1988, Brain of Britain 1997, Fifteen-to-One 2001)
Roger Pritchard (Brain of Britain 1974, Mastermind 1976) - also Brain of Brains and Top Brain
Jim Eccleson (Top of the World 1982, Brain of Britain 1990)
Barbara Thompson (Brain of Britain 1989, Fifteen-to-One 1992)
Glen Binnie (Brain of Brains 1989, Fifteen-to-One 1993)
David Edwards (Mastermind 1990, Who Wants to be a Millionaire? 2001, also on the winning team in Masterteam 2006 and a panellist on Round Britain Quiz from 2010)
Clive Spate (Countdown 1986, Grand Slam 2003)
David Stedman (Fifteen-to-One 2003, Brain of Britain 2003)
Christopher Hughes (Mastermind 1983, Brain of Britain 2005) - also Mastermind International
Geoff Thomas (Mastermind 2006, Brain of Britain 2008)
Ian Bayley (Brain of Britain 2010, Mastermind 2011, also on winning teams in Masterteam 2001 and Only Connect 2008)
Longest serving contestant/panellist (TV): Can anyone beat Frank Muir, who was a team captain on Call My Bluff for 30 years (1965-94)?
Longest serving contestant/panellist (radio): Sir Clement Freud was a regular, if not permanent, panellist on Just a Minute from 1967 to 2009. Barry Cryer, Tim Brooke-Taylor and Graeme Garden have been continuous panellists on I'm Sorry I Haven't a Clue since 1972. Irene Thomas was a regular contestant on Round Britain Quiz for approximately 30 years.
Prizes
Cash prizes
Note: In this section, cash prize means money you are free to spend as you wish, and does not include business investments.
Highest cash prize won: £1 million in cash was first won on a UK game show on the Chris Evans radio show by Clare Barwick on the Someone's Going to be a Millionaire slot. On 24th December 1999, the same promotion - but this time on Channel 4's music show TFI Friday, Ian Woodley won the same amount. Million-pound prizes have since been awarded a further fourteen times: five times on Who Wants to be a Millionaire, four times on Red or Black?, twice each on Survivor and PokerFace, and once on The Vault.
Highest cash prize offered: The highest prize possible on Shafted was £2.5 million. This was an artificial cap as technically £102 million could have been won without it.
Highest cash prize won by a viewer: Karen Shand won £1 million by phoning into The Vault on 3rd August 2004.
Highest cash prize won on a BBC production: On 23 June 2007, Stephanie Bruce won £200,700 on People's Quiz. The previous record was held by Eleri Owen who won £100,000 on In It to Win It by answering 21 questions in a row. The BBC's 1 vs 100 offered £250,000 but nobody took home a six-figure sum. Several investments of £250,000+ have been offered on the BBC's Dragons' Den making it technically the richest game show on the BBC. Although one suspects it didn't come out of the BBC's own budget, the £1m recording contract offered as part of the winner's package on Fame Academy is also worth a mention.
Daytime TV
Highest cash prize offered on daytime TV: Deal or No Deal offers £250,000 each episode. Technically, For the Rest of Your Life offered a top prize nominally worth something around £500,000, although it would have been near impossible to obtain and, besides, the annuity probably would have made it cheaper than the stated cash value.
Highest cash prize won on daytime TV: Laura Pearce, Alice Mundy, and Suzanne Mulholland won the £250,000 on Deal or No Deal on 7th January 2007, 12th March 2009, and 13th May 2011 respectively.
Non-cash prizes
Highest non-cash prize offered: £2 million in total was awarded as venture capital to two winners £1 million each on 16 July 2000 in The E-millionaire Show.
Most valuable tangible prize offered: In terms of objects given as prizes, the house awarded on Love Thy Neighbour in 2011 is possibly the highest-value item ever given away, with a claimed value of £300,000. The house constructed and won on Building the Dream in 2004 had an estimated value at the time of £500,000+, though it later sold for a rather more modest £235,000. Nine years earlier, Raise the Roof offered £100,000+ houses as prizes.
Costs
Most expensive set: Undoubtedly The Crystal Maze set, which cost a few million pounds over its lifespan. Second place probably goes to Ice Warriors, which cost 1.5 million pounds. The most expensive set for a quiz belonged to The People Versus, which cost about half a million.
Ratings
Highest rated game show
This rather depends on who you ask and when you ask them. In 1992 Boxtree published 40 Years of British Television, which included as an appendix month-by-month top 20 TV listings charts.
From this we glean that during the final week of the 1979 ITV strike, the BBC mustered an audience of 23.9 million for Larry Grayson's Generation Game. That week's editions of Blankety Blank (23.3m) and Mastermind (21.9m) are the second and third highest-rating game shows.
The Generation Game was also the top-rating show under the pre-1977 ratings system (which counted households rather than individual viewers), 9.7 million households tuning in for a Christmas 1976 edition.
ITV's best rating for a game show came on 22nd December 1978 when an all-out strike at the BBC meant that 21.2 million viewers watched Sale of the Century.
This is all well and good, except that in 2005 Channel 4 broadcast a programme called Britain's Most Watched TV, for which the British Film Institute provided the lists (A top 20 for each of the 60s, 70s and 80s, and a top five for the 50s and 00s). Even though these lists drew on the same source material, they came out rather differently. It seems likely that the BFI disregarded high ratings that were attributable to a strike by "the other side", since otherwise there's a suspicious-looking hole in the autumn of 1979. Two other differences are pointed out by the BFI website: firstly, they multiplied "household" figures by 2.2 to produce an estimated audience in terms of individual viewers; and secondly the demands of the production company (Objective North) meant that "in some cases only the highest-rated example of similar programmes have been included to avoid repetition". This may account for the non-appearance of The Generation Game in their list. So according to the BFI, the top-rating game shows are:
1960s: Double Your Money, 8 November 1966 (19.47m); Take Your Pick, 2 Dec 1966 (19.36m). Top 20 cut-off: 19.14m
1970s: Eurovision Song Contest, 7 April 1973 (21.56m); Sale Of The Century, 24 Dec 1978 (21.15m). Top 20 cut-off: 20.57m
1980s: Mastermind, 9 Nov 1980 (19.15m); A Question Of Sport, 5 Feb 1987 (19.05m); Blankety Blank, 26 Dec 1980 (also 19.05m).
1990s: National Lottery Live, 19 November 1994 (20.17m); Who Wants to be a Millionaire?, 7 March 1999 (19.21m)
2000s (to 2004): Who Wants to be a Millionaire?, 19 January 2001 (15.9m); I'm a Celebrity... Get Me Out of Here!, 9 February 2004 (14.99m); Pop Idol, 9 February 2002 (13.34m); Popstars, 3 February 2001 (12.36m).
It should be mentioned that for the 2000s, the Tonight with Trevor MacDonald special about the Ingram affair got an audience of 16.10m.
The BFI listing for the 1950s only includes shows from the last three months of 1959, presumably because figures for BBC shows are not available until then. Take Your Pick is the top-rating show for the period, with a peak audience of 13.16m.
The full top 20 lists can be found on the BFI website.
Looking beyond the end of the BFI data in 2004, the final of Britain's Got Talent on 30 May 2009 ended up as the top rated show of the decade, with final audience figures of 18.294m putting it comfortably ahead of any other game show in the 00s.
The top rated show of the 2010's (so far) is the final of The X Factor on 12 December 2010, with audience figures of 17.709m (including viewers watching on ITV1 HD).
Feedback